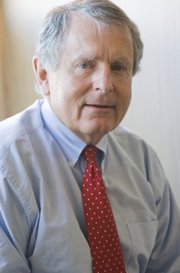 Bill Tharp, a longtime attorney who brings with him decades of legal experience, including significant jury awards in several areas of civil law, has hung his shingle in The Dalles.
He is sharing office space with his law school classmate, Jim Habberstad, at 106 E. Fourth St. Both were in the same class at Willamette University College of Law and both sat the bar in 1973.
They stayed in touch over the 40 years since, both professionally and personally, and when Tharp was considering moving to Portland from Boise to be closer to his children and grandchildren, Habberstad convinced him to locate in The Dalles instead.
Tharp tried criminal cases earlier in his career, including murder cases, but since the mid-1980s he has exclusively focused on civil litigation.
"Doing jury trials and court trials has always been the mainstay of my practice," he said. He also does some non-litigation practice, such as advising business clients.
He's won three jury verdicts, each in excess of $1 million, in the area of insurance fraud.
In each of those cases, which produced awards of $1.1 million, $1.6 million and $3.5 million, he represented the plaintiffs against defendant insurance companies.
"Those are big cases, big verdicts," he said. "That's the biggest plum that I have on my tree, anyway."
He also worked for a time for the Oregon State Bar, defending attorneys who were sued.
Early in his career, he worked as a defense attorney, but then moved in 1975 to Ontario, where he did both criminal and civil work.
He eventually decided to take cases in Idaho, and 13 years after taking the Oregon bar exam, he passed the Idaho bar, since Idaho didn't have reciprocity for Oregon attorneys.
While Tharp has significant victories in insurance fraud, another favorite area of law for him is employment law.
"I have significant experience in employment litigation, representing both the employer and the employee and that likewise also involves filing lawsuits in the federal courts and state courts," he said.
In fact, he went to work for the Department of Justice, and thought he was hired because of his experience in litigation, particularly construction litigation.
"When I showed up they said, 'No, you're doing employment law.' I had no clue. I had no idea what it was."
To this day, he relishes a good employment case. And while he does represent both employer and employee, he said the only advantage to representing the employer is "oftentimes the employer has money and oftentimes the employee doesn't, so from the standpoint of having a materially successful practice — although often I do take cases on contingency."
One thing he doesn't do anymore is divorce cases. He cites two reasons: his potential for earnings was greater in areas other than divorce litigation; also, "oftentimes, when the custody of the child is at issue, they can get real ugly. That's necessary to get ugly, but at the same time, when you're going through that and defending that, to me, it's not as rewarding or isn't as attractive to me as other types of litigation."
All three of Tharp's children and all of his grandchildren live in Portland.
Tharp had some 25 pending litigation cases in Boise, and offered all his clients the option to switch attorneys, but they all decided to stay with him.
If he has to go back to Idaho or Ontario, he arranges to meet with five or six clients each time to make the trip worthwhile.
Often, he can appear in court by phone.
Tharp got his undergraduate degree in history — his particular interest is the interwar years in Germany — and thought his fallback career if he didn't become an attorney would be as a college history professor.
In his off hours, he enjoys skiing, hunting, golfing, and dining at great restaurants.