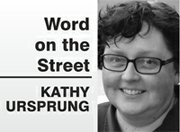 Jobs are waiting: Goodwill Industries of the Columbia Willamette will host a job fair Thursday and Friday, June 27 and 28, from 9 a.m. to 4 p.m. at 700 Union St.
The charity is looking to fill more than two dozen openings in the Goodwill Boutique in Hood River (due to open this summer) and the 22,227-square-foot Goodwill Superstore in The Dalles (due to open in the fourth quarter of this year). Positions include cashiers, production associates and supervisors. Full job descriptions are available at The Dalles Worksource office.
The Dalles Goodwill will employ 25 to 30 people. A temporary Job Connection office is on site open 9 a.m. to 4 p.m. to assist people in job searchers or to pick up or drop off a store application. The store will have a five-a-week Job Connection office.
For more information, contact Goodwill's Dale Emanuel at 503-572-0177.
Putting their money where their hunger is: The Dalles Area Chamber of Commerce's Young Professionals group are bringing their dining dollars to local restaurants en masse through their Lunch Mob effort.
Since the program's inception in 2012, the Young Professionals Lunch Mob has filled aroudn 180 seats in area restaurants. At an average of $9 per lunch, that's $1,620 generated for chamber member restaurants.
"This is exactly the kind of results we like to see," said Jared Sawyer, Chamber chairman. "Not only are we helping members build stronger relationships with each other, we are supporting local restaurants during a time when it is needed."
Lunch Mobs were designed to help Young Professionals meet in a casual atmophere while having an immediate positive economic impact on the local economy.
Wage assurances: The Oregon Legislature voted this week to make it harder for unscrupulous construction labor contractors to cheat workers out of earned wages.
House Bill 2977, which heads to the governor for signature, requires most construction labor brokers to obtain a license from the Oregon Bureau of Labor and Industries. It also makes construction businesses that intentionally use unlicensed brokers jointly liable for unpaid wages.
Email kursprung@thedalleschronicle.com with World on the Street items.