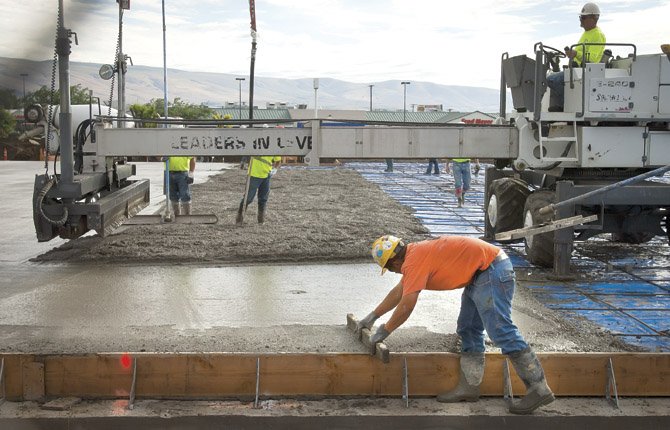 The Dalles — Goodwill Industries of the Columbia Willamette may not have a building in The Dalles yet, but it is already making its presence known in the community.
The nonprofit has a donation trailer and temporary Job Connections site already set up, and is holding a job fair Thursday and Friday, where it hopes to find 25 employees for its planned locations in The Dalles and Hood River.
Goodwill has met with some resistance as it begins construction in The Dalles, but public relations manager Dale Emanuel said much of the criticism levied against the incoming store is misplaced.
For example, national news reports claiming Goodwill pays its disabled employees less than minimum wage have been circulating in the community. But Emanuel said each Goodwill territory is a separate entity with its own board and own rules, and the news reports are about a Pennsylvania territory.
"No employee is paid less than minimum wage here [at Goodwill Industries of the Columbia Willamette]," she said. That holds true even for those employees whose disabilities cause them to work at a slower rate.
Detractors have also pointed to CEO Michael Miller's salary as evidence that charity is not the nonprofit's priority. The organization's Form 990 reports he made $525,274 in "reportable income" plus $217,601 in "other compensation" from Goodwill in 2011.
But Emanuel said 94 cents of every dollar Goodwill makes goes to directly to local mission services, with only the remaining 6 percent going to operation costs.
"That makes us an A-rated charity," she said.
There are also those who worry that Goodwill Industries will suck the donation base in The Dalles dry, hurting local nonprofit thrift stores.
Representatives of the Salvation Army and St. Vincent de Paul spoke with The Chronicle in January and said that if Goodwill takes donations that would have otherwise gone to them it will diminish their ability to provide local services like food boxes.
Emanuel said the store in The Dalles will be able to bring in donations from other parts of the Columbia Willamette territory if there are not enough donations in The Dalles to go around.
She said Goodwill Industries of the Columbia Willamette gets more donations than any other Goodwill territory in North America, even those in more populous areas like New York City — something she attributed in part to Oregonians' emphasis on recycling and other green practices.
Goodwill Industries has plenty of positive things it is bringing to the community, Emanuel said. Not only will it create 25 new jobs, but Emanuel said two thirds of the people hired by Goodwill Industries of the Columbia-Willamette have barriers to employment like a disability, recent incarceration or a long stretch of unemployment.
She said anyone — even those without barriers — is welcome to seek help from Goodwill's Job Connections program. Those who do can get information about current job openings in the area, help with skills such as submitting an application online, creating a résumé tailored to the job they are interested in and even professional-looking clothes to wear to a job interview, if needed.
What Goodwill doesn't do is make calls to potential employers for people. If they go to Job Connections for help no one need ever know they were there.
"It's hard enough not having work, but most folks don't want to go to a charity, because there's a stigma," Emanuel said. "People don't have to know you went to a charity… We want people to feel good about themselves. If you're willing to look for work then you're already three-fourths of the way there."
Emanuel said Goodwill has been studying the area for three years and has concluded that there is enough demand for thrift shopping to support another major thrift store in The Dalles. The nonprofit also saw the opportunity for a smaller boutique store in Hood River.
That store, opening later this summer at 304 Oak Street, will consist of high-end donated goods such as designer clothing from the territory's donation sites in high-income neighborhoods. Emanuel said there will still be plenty of high-quality items in The Dalles store too, but the Hood River boutique is for those who don't enjoy the "treasure hunt" aspect of thrift shopping.
The store in The Dalles, located on the site of the old Albertson's building at 1218 W. Sixth St., is slated to open sometime in October or November. Emanuel said the four-day-long grand opening will feature the Columbia Willamette territory's prime donations at the time and drawings for $100 shopping sprees.
For now the temporary Job Connections trailer on site is open 9 a.m. to 4 p.m. The job fair is June 27 and 28, from 9 a.m. to 4 p.m. at The Dalles Worksource office at 700 Union St. Suite 105.
Contact Shawn Reese at (541) 769-0644 or (503) 489-2077, or e-mail at sreese@gicw.org with any questions about the job fair.
"We would love to see anyone who needs some help come by," Emanuel said.