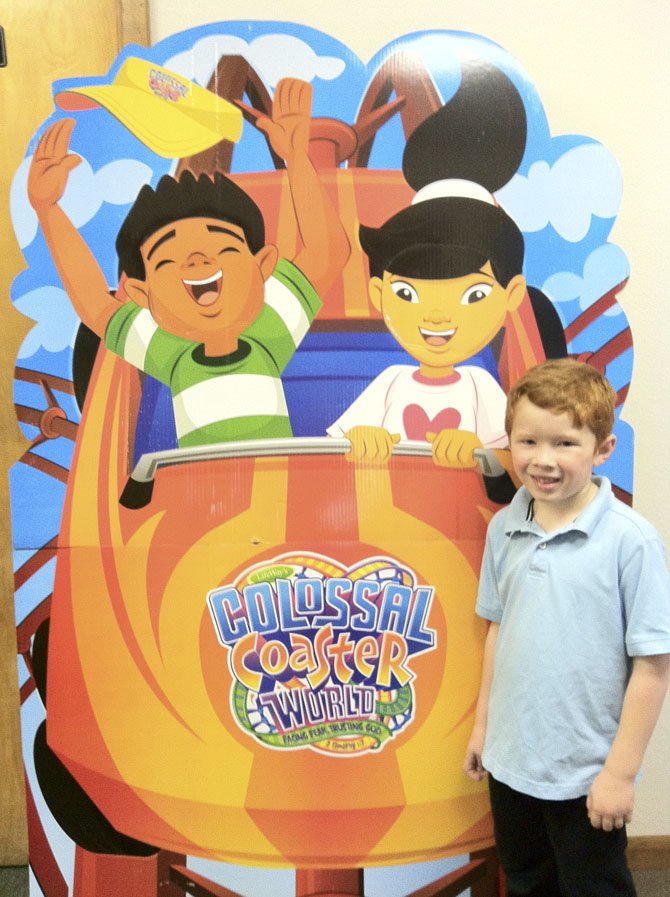 The Dalles — Vacation Bible school is a staple of summer and a number of local churches have hosted them for years.
So what goes into putting a vacation Bible school on? Amy Warren, whose husband, Nate, became pastor at Emmanuel Baptist Church last August, is about to run her first vacation Bible school. She talked to the Chronicle about the process.
She's been working since March on the "Colossal Coaster World" vacation Bible school that Emmanuel will host for pre-kindergarteners through sixth graders from July 8-12. The program runs from 9 a.m. to 12:30 p.m. daily.
One thing Warren didn't have to think about was choosing when to host the vacation Bible school, since Emmanuel has done theirs the week after the Fourth of July for years.
She went to a children's ministry conference in Gresham in March, where LifeWay, a company that produces materials for Southern Baptist churches, had several packages to choose from for vacation Bible schools.
She chose the "Colossal Coaster World," which has the tag line of "Facing Fear. Trusting God."
The Bible verse the theme is based on is 2 Timothy 1:7, which reads, "For God has not given us the spirit of fearfulness but one of power, love and sound judgment."
Each of the five days in the curriculum has a theme: dare to change, dare to speak up, dare to believe, dare to stand strong and dare to trust.
"Every day we'll be covering a different idea," Warren said. Each day, the kids will meet at the "entrance" to the theme park for an opening session "and get kids excited for the day and then they're divided into groups."
The curriculum for the week is highly detailed, listing not just the songs to be sung, but the movements that go with the songs, for example.
The vacation Bible school package includes an option for daily crafts, but Emmanuel has a tradition of doing its own craft, and it's one the kids work on a little bit each day, and then present to their parents — in addition to performing songs learned during the week — at an evening get-together Friday, Warren said.
The Emmanuel Vacation Bible School draws anywhere from 40 to 90 kids each year. It's free to attend, and is open to the community, Warren said.
As for facing fears, the theme of the curriculum, it can range from facing a bully at school or dealing with parents fighting.
"Everyday life fears they will experience now and in the future. It's about learning to trust God."
It takes a lot of volunteers to put on a Vacation Bible School, and Warren has lined up about 30 adult and teen helpers who will do everything from praying for everyone to taking charge of decorations to helping with crafts.
Helpers will run a variety of stations, from a snack shack to games, music, crafts and Bible story time.
The sage advice she got about putting on a vacation Bible school was that "prayer is the foundation for a successful vacation Bible school." A prayer calendar at the church includes requests for prayers for children, their families, and the volunteer workers and for their preparation for the big event.
"We want it to be super fun for the kids and exciting and we want them to really learn to trust God. So that's our goal," she said.
Another key to making the week successful is "having a Plan B. That could be game time and you have this whole time planned to spend outside and it's pouring down rain. You've got to have a backup."
But rain isn't real likely, since the week is usually "the hottest time of summer."
Asked if she's scared about overseeing the vacation Bible school for the first time, Warren admitted she was a bit nervous, but then borrowed the theme of the vacation Bible school, and said, "Facing Fear. Trust God."
To register for the Emmanuel Baptist Church Vacation Bible School, at 2819 W. 10th St., call 541-705-7031 or email ebcpastornate@gmail.com