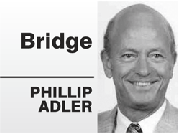 Matt Drudge, creator of the Drudge Report, said, "The Internet feeds off the main press, and the main press feeds off the Internet. They're working in tandem."
That sounds like good defenders, who work in tandem to defeat declarer.
The contract is three no-trump. West leads fourth-highest from his longest and strongest, the diamond four. How should East and West card after that?
South starts with seven top tricks: two spades and five clubs. And since there are three winners available from hearts, things look promising for him. However, with diamonds 5-3, not 4-4, the defenders can succeed.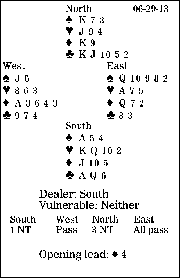 Suppose South plays low from the board at trick one. After East wins with his queen, he must return the diamond seven, the higher of two remaining cards. South should now play his jack, the higher of touching honors from the closed hand. But West should not be fooled. He should know that if East had begun with Q-10-7-2 of diamonds, he would have led back the two, low from a remaining tripleton. So West, since he has no entry, should duck this trick, playing his three and keeping communication with his partner.
South wins on the board and calls for a heart, but East should grab the trick with his ace and lead his last diamond, giving his side one heart and four diamonds.
Even if South wins with dummy's diamond king at trick one and calls for the heart jack, trying to look like someone planning a finesse, East should not be fooled. He should win with his ace, cash the diamond queen, and play his third diamond.