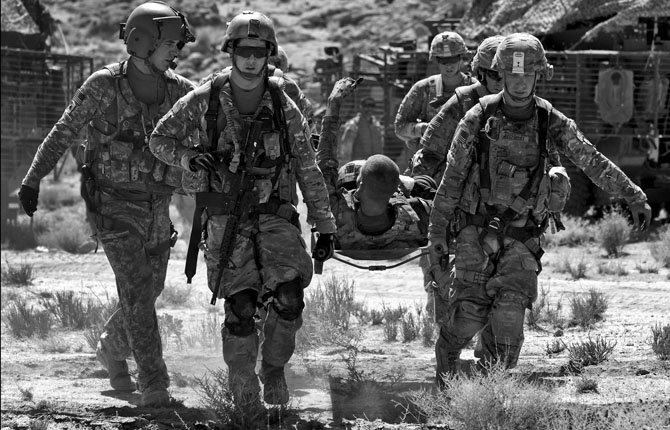 Looming this coming Thursday is the nation's biggest patriotic observance of the year, Independence Day.
Sometimes it's easy to forget that's the official name of the Fourth of July observance.
We know about the waving of flags and sparklers on the Fourth, but we may not always keep it fresh in our minds that Independence Day is about the fight for freedom that established the United States of America as a separate and, yes, independent nation.
Independence Day commemorates the adoption of the Declaration of Independence on July 4, 1776. But true independence came many years later after bloody battles not only pitting these upstart Americans against the English, but all too often brother against brother.
Independence from Britain was a closely debated thing, decided at the point of a sword and the range of a cannon ball.
Many times since the Revolutionary War 237 years ago, this country has asked its men — and now women — to take up arms in pursuit of this nation's aims: national defense further resolution of revolutionary issues in the War of 1812, the debate of nationhood versus states rights in the Civil War, over territory and independence of other nations in the Spanish American War, global safety in the world wars, opposition to the spread of communism in the Vietnam War, and so on, until the most recent conflicts over terrorism (yes, and oil supplies) in Iraq and Afghanistan.
Whether or not the United States has prevailed in these conflicts, the nation faces the same challenge when military personnel come home unavoidably altered: how to help these people who have given their service to return to a world that suddenly seems alien after life in the violence and chaos of a military zone.
We ask our military people to do more than any individual should be asked to do. Then, when they come home, we ask them to shoulder the damage and personal feelings of guilt that experience may cause.
While many of the resulting symptoms may be predictable, each person is affected differently by their experience and the impact it has on a psyche shaped, strengthened or weakened by the formative experiences of their lives before combat.
Some go on and resume their lives as if nothing had happened, either finding resources to cope with their scars or burying them deep. Others take solace in the anesthesia of drugs and alcohol. Others relive their trauma over and over, with adverse effects on their lives and those of their family members and friends.
Adding insult to veterans' physical and emotional injuries is when military personnel like Chief Master Sgt. Wayne Ryan (see story, page A1) serve honorably and return home with scars — whether earned in direct combat or not — and our Veterans Administration forces them to do combat yet again for the mental and physical help they rightly deserve.
The armed services take in their people in the condition they arrive, culling out the obviously damaged when they are identified during intake. But they don't have the ability to predict how military service will act on individual minds and bodies.
If our country is are willing to have these men and women serve, we need to be willing to help them deal with the consequences, including post-traumatic stress disorder.
Whether or not these men and women serve under the circumstances recognized to cause PTSD, whether or not they started service with damaged psyches, they have provided service and come home with problems that require treatment.
To compound the problem, many have been indoctrinated by their military service to believe that getting help for ailments, mental or physical, is a sign of weakness. The training that teaches them to prevail in the face of the pain and hardship of battle, causes some to turn away from help who desperately need it.
This is a culture that needs to be changed at a system-wide level, beginning in boot camp to train personnel that strength and mental toughness doesn't negate the need for help.
Likewise, we need to change the process of receiving that help after combat so that people already facing challenges as a result of their service, don't experience an uphill battle getting that help.
In war, nations ask their citizenry to do things that should not reasonably be required of any human being. When we ask, we need to be willing to help them heal from the consequences.