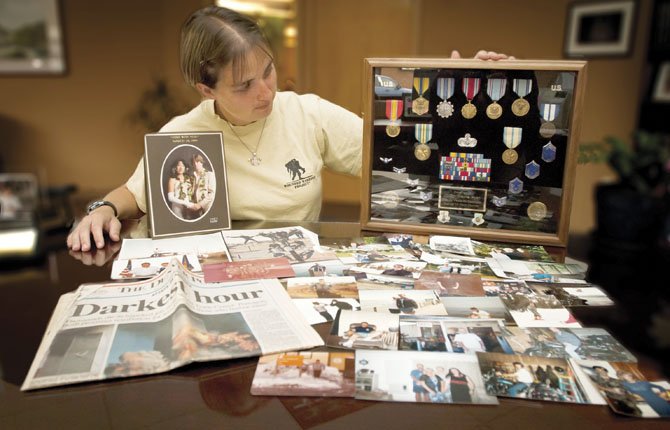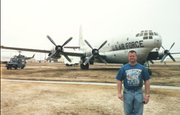 Air Force veteran Wayne Ryan battled alcoholism for decades before his body could no longer overcome the medical complications caused by his addiction.
The chief master sergeant, who served in the Gulf War and had a 21-year career in the military, died alone in his The Dalles apartment Oct. 17, 2012. He was 49.
A few days earlier, he had been released from an inpatient treatment program but the desire to be sober could not conquer the internal demons that drove him back to the bottle.
"It wasn't uncommon for him to drink a fifth a day," said Cheyenne Heron, one of Ryan's few close friends. "He used to be a very outgoing person, but the more the alcoholism took over, the more reclusive he became."
The U.S. Department of Veterans Affairs (VA) denied Ryan's family the burial compensation that is awarded to those who die from a service-related disability.
Heron is in the process of fighting that decision through the Wasco County Veterans' Service Office. She has been given legal permission from Ryan's family to pursue the issue, not for money but for acknowledgment that his post-traumatic stress disorder and chronic depression resulted from his military experiences.
"We want him to be a statistic," said Heron, an Air Force veteran who is joined in the campaign by husband Mark, also an Air Force veteran. "The VA needs to acknowledge that Wayne had these problems because of his service. Maybe they can learn something from his case and the years he spent battling this problem that can help someone else.
Until they read his medical records, the Herons had no idea how much Ryan suffered emotionally, mentally and physically. He had worked for several years with Mark at John Day Dam after retiring from an active duty and Air National Guard career as a master electrician.
"I realized by reading his records not only how private he was but how much he struggled every day to live some kind of a life," said Cheyenne.
Ryan's 474-page medical file, compiled by the VA, shows that he received inpatient treatment for substance abuse in 2007, followed by regular counseling sessions through 2010.
He was put on antabuse, which interferes with the metabolism of alcohol, in 2011.
But learning what drove her friend to drink is what troubles Cheyenne the most.
Ryan believed that he was responsible for the Sept. 11, 2001, terrorist attacks on the East Coast that killed 3,000 of his countrymen and led America to war.
Although Heron is unsure of the actual details, she said Ryan chronicled that he was on duty several days before the national tragedy — she does not know the exact location — when a power outage led a critical computer system to shut down. It took a while to get the system back on line — and by then it was too late.
"Wayne carried the guilt that if he had done more to get the problem resolved, the info that would have stopped the attacks would have gotten into the right hands," said Heron.
Added to Ryan's trauma was having a friend killed in a training exercise and another friend harmed – Heron did not know the exact nature of the injury — on the fire line during his stint in the Colorado National Guard.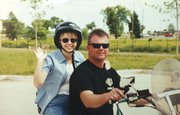 When Ryan moved to The Dalles in 2010 he became isolated from his family in Canada and Hawaii, which made his drinking problem worse. He was too reclusive to get to know many people in the community and even the Herons had trouble coaxing him out for a motorcycle ride or to go fishing.
Where once he had enjoyed almost any activity in the great outdoors and loved going to the beach, it became more and more difficult to lure him out of the apartment.
Despite the depression that made him reclusive, Ryan maintained a close relationship with his mother, Janice Anderson, who lives in Duncan, B.C., Canada. She and his two sisters provided him with a support system even though there was geographic distance between them.
"Even if I had known more about what he was going through and tried to do something, I'm not sure I could have. He was just in this hole," said Heron. "It just breaks my heart. I wonder how many veterans are out there with these problems. Something needs to be done to help these people."
Dr. Pat Stone, a decorated Vietnam veteran and clinical psychologist who has spent more than 22 years working with veterans, said PTSD was brought to the forefront as a societal issue because of its association with the military. However, he said the condition can develop after any person suffers a terrifying ordeal, such as a rape, mugging or car accident.
Although many people presume that a soldier, sailor, airman or Marine will only incur PTSD on the front lines of a war, Stone said that belief has been disproven in new Army studies.
Support units living on base in a foreign environment where people are actively trying to kill them can also come home with PTSD. They not only can suffer culture shock but end up traumatized by having friends injured or killed on the battlefield.
"I think everyone who has been in combat has some degree of PTSD and many of those who haven't also end up with problems," said Stone.
The Army estimates that nearly 500,000 active-duty members of all branches of the armed forces may be afflicted with serious cases of PTSD, which will affect at least 10 other family members or close friends.
The VA's figures reflect that almost 31 percent of Vietnam veterans have PTSD and as many as 10 percent of Gulf War veterans, 11 percent of Afghanistan veterans and 20 percent of Iraqi veterans.
Added to the complexity of the situation is Traumatic Brain Injury, the other "hidden wound" incurred by combat veterans. A Pentagon report released in 2011 suggested that 320,000 troops in Iraq and Afghanistan had experienced TBI during deployments and 40,000 U.S. service members possibly had severe brain injuries.
The military does not publicly release specific data about the effectiveness of roadside bombs to avoid providing information to insurgents, so it is difficult to get an accurate update of the extent of injuries among service members. Although the problem of TBI also existed in Vietnam, the military did not have the upgraded vehicles used in the post 9/11 wars so service members were unlikely to survive a blast of the same magnitude.
Stone said PTSD and TBI reports would be much higher if thousands of veterans could overcome their training and stop thinking that seeking help was a sign of weakness. If there is one thing that he most criticizes about the military culture, it is the stigma assigned to having problems by the command structure that filters down to the troops.
"It is going to take decades to change that," he said. "Too many of these veterans have to go through really difficult life circumstances before they admit to PTSD."
He said nicotine addiction almost doubles for veterans with PTSD issues, which leads to health problems in later life. In addition, many find comfort in drugs or the bottle, as Ryan did, because it quickly anesthetizes their emotional pain.
"Drinking subdues a veteran's startle response and hypervigilance," said Stone. "It numbs the intrusive memories and bad feelings. Nothing else he or she tries will be so immediately powerful."
The problem, he said, is that only by processing the turmoil going on inside their minds can veterans find the path to peace and inner strength. The journey to wholeness requires a lot of fortitude because the adage "things get worse before they get better" applies to that process.
During the healing period, which can take years or decades, Stone said veterans need to take care of themselves with healthy resting and eating habits. He said that is not possible if someone has a substance abuse problem, which will also interfere with his or her ability to get a good night's rest.
"The thing that you are trying to avoid with the use of alcohol or drugs will actually come back stronger," he said.
In addition, alcohol and drugs take away the inhibitions that prevent veterans from acting out feelings of rage and other strong emotions that are near the surface of consciousness.
"Whatever temporary numbing that you get in the short term is undone in the long run," said Stone. "You can lose your sense of mission in life when alcohol or drugs become part of your daily pattern."
While processing experiences, the veteran has to ask questions such as, "Who am I now?" "What got me here?" "What are the pros and cons of this style of living?" and "Who do I want to be now?"
"Somehow you have to instill a sense of future in folks who are used to living in the second and help them get reasonable structure in their lives," said Stone.
He said the severity of trauma that a veteran will face depends on numerous factors, including genetics, personal resilience, early childhood experiences, personal choices, spiritual connectedness, level of education, age and the exposure experience itself.
He said some veterans will not be able to live a "normal" life where they work eight hours and then come home to take care of family responsibilities. Society then needs to develop empathy and an understanding of those who are achieving great things just learning how to manage the money they receive from the VA enough to take care of their basic needs.
"There is a place for waving flags and cheering at the buses when the troops come home, but a community matures when it truly understands what is needed to take care of