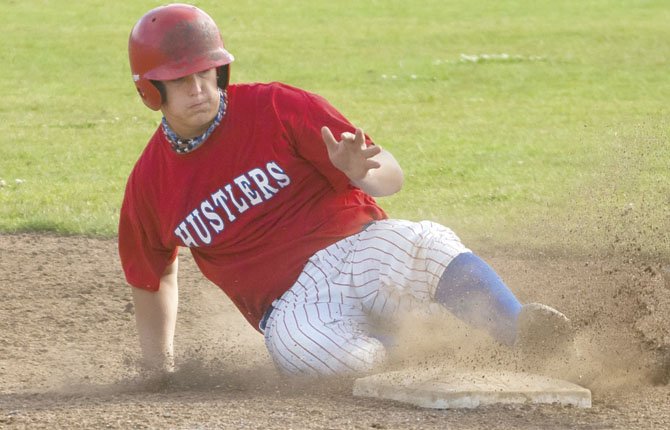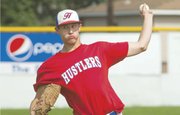 If the Columbia Gorge Hustlers are going to get a new winning-streak going, Friday's dominant performance may do the trick.
Five players notched two hits each, and Clay Copper added a 3 for 4 effort with two RBIs to lead the hustlers to an 11-1 victory over Redmond in American Legion baseball play in Redmond.
The Hustlers got a good jump on Redmond with three runs in the opening frame, with Nick Weekly driving in Justin Sugg with an RBI single, and Copper capped the onslaught with a two-out, two-run single to chase home Lucas Denney and Weekly.
Staked to that three-run cushion, the Hustlers added a knockout blow to Redmond with a six-run fourth frame, using five hits and two walks.
Denney, Weekly, Bartells and Sugg added RBI hits and Mathisen drove in a pair of runs with a one-out, two-run single to bring in Austin Wilson and Beaux Watt.
When the dust settled, the Hustlers were way out in front by a 9-0 margin.
Redmond scored a single run in the fifth inning, but the Hustlers put the finishing touches on the big win with two runs in the top of the seventh.
Wilson started the rally with a single and after a sacrifice bunt, a pitch hit Sugg.
Mathisen tacked on an RBI single and Denney drove in Sugg with a two-out single.
This impressive offensive display put pitchers Dakota Walker and Mathisen at ease on the hill, as they combined for seven innings of five-hit ball with nine strikeouts and four walks.
Walker got the start and lasted two frames, but he shut down Redmond in his brief stint.
The burly right-hander faced 11 batters and struck out one.
He walked three, hit a batter and his defense committed an error, but he made the right pitches when faced with a jam and he stranded five Redmond base runners.
Mathisen then entered in the third inning and retired six of the first seven batters he faced.
The southpaw struck out the side in the fourth frame.
He capped a solid effort on the mound by striking out the side in the seventh; including the final two batters on eight pitches.
The Hustlers are in Tigard for a nine-inning matchup versus the 19U Lobos starting at noon Sunday.
Today at 2 p.m., the Fort Dalles Hustlers play host at Quinton Street Ballpark to Hillsboro in a pair of nine-inning tussles.