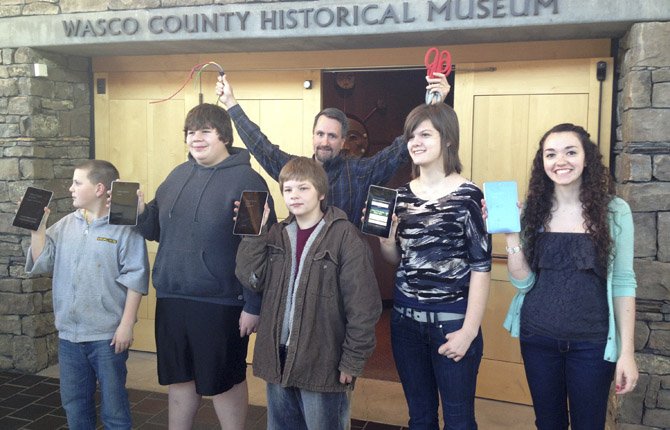 The Dalles — If you have a wireless tablet or laptop, or don't want to use up your data on your cell phone, you can still Google as necessary at the Columbia Gorge Discovery Center and Museum — and soon the same can be said at several local parks.
Local students and officials celebrated that fact Feb. 23 at the Discovery Center with a cable-cutting and the ceremonial firing up of the iPads.
Google, Q-Life and Gorge Networks have been working with city officials to bring the high-tech service to the Discovery Center. Sorosis Park, Kramer Field and Riverfront Park are just weeks away from having the same connectivity.
"One of the things we're trying to do is make sure we have outside, free public wi-fi in places where people congregate, also where we have visitors," said The Dalles City Manager Nolan Young.
Those are places where visitors may congregate and also where parents may linger while their children are participating in sporting events, Young added.
Also covered in the expansion will be the new One Health Center (formerly La Clinica del Cariño) building in The Dalles and Columbia Basin Care Center.
The expansion is an extension of the partnership to provide city residents, business leaders and visitors with free public wi-fi. Google provided The Dalles with $130,000 in 2011 to cover equipment and installation costs of wi-fi, while Q-Life contributed $10,000 for fiber installation and an additional $7,000 for the initial study.
For this expansion, Q-Life has contributed $52,000 and Google $50,000.
"We want robust wi-fi throughout the community," said Dave Karlson, operations manager at Google The Dalles.
The city provided a priority list for likely expansion and Google agreed to provide funding.
"The reason we do this stuff is that we want to make sure the Internet is available to everybody, particularly digital divide-wise," Karlson said. "Tourists and travelers to The Dalles will have easy access to get their phones, tablets and laptops connected while they are here."
The expansion solves a knotty problem for the Discovery Center, said Executive Director Carolyn Purcell.
"The problem we were having is that groups would be coming and renting our facility and needing more and more band width," Purcell said. "A lot of clients renting the building like to have Internet access for presentations. They were using up our band width. With the new fiber-optics for the public, they are not using our band width and we have enough for our video conferencing for educational purposes."
Purcell said the Discovery Center reaches out with video conferenced programs about the Columbia Gorge to schools all over the country and in Canada.
"We're in almost every state in the country," she said.
This expansion brings the total of Google's investment in equipment and installation to more than $180,000, and nearly $70,000 from Q-Life.
In addition to the expansion project, Karlson said the partners are also taking a second look at the downtown wi-fi loop.
"We're partnering to do quality checks," he said. "We want to make sure wi-fi is not only available, but of high quality."
Q-Life's agreement with Google is that the outdoor wi-fi will be free for a minimum of three years, Young said.
"[Google] has the ability to pay for an additional three years, if they desire," he said. "If they choose not to do that, it is the city's intent to work with Q-Life and have Q-Life take over and operate the system. Our intent is always to have a free public wi-fi portion of it, although there may be some value-added elements."