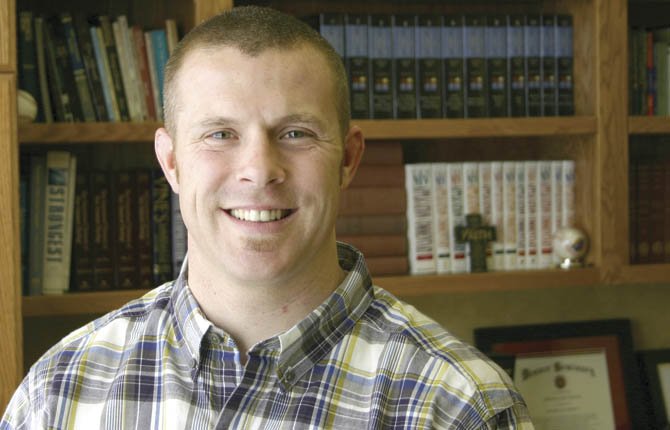 Calvary Baptist Church's new senior pastor, Jeremiah Porter, hopes to get the church even more involved in the community by doing as Jesus would, and helping those in need.
He gives his first sermon this Sunday, March 3.
Porter said he and his wife Kimberly and their four children "felt like we were home" as soon as they arrived here two weeks ago. "Part of that was there were a bunch of church members there to help us move."
They even slept in their own, fully assembled beds the first night because of all the help they had.
"Calvary is a group of people who love each other and take care of each other. We got to experience the church in action," he said.
"I hope to see Calvary begin to serve the community of The Dalles more and more, for the glory of God," he said. He wants Calvary to have the image of "that's the church on the hill that's down here [in downtown The Dalles] all the time."
"A lot of churches have followed the American pattern of bigger and better and get out of the urban setting," he said. "In doing so, we've communicated, 'We're too good for you.'"
But following Jesus means doing what he did, and going where he went. "Jesus never intended for his churches to be country clubs," Porter said.
He said he doesn't have any concrete ideas yet for what form the increased community presence will take.
Porter, who was part of the worship team at his last church, has a regular theme in his sermons, and it's "So what?"
"You read your Bible every day. So what? You go to church every Sunday. So what? Is it changing you? Is it changing the world around you?"
A Vancouver, Wash., native, Porter's family moved here from Denver, where he was working full-time as a youth minister. He also attended the non-denominational (formerly Conservative Baptist) Denver Seminary, where he received his masters of divinity.
Porter attended the University of Washington on a baseball scholarship — he was a catcher — and has a degree in world religions.
As a conservative and a Christian, he often found classes — taught by liberal professors who presented his deeply held faith as just another belief system among many — a challenge.
But it was a challenge he relished. He faced robust arguments on his beliefs, and it forced him to really define what he believed and why.
"Just being able to defend my beliefs, that was a good sharpening time," he said. Being so challenged "shook me a bit, but I believe it helped shape what I am today."
"It put a passion in me to see more of our young people" become more engaged with their faith, he said. "If you haven't thought through — 'What do I believe and why?' — there's going to be some challenges ahead of you."
He's well suited to bring that issue forth in others.
"I love talking about the big questions of life with people."
As a Christian who believes Jesus is his savior, "my hope is that people will come to see that as truth eventually, but I love the dialogue."
He doesn't just relish a deep discussion, though. "I love hearing people's stories. Everybody has some sort of a spiritual background, even if it's nothing."
Porter didn't grow up Baptist, but attended the Crossroads Community Church in Vancouver.
He would like to eventually become involved with the high school baseball program in some informal capacity, as a way to contribute to the community.
"I love the game, I love the atmosphere of the game."
After college, he and his wife — a scholarshipped gymnast he met through a sports ministry on campus — moved to Denver so he could attend seminary.
He got hired as a full-time youth minister a year after starting seminary, so he had to scale back his school work accordingly. He and his wife were also committed to completing seminary debt-free, so he took classes only as he could pay for them.
He graduated from seminary in May 2011.
Like others in ministry, Porter said he felt called by God to make the change he's made. He said the call is experienced differently by everyone.
"The way we feel God is calling and is speaking to us is through opening and closing of doors — through the opening and closing of numerous doors," he said.
"God just made it clear this is where he wants us," he said.
He and his wife also did lots of praying to discern if this was what God wanted.
He wouldn't call it ambivalence about what to do, but did say he "wrestled" with the decision, because his church in Denver is "an incredible church … There was nothing wrong with my job. I loved my job.
"One of the questions people would ask us was, 'Why would you leave there to come here?' It's just clear. This is where God wants us to be."
The first sign from God was when they learned their home they'd bought in Denver was being destroyed by the expanding soil found in the area. The foundation was being wrecked and their house value plummeted. Through a miracle, Porter said, the bank took a rare move and forgave $50,000 in debt, which allowed him to sell his home, still at a huge loss.
"That was a very painful process of losing our home that we had put so much into," he said.
But based on what Calvary was wanting, and what Porter was equipped to do, "It seemed to us a very good mesh between Calvary and what we can do."
"We're excited to learn and become members of The Dalles," he said. "We're very excited to be here at Calvary."