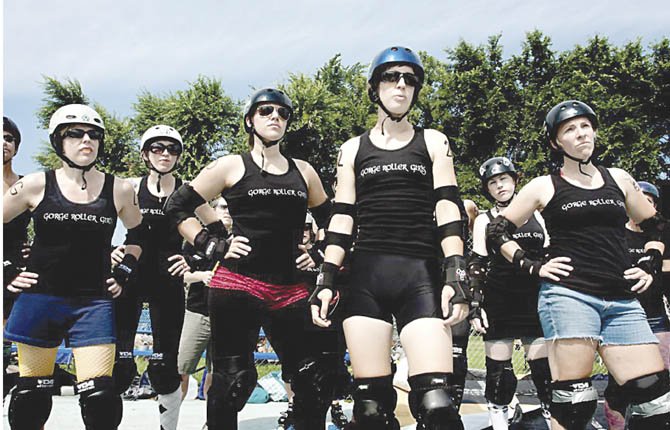 The Dalles — This is not your mother's roller derby.
But, make no mistake about it, these Gorge Roller Girls are just as competitive, just as fierce and ready to rumble.
Starting at 6 p.m. on Saturday, March 16, teams representing the River Reapers and the Cherry Bombers will duke it out at Hood River High School for the annual kickoff of the 2013 roller derby season.
Although these two teams join forces for all-star matchups around the state, there will be no love lost between these squads.
"This game will be for bragging rights in our local league," said Coach Shannon Burns, better known as 'Yo-Duh.' "We expect this game to be neck and neck all the way to the end. We have tried to make the teams even in abilities and it should be a hard-fought game."
For those who are new to the sport, two teams of four blockers and one jammer apiece hit the track for a game with two 30-minute halves.
Each half consists of a series of jams and each jam can last from five seconds to two minutes in duration.
The jammers are similar to running backs in football and the blockers are her front line. Both set of blockers form the pack and those blockers have 30 seconds to line up and prepare themselves for the jammers that are lined up behind them.
At the whistle, the jammers are released and the game begins.

The jammers need to get through the wall of blockers ahead.

The blockers are playing offense and defense at the same time, trying to stop the other jammer from getting through and to help their jammer get through.
The first jammer through the pack is given the status of lead jammer and is in control of the jam.
She needs to sprint as fast as she can to lap the pack and the lead jammer will receive a point for every skater's hips she passes each time through after her initial pass.
One athlete who is impressed with the overall skill set seen on any given night is Agony Anya Heels, Anya Kafka.
"We have some really talented athletes out here and lots of people excited for this first local derby event," she said.
This Gorge Roller Girls group is an expansion team of the Rose City Rollers of Portland and is made up of the top local roller derby athletes, an all-star team.

Last year, GRG played games in Hermiston, Ellensburg, Astoria and Portland.

After losing their first two, they came back with wins of 158-61 and 160-91.
Since last March, the derby league has seen a steady growth in numbers and popularity.
In that year span, there are now 40 dues-paying members in this volunteer-run league, in what Burns said is the largest growing woman's sport in the world.
"These ladies are athletes that work very hard to learn how to skate, learn the rules, learn how to play and get in the best shape that they can," Burns said. "Skaters come in every size and shape. They may make up silly names for themselves, but they are very serious. All you need to play derby is a little desire and a lot of guts."
With the large numbers this year, GRG have split the league up into two home teams — the River Reapers and the Cherry Bombers.
The all-star travel team remains intact to play other leagues.

Skaters practice four practices a week and skaters are required to attend two a week. Practices consist of off-skate workouts, endurance skating, strategy and hitting and blocking techniques.

Burns categorized roller derby as having so many different aspects of football, basketball and chaos all rolled into one great sport.
Fans can see all of those elements on display March 16 at Hood River Valley High School.
For the Reapers, Burns said 'Ophelia Fury' and 'Wreck-Less' are two names to keep an eye on.
Fury is said to be the River Reapers' most dynamic blocker — when she is on the track, she will own the pace and control everything that is going on.
"She brings an intensity to everything that she does that is unmatched," Burns said. "Wreck-Less is an incredible skater and is able to juke through the walls like they are in slow motion. She powers through hard hits like nothing."
The Bombers are no slouches themselves with standouts on the roster.
Coloradca is the hardest hitter in the league, so all participants have to keep their heads on a swivel when she is lurking around.
Ginger Binger Danger Hips' is the leading scorer on the Bombers and is the biggest threat on the track.
"She seems almost impossible to knock down and stop," Burns said. "The battle of the game will be between her and Ophelia Fury. Ophelia is the only one that can keep Ginger from racking up big points."
Tickets are on sale now through the website www.gorgerollergirls.com and costs are $10 for general admission and children 6-years old and under are admitted free.
Doors at Hood River Valley High School open at 5 p.m. and the action starts at 6 p.m. There will be a DJ dance party immediately following the bout at Rivertap in Hood River.
Volunteers are still needed for this event.
Aside from the camaraderie and the good fun of roller derby, Fury has a profound message about the league and its members.
"The Gorge Roller Girls develop women of attitude, athleticism and passion to play a hard-hitting sport of speed and skill," Fury said. "We are proud to bring the sport of roller derby to the Columbia River Gorge. We are committed to empowering women and girls, providing entertainment to our fans, and supporting our community through charity and volunteerism."
On April 13, the Gorge Roller Girls All-Star team will be playing the Southern Oregon Roller Girls All-Star team from Medford at HRV High School.

The All-Star team will be traveling and playing games almost every other weekend until October.