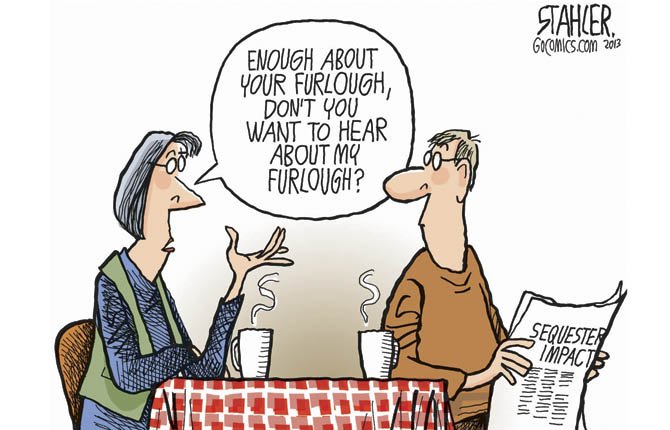 The Dalles — For the past two years Americans have narrowly avoided hitting the debt ceiling, falling off the fiscal cliff and a variety of other hazardous economic metaphors. Each new crisis was breathlessly debated and tracked and a sigh of relief was heard when an eleventh-hour deal was reached.

Then came the sequester, and Americans stopped caring. Maybe they felt like Congress had cried wolf too many times, or maybe "sequester" just doesn't sound as menacing as "fiscal cliff." Whatever the reason, as news website Buzzfeed pointed out, the sequester battle has created a "black hole of web traffic" on news websites.
We understand. We are as tired of writing about the sequester as you are of reading about it. But this is important. The sequester will affect you.
The furloughing of air traffic controllers and TSA workers is predicted to cause major delays to flights and double the amount of time spent waiting in the security line at the airport. Cuts to the number of food inspectors are predicted to increase food prices, and affect local food processing businesses like Cherry Growers, which relies on USDA food inspectors during the summer.
Important new drugs that could improve the lives of millions of Americans will take longer to get approval by the FDA. Your child could be one of the college students to no longer qualify for federal aid. If you enjoy meals at the senior center, you might see results from the cuts to senior meal programs.
Most of these effects will be seen after April 1, when the required one month notice for furloughs is up.
The sequester law dictates that the cuts will be made equally across the board in every project, program and activity between now and Oct 1. That means instead of just trimming overhead and administrative costs, delaying building projects or cutting less important programs, government agencies must make cuts equally across the board, including to personnel. Entitlements like Social Security, which make up 60 percent of the budget, are exempted, concentrating the $85 billion in cuts on federal departments.
The government needs to spend less, but most economists agree that these indiscriminate cuts are foolhardy and will hurt our economy. Remember, the entire point of the sequester cuts was that they were supposed to be so horrifying that they would force politicians to prevent them by coming up with a more logical set of cuts.
The government has become such a large and interwoven part of our economy that cuts to it affect everyone, not just public employees and those on welfare. A variety of government workers are expected to see a once-a-week furlough, resulting in a 20 percent cut to their paycheck — money they can no longer spend at the grocery store and other private businesses.

Fiscal conservatives tend to see fewer public employees as nothing but positive, but remember this: These are real people who are using those jobs to support a family in our community. If a local teacher's aide goes from productive employment to the unemployment line, how is that a victory?
The government needs to make cuts but it would be better to cut spending in more controlled ways, from the ground up instead of top down.
Let's get rid of the poorly performing programs altogether and leave the valuable ones intact rather than cutting from both equally. Let's get rid of wasteful overhead spending like only allowing government agencies to buy office supplies from certain (expensive) suppliers' catalogues. Let's stop making Social Security and Medicare untouchable and reform them. Let's eliminate grants that fund frivolous projects.
Let's heed Forbes columnist Doug Bandow's counsel that, "Washington cannot forever afford to subsidize wealthy allies, remake failed societies, overthrow authoritarian regimes, rescue warring peoples, and promote geopolitical stability, especially when vital American interests are not at stake."
Let's not slash away arbitrarily at everything in sight without regard to the consequences. We know that lawmakers don't want to get their hands dirty by advocating specifically for politically unpopular cuts. But at this point, can Congress get much more unpopular?