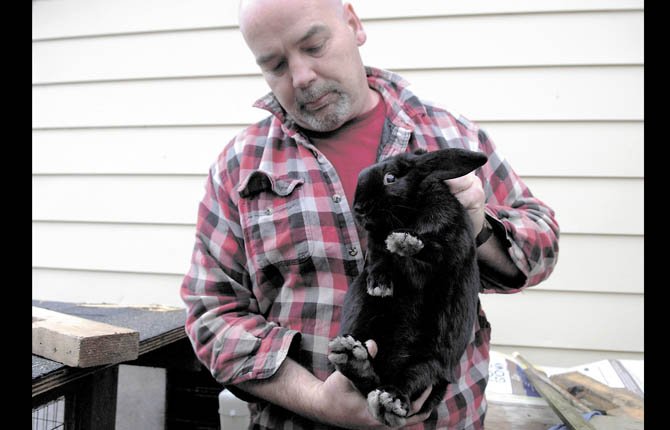 From the Coos Bay World
BANDON — The unsuspecting rabbits in Tony Chatman's backyard will be stew should a catastrophe occur.
Holding a pregnant black bunny by the scruff of her neck, Chatman makes no qualms about the future of his creature's litter.
"I'ma skin 'em and put them in the freezer," he said. His friend Avery Horton stands next to a chicken pen and chuckles about the rabbits.
"They don't get any names," he said. "They're not Thumpers."
The two men were brought together by their shared passion for preparedness. Chatman, 48, and Horton, 56, are "preppers," Americans who prepare their houses, pantries and families for natural and manmade disasters.
The pair met online when Chatman started watching Horton's YouTube channel. Under the pseudonym "The Rumpled One," Horton offers prepping advice and the occasional political rant at President Barack Obama.
Last summer Horton started organizing a group called Southwestern Oregon Preppers as a way to bring together "like-minded people" who wanted to share knowledge about prepping. The first meeting was in December. Horton says the diverse group has grown to nearly 100 members.
"It gives more people options and more people the chance to exchange ideas," Chatman said.
Sitting in Chatman's kitchen, wearing a camouflage cap that hides his salt-and-pepper hair, Horton enthusiastically describes his lifestyle. His goal is to be as self-reliant as possible.
The retired Washington, D.C., native started "urban prepping" in 1986. It clearly is more than a hobby to him. The South Coast's isolation makes it vulnerable in a disaster, he explains. People who prepare will be the ones to survive should something happen.
"We have seen it all in this country over the last two years," Horton said. "You have to be self-reliant. You can't be worrying about the government giving you a handout."
Chatman and Horton call themselves "adult Boy Scouts." They aren't preparing for one disaster in particular, but rather for whatever tomorrow may bring.
To do that they collect extra groceries — Horton bought 100 cases of beans on sale — and outfit "bug-out" bags with inexpensive tools that will help them survive.
When Chatman empties his bag on the kitchen floor, a machete, a water purifier, spaghetti and a makeshift stove spill out.
The preppers create or buy alternative energy sources, such as Chatman's solar panels and wind turbine. Bags of rice and beans lie throughout their basements. There is no fancy gear, high technology or bunkers with king- sized beds. As both men say, prepping is just about getting back to the basics.
"You don't need to spend a lot of money to a be a prepper," said Chatman, a former trucker. "To survive it's just like camping out."
Kim Singh, 51, started prepping three months ago after meeting Horton in a disaster safety class. She preps for natural disasters, mainly an earthquake or tsunami, and says Horton's and Chatman's mentoring gave her a new outlook on keeping her family safe. While her 23-year-old daughter is skeptical, Singh doesn't hesitate to explain why she started prepping.
"It just makes sense," she said.
Though Horton and Chatman's methods seem conventional, their prepping contains an element of secrecy. A pantry door left ajar in Chatman's kitchen reveals a wealth of canned goods, but both men refuse to talk about their food supplies, water sources and forms of protection.
Horton mostly avoids the topic of weapons, though he said he bought as much ammunition as he could afford before Obama was elected. He tries to debunk the stereotype that all preppers are gun-hoarding survivalists.
"Not all preppers are into guns," he said. "A prepper wants to be left alone. A survivalists wants to go on the offensive. They look for confrontation."
Isolation is what Chatman and Horton welcome and prepare for. If a disaster were to occur, don't think for a second Chatman's door would be open, even to his closest friends.
"We encourage people to prepare," he said. "You have already been warned. So is it my fault if you're not prepared? I am not going to let a 5- or 6-year-old starve, but it is not my responsibility or the government's responsibility to take care of adults."
Though they describe prepping as a purely practical activity, a conversation with the two men hints at deeply held views on welfare, self-reliance and the Second Amendment. One of Horton's YouTube videos advocates deporting every illegal immigrant. Another speculates about civilians fighting American and United Nations troops in a revolution.
But Horton mentions none of that when asked what fuels his lifestyle. Instead, he sits back in his wooden chair and looks up at the ceiling for a second.
"I want to see the story end," he said. "I want to be around to see what happens."
Reporter Tyler Richardson can be reached at 541-269-1222, ext. 236, at tyler.richardson@theworldlink.com, or on Twitter at @COPSTheWorld.