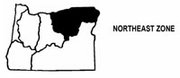 Northeast Zone VIEWING
GRANT COUNTY
Bighorn sheep can be viewed along the South Fork of the John Day. Sandhill cranes can be seen and heard as they migrate through the valley in large flocks. Bald eagles and robins are beginning to return to the valley and can be seen near the John Day River. 11/14/12.
Baker County
Bighorn sheep and mule deer can be viewed along the Snake River road between Huntington and Richland. Keep your eyes open as Bald Eagles are also plentiful in the area. Bighorn sheep in the Burnt River are down low in the canyon along the riparian areas and can be viewed from the road.
Elk feeding tours on the Anthony Creek feed site are available through T&T Wildlife Tours. Make sure and visit their website for hours of operation and other information.
Morrow, Gilliam and Wheeler Counties
Rough-legged hawks can be seen throughout most of the north half of the District. Short-eared owl can be seen along the grasslands of the north end of the District. Our year-round resident raptors, red-tailed hawks, Northern harriers, and American kestrels are all easily found. Heppner's merlin has been seen in the area as well. The remaining ravens are our resident population, the mobs have headed south. Prairie falcons can also be seen in the area, although much rarer to be found. Sharp-shinned hawks can be seen along the riparian areas of the north half of the District.
In the yards of the district, one can find the common winter song birds around the feeder. Dark-eyed juncos, song sparrows, house sparrows, white-crowned sparrows are all easily found. American gold finches and Rufus sided towhees can also be see in the Heppner area. A northern shrike was also seen in the Heppner area.
Golden eagles can be found along Lost Valley Creek and along the foothills. Bald eagles are starting to show up along the John Day River, try the segment from Spray to Dayville for best chance to see them.
Waterfowl are finally showing up in numbers along the Columbia Rivers. The most common to be seen are mallards, American widgeon and Canada geese. But northern shovelers, Coot, blue wing, green wing, and cinnamon teals, , buffleheads, and common mergansers can also be found. Common and Pied-billed grebes can be seen along the Columbia as well. Great blue herons are found along all of our streams that support fish. There are two that can be found most days between Heppner and Lexington along Willow Creek.
With winter here our deer in the area are all down on the winter range. Take a drive down Willow or Hinton creek bottoms to see mule deer. One can also spot great grey owls in the forest as well. Try the Swale Creek area, there is usually one that can be found in that area. 01/15/13.
UMATILLA COUNTY
Columbia Basin Wildlife Areas
Willow Creek and Coyote Springs Wildlife Areas are both found next to interstate 84 and the Columbia River and have excellent viewing for wetland and riparian obligate bird species. The upland areas are also available for savanna and shrub steppe species of birds. Willow Creek has an ample deer herd and the evidence of beaver activity can be seen on the Willow Creek delta area of the wildlife area.
The Irrigon Wildlife Area holds riparian and wetland habitat and hosts a number of species of birds associated with each habitat. One can see a number of waterfowl and wading bird species in the pothole pond areas. Painted turtles are also common in the pond areas. White pelicans can be commonly found along the Columbia River as well. Geese and ducks are beginning to build along the Columbia River and will be commonly trading back and forth along the river.
Power City Wildlife Area between Hermiston and Umatilla on Highway 395 is also characterized by both wetland and upland habitat. Birding in the early hours will offer opportunity at a number of summering bird species typical of Columbia Basin habitats. 11/6/12.
See the ODFW Wildlife Viewing Map for locations of these ODFW Wildlife Areas.
Umatilla County Uplands
Uplands and forested riparian areas will have a number of wintering birds.
Elk will be more common in the early morning and late afternoon in mid and lower elevation areas now that wintering conditions are in place. Roads moving upslope from the valley floor to the mountain areas would be best to see these animals.
WHITE-TAILED DEER are common along the foothills of the Blue Mountains and can be seen either early morning or evening in those areas. Mule deer are found in better numbers in the desert and mountain areas. 12/3/12.
UNION COUNTY
Ladd Marsh Wildlife Area
Note: Wildlife viewers and anglers need a parking permit to park on the wildlife area. The $7 daily or $22 annual permit can be purchased online or at an ODFW office that sells licenses or at a license sales agent. Learn more about ODFW's Wildlife Area Parking Permit Program.
The Tule Lake Public Access Area and Auto Route are now OPEN. The Glass Hill Unit remains closed to public access; it will re-open April 1. Visitors are advised to carefully read posted signs and consult game bird regulations before entering the wildlife area.
Dogs are not permitted within the Wildlife Area, on or off leash except during authorized hunting seasons. There are numerous quality-viewing opportunities from county roads that pass through the area. Binoculars or a spotting scope will help as many animals are best viewed from a distance.
Seventy or more tundra swans are using the area and have been seen on the refuge below Foothill Rd and on the Tule Lake wetlands. Greater white-fronted geese are arriving in ever greater numbers and should be joined soon by snow and Ross's Geese.
Northern shrike and American tree sparrows continue to be seen in a variety of locations within the wildlife area along with White-crowned Sparrows and Song Sparrows. Say's Phoebe, Tree Swallow and both Western and Mountain Bluebirds have made their first appearances of the season.
Northern harrier, red-tailed hawk and bald and golden eagles have all been seen hunting over the wildlife area. American kestrels can be seen perched on wires along the roads.
Both Greater and Lesser Sandhill Cranes have arrived on the area. Numbers are relatively low but we should see large flocks of Lessers passing through soon. At least one of the pairs that nest on Ladd Marsh is back and has been seen, along with last year's young, in meadows below Foothill Rd. Please report any sandhill cranes wearing leg bands to the Ladd Marsh staff (541-963-4954). If possible, note the color and order of bands on each of the bird's legs (e.g., pink above white on left leg; silver above black on right leg). The specific combination and order can identify individual birds.
Elk movements into the wildlife area from Glass Hill and Craig Mountain have slowed as they are not moving down every day. Wildlife viewers are asked to use caution and keep some distance from elk, especially when they attempt to cross a county road or highway. When motorists approach too closely, they often prevent the animals from crossing or split the herd.
For more information on access rules for Ladd Marsh Wildlife Area, please consult the Oregon Game Bird Regulations or call the wildlife area (541) 963-4954. 3/5/13.