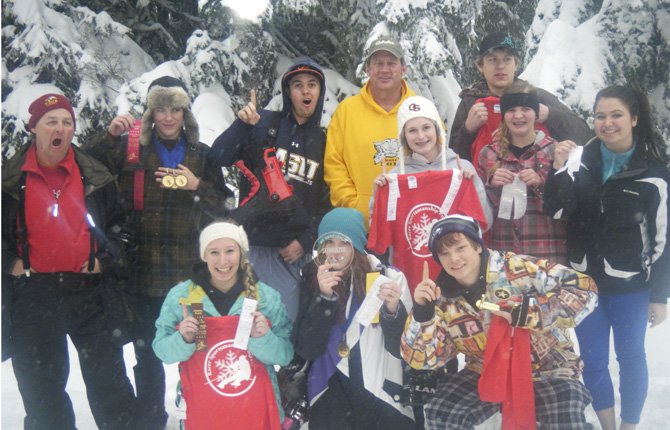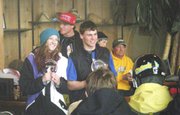 The Dalles — This past weekend, skiers representing The Dalles Wahtonka walked home with a boatload of medals and ribbons for their solid 2013 campaigns at the end-of-the-year Mount Hood Ski League Awards banquet at Mount Hood Meadows.
Medals were given out to the top-3 boys and girls in both giant slalom and slalom events, along with ribbons handed out to skiers finishing from fourth through sixth place in combined times.
With his five wins on the season, Eli Holeman secured No. 1 status in a clean sweep with top honors in giant slalom and slalom to make him the combined boys winner overall at seven minutes and 13.07 seconds for 580 points.
The next closest competitor was Hood River Valley's William Lamer, who racked up 370 points and a time of 7:49.69.
Also on the boys side, Kale Underhill completed a solid 2013 campaign to pick up ninth place overall in the combined standings (174 points).
The winner of the MHSL Sportsmanship Award was TDW skier Mark Johnson, and teammate Travis Diede added a sportsmanship award himself.
The boy's team made so much headway this season on the slopes with a few wins under their belts, and ended up league skiing at second place in the standings behind Hood River Valley with 38 points to their 42.
Now this group will roll up their sleeves for the biggest challenge of the season with state tournament action starting March 7 at Skibowl.
"It was a great season for our team," said head coach Jeff Cordell. "We have a great bunch of kids that work together and push each other. We are all looking forward to the state championships this week."
For the girls, Maya Barnard-Davidson capped her senior campaign with plenty of hardware for her trophy case.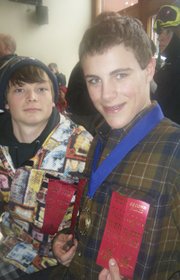 She wound up in fifth place with a combined trophy (230 points) for her work on both the giant slalom and slalom courses.
The Eagle Indian senior tacked on a gold medal for first place in the freestyle half pipe event and she tallied third place overall in the standings.
With those two ribbons in tow, Barnard-Davidson won the Skimeister Award, which is the overall combined alpine and freestyle award.
The girls were able to earn a state bid because of the steady skiing of Bailey Cordell, Alyssa Carrico and Emma Ell-Smith in their race on Feb. 23.
Barnard-Davidson said she approached her attempt aggressively, but she crashed.
"After my run I was very disappointed that I was not able to finish because my skis had double-ejected," Barnard-Davidson said. "I was more disappointed about letting my girl's team down. After my lack of time, I didn't think our girls were going to state as a team, but our freshmen girls stepped up and got us two good times that set us in third and on the road for state."
Bailey Cordell (8:40.60 and 191 points) chalked up eighth place in the girl's standings and the girl's trio of Carsen Cordell, Alyssa Carrico and Bailey Cordell each grabbed sportsmanship awards.
As a team, the Tribe amassed 46 points and a final marker of 26:53.80 to end up tied for second place with St. Mary's Academy (46), but SMA clinched second place outright due to a combined time (26:37.50), less than 16 seconds in front of TDW over six races.
With Barnard-Davidson ready to hang up her skis after the season is in the books, she has feelings of a bright future for the girl's program.
"This season on ski team has been one of the most fun thus far," the Eagle Indian senior said. "This success that our team has dealt with has just caused us to become closer as a ski team family. We have some great new girls that bring a little spice to the team and I am excited to see them improve so much."
Barnard-Davidson could not wrap her head around the notion that this was her last weekend skiing as a high school participant.
She recalls the first time she donned the Eagle Indian colors on the slopes.
"My four years really have flown by," she said. "I will always hold this team near and dear to my heart. They have taught me the importance of competition, but also having fun with it."