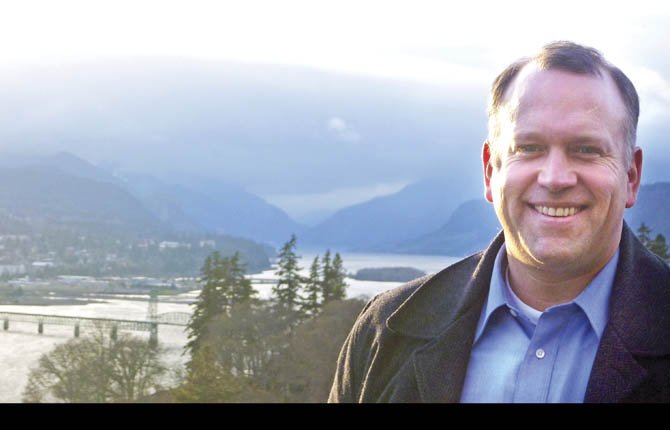 The Dalles — With a sometimes-bruising year under his belt as executive director of the Columbia River Gorge Commission, Darren Nichols is more optimistic than ever for the future of the gorge.
Where others might imagine a morass of entrenched conflicting views, Nichols sees possibilities and opportunities.
"We really can have it all, if we're willing to work together, and I think that's the key," he said.
One such opportunity presented itself soon after he arrived in February 2012, when an unexpected bit of money was made available to the commission.
He got commission approval to use it to hire two universities to conduct detailed interviews with over 80 area stakeholders, to see how willing they were to work with each other on gorge issues.
They found people, in general, were indeed willing to work together to find mutually agreeable solutions to issues.
Part of that willingness stemmed from the new faces at the commission, from the executive director to the commission itself, which gained four new members last year.
And Nichols was ready to run with that willingness, sensing a ripe moment for rebooting the gorge commission.
Since then, the commission (with its new membership) has spent hours learning about the scenic area itself, about each other as individuals, and how to effectively lead a process to get varying interests to work together to find solutions.
Nichols not only brings enthusiasm and energy to his post, but also some White House connections. He recently earned his law degree, and just before coming here, had an internship with the White House Council on Environmental Quality.
He learned that staffers there were well aware of the national scenic area and its mission of sustaining both economy and environment.
The scenic area is internationally known as well. In his first year here, Nichols has hosted several groups from China, and delegations from Vietnam and the Galapagos Islands, all wanting to know how to protect the environment while supporting the economy.
When his internship in Washington, D.C., finished in February 2012, Nichols arrived at the gorge commission to significant controversy.
A highly visible clearcut east of Hood River, on private land zoned as open space in the gorge management plan, was under way as he got here. The gorge watchdog group Friends of the Columbia Gorge called it an illegal clearcut, since logging is not allowed in open space under the gorge management plan. It contended the gorge commission knew about it and allowed it to proceed.
The gorge commission said it didn't know of it, and indeed only learned of it from the Friends. After learning of the clearcut, commission staff contended it couldn't advise whether the logging should proceed, owing to a discrepancy between the federal act creating the scenic area and the gorge management plan implementing the act. The former does not ban such logging, and the latter does.
Nichols said, the clearcut "presented a very unfortunate situation as a starting point for a relationship that I had hoped, and continue to hope, and am frankly positive will be a positive one."
He lauded the Friends for "making significant effort to reach out and to build positive working relationships. I can honestly say that their chair and executive director have reached out to us in a way that we appreciate."
Energetic and optimistic by nature, Nichols thinks the gorge can have it all: economic development and environmental protection.
Indeed, the federal act creating the scenic area 25 years ago charged the gorge commission with pursuing both objectives.
While tradition sees those as competing, either-or goals — and for years the commission effectively ignored the economic development prong, said former commissioner Joyce Reinig — Nichols believes one isn't possible without the other.
The two purposes of the act are "clearly intended to work together," Nichols said.
He's even part of a new group of local business-oriented government agencies that are now focusing on protecting natural resources "as a workforce retention and recruitment tool," he said. "I'm not kidding."
A prime example of the mutually beneficial aspects of economy and environment is the gorge company, Insitu, Nichols said. The aviation company located here precisely because it was a beautiful place to live, with plenty of outdoor recreation, he said.
A Portland native, Nichols studied business economics at Willamette University. The program focused on regional economic sustainability, and the role natural resource protection played in it.
That would become a theme in his career and further education. He later got a master's degree in urban and regional planning, and this year finished his law degree in environmental and natural resource law.
Of his early economics classes, he said, "That really intrigued me, the notion that we could, through careful planning and through smarter community decision-making, protect the landscape that we love and build sustainable communities."
After college, he worked for 10 years as a builder, doing large-scale commercial and residential remodels, where he specialized in tailoring spaces to fit people's needs.
Then he went to graduate school and picked up his master's degree in planning. He brought a remodeler's perspective to planning: "Do we have all the right things in the right place?"
He was the lone planner in Canby for a time, giving him experience in every aspect of that job. Then he took a job at the Oregon Department of Conservation and Land Development.
In his seven years there, he held managerial positions, helping with grant administration and providing technical support to local planning offices.
That work put him in direct contact with the gorge counties and the scenic area act.
He decided to start law school in 2009 because of "a recognition that there is a significant opportunity at the intersection of environmental protection, community development and property rights."
"There's more to be gained for all of them if they're willing to work together at those intersections," he said. "I experienced that as a building contractor, I experienced that as a city planner, I experienced that as a statewide planning manager."
And now, "I believe strongly that if the communities and citizens and agencies in the national scenic area are willing to work together there is a tremendous amount of benefit to be gained for resource protection, environmental performance and community development."
That will take time, money and goodwill, he said. As for money, he's working to raise the commission's profile, and budget, in the Oregon and Washington legislatures. The commission has lost half its revenue since 2009.
"The states' budget situation has taken a drastic toll on the capacity of the gorge commission," he said.
While some saw the gorge commission as being in its death throes owing to its money problems, Nichols saw opportunity for a reinvigorated gorge commission to provide leadership and support to help solve the region's challenges and capitalize on its opportunities.
"That's what drew me to the commission," he said.