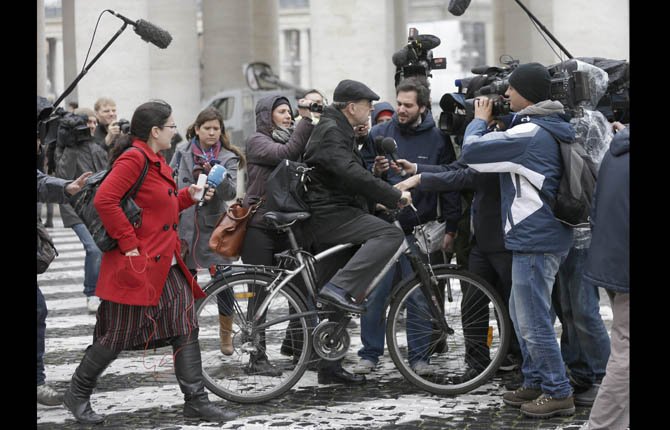 Senator filibusters Brennan
WASHINGTON (AP) — A Republican senator and tea party favorite from Kentucky used an old-style filibuster lasting nearly 13 hours to take control of the chamber and block Senate confirmation of John Brennan's nomination to be CIA director.
Sen. Rand Paul ended his filibuster Thursday shortly after midnight, but Senate Minority Leader Mitch McConnell, also a Kentucky Republican, said he would continue to oppose Brennan's confirmation and resist ending the debate on President Barack Obama's nominee to lead the spy agency.
Speaking hours later on the Senate floor, McConnell said Paul deserves an answer from Attorney General Eric Holder on whether the Obama administration has authority to use lethal force against a suspected terrorist who is a U.S. citizen.
"It simply doesn't have that right, and the administration should just answer the question," McConnell said. "There is no reason we cannot get this question answered today, and we should get this question answered today. Frankly, it should have been answered a long time ago."
The Obama administration has said it has not conducted such operations inside U.S. borders, nor does it intend to. Paul and backers said that wasn't good enough.
Kenyan media self-censor news
NAIROBI, Kenya (AP) — It's the biggest news of the year in Kenya: A presidential election with huge potential for violence. Why then are the headlines so boring, the TV broadcasts so dull? The answer: Kenyan media are self-censoring the story to avoid fanning the flames of conflict.
Kenyan media members told The Associated Press on Thursday that the Media Owners Association agreed not to sensationalize headlines or even put political press conferences live on the air, to avoid airing hate speech or political attacks that could incite violence.
It's a noble goal. After Kenya's 2007 president vote vicious tribe-on-tribe violence killed more than 1,000 people. Small bouts of violence have been reported in Kenya in the days after Monday's presidential election, though the country has remained largely peaceful.
But media self-censorship raises concerns about the public's right to know and be informed going into the election.
N. Korea makes nuclear threat
UNITED NATIONS (AP) — The U.N. Security Council voted unanimously Thursday for tough new sanctions to punish North Korea for its latest nuclear test, a move that sparked a furious Pyongyang to threaten a nuclear strike against the United States.
The vote by the U.N.'s most powerful body on a resolution drafted by North Korea's closest ally, China, and the United States sends a powerful message that the international community condemns the ballistic missile and nuclear tests — and repeated violation of Security Council resolutions.
Immediately before the vote, an unidentified spokesman for Pyongyang's Foreign Ministry said the North will exercise its right for "a preemptive nuclear attack to destroy the strongholds of the aggressors" because Washington is pushing to start a nuclear war against the North.
It appeared to be the most specific open threat of a nuclear strike by any country against another.
Intern killed by lion attack
DUNLAP, Calif. (AP) — The Seattle-area intern fatally mauled by a lion at a Central California exotic animal park loved lions and tigers since childhood, "was absolutely fearless" around them and hoped to work at a zoo after her six-month internship, her father said late Wednesday.
"She was at ease with those big cats," Paul Hanson, a Seattle-area attorney, said of his daughter, Dianna Hanson, 24. "They liked her."
Hanson told The Associated Press that he dropped his daughter off Jan. 2 at Cat Haven, about 45 miles east of Fresno.
He said his daughter had worked with big cats before but told him she would not be allowed to go in the lion cage.
On Wednesday, deputies found the woman severely injured and still lying inside the male African lion's enclosure with the lion nearby, said Fresno County sheriff's Lt. Bob Miller. Another park worker couldn't lure the lion into another pen, so deputies shot and killed it to safely reach the wounded woman, but she died at the scene, he said.