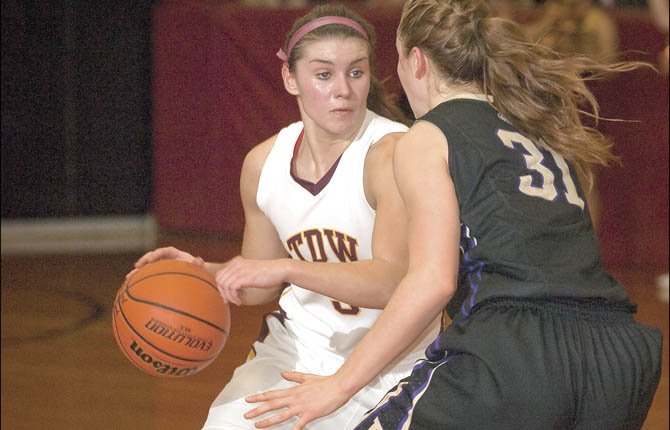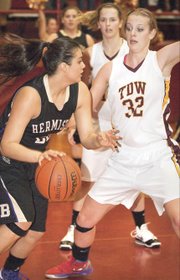 The Dalles — The Dalles Wahtonka head coach Dan Telles looked back at the season and realized everything his girl's basketball team has accomplished.
He was happy with how they ended up.
For the second straight season, The Dalles Wahtonka had Emily Bailey and Olivia Starks earn spots on the first team ballot of the Columbia River Conference all-league lists for the 2012-2013 season.
Bailey added Player of the Year honors to her accomplishments.
Throughout the season, Bailey had monster games where she stuffed the stat sheet in every facet of play, both offensively or defensively.
She was an integral part of the Eagle Indian hoops program, slaying some nemesis dragons along the way.
On Jan. 15 at home, Bailey had 16 points and eight rebounds to lead her TDW squad to a 49-38 win over Hermiston.
In the fourth quarter, Bailey scored 11 of her points, on 5 of 6 from the floor, including the final steal and layup to ice the game at the buzzer.
Entering this season, Hermiston has dominated this series with 18 wins in the past 21 games, so it was a bit of a reprieve for the TDW squad.
She notched 10 points, five rebounds, six steals, three blocks and three assists and hit a game-winning jumper with 18 seconds remaining to beat Pendleton 50-48 in the hostile confines of Pendleton High School on Feb. 12.
With the season-ending injury to all-league point guard Anndria North, Bailey had to play more of a point guard role instead of her normal wing position.
All told, she averaged nine points, 6.7 rebounds, 2.5 blocks, five steals and 4.1 assists per game.
"She dominated in all areas of the game," said Tribe head coach Dan Telles. "Emily had to play a new position, but she went right in and moved the ball well and controlled the tempo. She has a great shot and she has a great ability to get her teammates involved."
All League
Girls Basketball
For play in 2012-2013 season
Top Player..Emily Bailey (TDW)
Top Coach..Steve Hoffert (Her)
League Champs.......Hermiston
---
First Team Members
Emily Bailey (TDW) ..............11

Heidi Walchli (HHS) .............12

Mackenzie Byrd (HHS) .......11

Lainey Corbett (PHS) ...........12

Olivia Starks (TDW) ..............10
---
Second Team Members
Ellie Richards (PHS) ..............9

Jansen Edmiston (HHS) ........9

Kelsey Wells (HRVHS) ........10

Laura Waller (HRVHS) .........12

Gabby Heehn (HHS) ...........12
In one game this season, Bailey had a season-high nine blocks in TDW's state play-in game against Wilson.
The Eagle Indians boasted the state's No. 7-ranked scoring defense of 39.7 points a game, and Bailey had a major hand in those numbers.
Even with the loss of North, the Eagle Indians went 6-3 in league play with four of those wins (out of five games) coming at home.
In those contests, TDW averaged 40.4 points a game and allowed 30.6.
"After the North injury, I am sure a lot of people wrote us off, but the girls never stopped believing in themselves," Telles said. "They responded well to the challenge."
One player who has risen to the challenge of playing a more physical role is Starks, the 6-foot-2 inch sophomore post.
After breaking ground in a predominantly backup slot behind Leah Wilson for a portion of last season, Starks averaged nearly a double-double a game in a starting role on the blocks.
On the year, Starks scored 8.9 points and grabbed 6.7 rebounds a tilt. She added 1.1 blocks, 1.2 steals and .5 assists a game as well.
At times this season Starks would bring the ball up the floor on offense.
She was at home in the paint.
This season, the sophomore had three marquee games to prove it.
In TDW's 49-38 win over Hermiston, Starks fell one rebound short of a double-double, as she scored 10 points and pulled down nine rebounds to go with four blocked shots.
Against Pendleton on Feb. 1, a 43-24 win, Starks scored 10 points, pulled down eight rebounds and added five blocked shots.
On Feb. 12 in Pendleton, Starks netted a career-high with 21 points and eight boards in a 50-48 win.
Added to that nugget was her free throw shooting prowess. She sank 9 of 12 free throws, including two late charity shots to tie the game at 48-all with 39 seconds left in regulation.
"Olivia played an integral part in what we were able to do this year," Telles said. "She played solid defense and she shot the ball well. I think she made some real improvements to her all-around game. It is quite an accomplishment for her to be on the first team as a sophomore. She deserves it."
Although TDW loses four seniors to graduation, the cupboard is not bare by any means.
Both Bailey and Starks will be back for additional action, and so will Katie Conklin, Ruthie Ford, Lori Cimmiyotti, Maddy Bradford and Morgan Goslin to name a few.
At one point, that group helped hold a No. 1 ranking in the state and even added wins over Corvallis, Roseburg, Aloha and La Grande as part of their 17 wins.
TDW won its state play-in game at home against Wilson and lost to Lebanon in the first round, one stop short of Eugene.
For the last few seasons, they have been on the cusp of taking their game to the state site.
"We had a good season all around," Telles said. "It should make these other girls even tougher to play against because they have seen adversity and they know how to deal with it. I think because of that, they became closer. They never gave up and kept fighting."