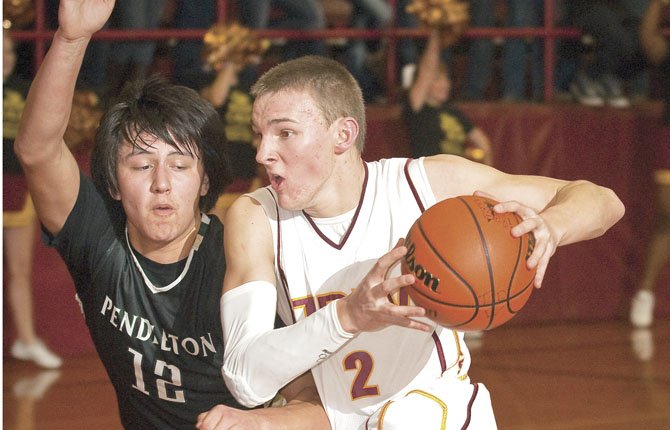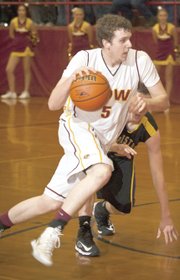 All League
Boys Basketball
POY.........Grayson Byers (TDW)
Top Coach...Adam Strom (Her)
League Champs.......Hermiston
---
First Team Members
Grayson Byers (TDW) ..........12

Quincy George (PHS) ..........12

Alex Ortiz (HHS) .................12

Ryan Wheat (HRVHS) ..........12

Jake Fly (HHS) .....................11
---
Second Team Members
Joel Boozer (PHS) ...............11

Steven Bartells (TDW) ..........11

Donte Robinson (PHS) .......11

Luke Kopecky (HRVHS) ......12

Ramon Contreras (HHS) .....11

Tommy Lane (PHS) .............12

Zach Nerdin (TDW) ..............11
The Dalles — There was so much headway made this season by The Dalles Wahtonka boy's basketball program.
The Eagle Indians finished in second place in the Columbia River Conference, one win from first place, but did not preserve a playoff berth due to the new power ranking system.
In all actuality, if the Tribe had won one more preseason contest, they would have been playoff-bound.
What hurts most is that TDW had two of its 13 losses come by seven points, one loss by three points, one loss by two and another loss by one point.
"We were in most games in the fourth quarter despite playing a tough preseason schedule with 11 out of our 15 preseason games on the road, which is a testament to our student-athletes," said TDW head coach Bob Townsend. "They played extremely hard for me, and were great representatives for the program."

This hoops squad nearly doubled their win total from six in 2011-2012 up to 11 this past year and raised their point-per-game numbers up eight points from 43.2 to 51.2.
The defense rose to the occasion with a drop of nearly seven points, from 57.8 down to 50.9.
For the first time in recent memory, TDW finished undefeated at home in league play (5-0) and wound up 8-1 at Kurtz Gymnasium for the regular season.
With that record of accomplishment in place, opposing coaches rewarded senior forward Grayson Byers with Player of the Year honors to go along with first-team recognition for the second consecutive campaign.
Junior teammates Steven Bartells and Zach Nerdin were also noticed for their athletic success with second-team all-league selections.
When it comes to Byers, he was a tough matchup for other players given his vast offensive repertoire.
He could hit shots from 23-feet away, pull up for a mid-range jumper and coast down the lane for slam dunks.
With his versatility, Byers led the Eagle Indians in scoring, rebounds, 3-pointers made and blocked shots.
Although he is undecided on where he plans to play collegiately, Townsend said due to his work ethic and tools, he has numerous opportunities.
"Grayson worked extremely hard in the offseason on improving his skills," Townsend said. "He is an outstanding student, an even better young man, and a joy to coach. It will be hard to replace his skill set at TDW, but we will be happy to watch him next year while he continues his basketball at the collegiate level."

One of the main reasons TDW enjoyed such a surge in offensive numbers was due to the standout play of Bartells at point guard.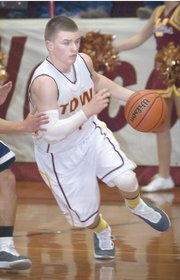 The junior brought a calming element to the Tribe and made everyone better around him due to his deft passing.
He led the Eagle Indians in assists and was second in scoring average."
"Steven had an outstanding year for us at point guard," Townsend said. "In our system, we ask the point guard to do a lot, and take on a lot of responsibility and Steven excelled."
Bartells and Byers were enough of a threat on offense, so Townsend needed another reliable option in place to take some of the scoring responsibilities.
Enter Nerdin.
The junior improved by leaps and bounds on the hardwood, bringing an all-around skill set to a team that went 10-2 this season when scoring 55 points or more.

Behind Byers and Bartells, he was the third leading scorer on the varsity roster.
"We asked him to play multiple positions, which is very difficult with our multiple offensive sets, and complex system," Townsend said. "Zach is a very hard worker and his competitive nature benefited the team greatly both in games and at practice."
In the past couple of seasons, the Eagle Indian program has lost James Atoe, Dallis Raynor, Damian Telles, Isaac Bailey, Ryan Johnston and host of others in the last few years to graduation.
This year with Byers, Dylan Fitzgerald, Connor Mathisen, Hunter Malcolm and Justin Sugg set to walk across the stage, Townsend said their all-around contributions would be missed.
They were the type of athletes the coach wants to see in his hoops program.

He added that for the Tribe coaches, players are judged on individual success on the question, 'Did the player reach their potential?'

Townsend walks away believing these kids maximized their potential on the basketball court.
"They worked hard for me, both during the season and put in the necessary time in the offseason to improve their skills," Townsend added. "They represented themselves and our program both on and off the court very well. I was extremely proud of them as young men, and it was very rewarding to see their growth from their freshman year to now."
Much of the foundation building for Townsend's program starts with the youth with kids establishing a love for the game from an early age.
He is comfortable with the system that is now in place, but said that there needs to be a way to improve the youth and junior high programs to ensure that incoming freshmen have a level of basketball skill that is consistent with other quality 5A programs.
"I feel it (the system) has led to consistency on the varsity level, and given the boys an opportunity to be successful in a 5A varsity program," Townsend said.

With the return of four varsity lettermen in Bartells, Nerdin, Clay Copper, and Austin Wilson, Townsend has a solid foundation in which to build.
That quartet was all key contributors to the program.

"Each of them led our team in scoring during various games throughout the year," Townsend said. "I am excited about seeing them continue to grow. Our offseason program participation will be critical to ensure that we can find additional players ready to step in and fill the void left by five quality seniors."