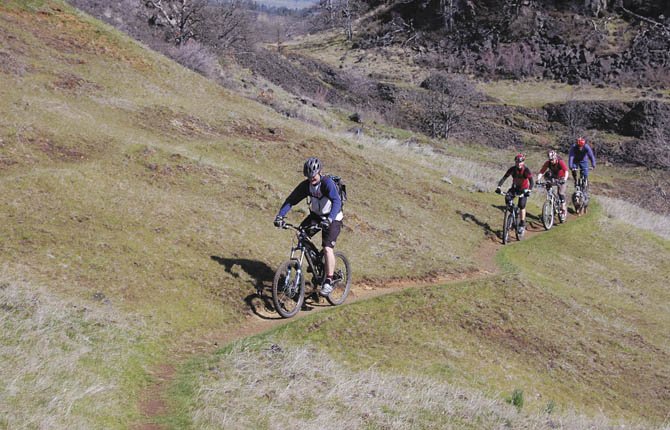 The Washington Trails Association is organizing work parties to restore and reroute trails at Catherine Creek and Coyote Wall trails in the Columbia River Gorge Saturday and Sunday, March 16 and 17.
Support from the National Forest Foundation and Skamania Lodge is helping make the work parties possible.
The Catherine Creek Trail is one of the most botanically rich parts of the state. The spring wildflower show exhibits unique and rare species specially adapted to the unusual soil and climate there. The oak woodlands and rolling meadows are beautiful all year round and the trails offer panoramic views of the gorge.
At Coyote Wall, also known as the Mosier Syncline directly across the Columbia River from Mosier, features oak Forests, open meadows, spring wildflowers and dramatic vista's of the Columbia River Gorge that draw hikers from both Oregon and Washington to the network of trails. Washington Trail Association volunteers will be working on developing an official trail system out of the many user-created paths through the area in accordance with the new Forest Service Recreation plan for the Coyote Wall-Catherine Creek Area.
Burdoin Mountain, Coyote Wall and Catherine Creek areas offer some of the gorge's most unique treasures.
These adjacent areas feature rugged cliffs, Oregon white oak woodlands, wide open meadows and sweeping views of the gorge that rival any others around.
The unique soils and climate have created some special plant communities that include many endemic and rare wildflowers that deliver a spectacular succession of colorful displays. With unique plant communities come unique species of animals that are as rare as the plants they rely upon for habitat.
In 2011 the Forest Service made official its recreation plan for the area following a contentious planning process. In a nutshell, the plan seeks to convert a proliferation of unofficial, user-created routes into a system of trails that reduce trail user conflicts, end trespass on adjacent private property and protect one of the most botanically unique landscapes in the region.
With support from a National Forest Foundation grant, the Washington Trail Association is working with other trail user groups to redevelop the trail system in accordance with the recreation plan. Online: http://bit.ly/ZoyzMN