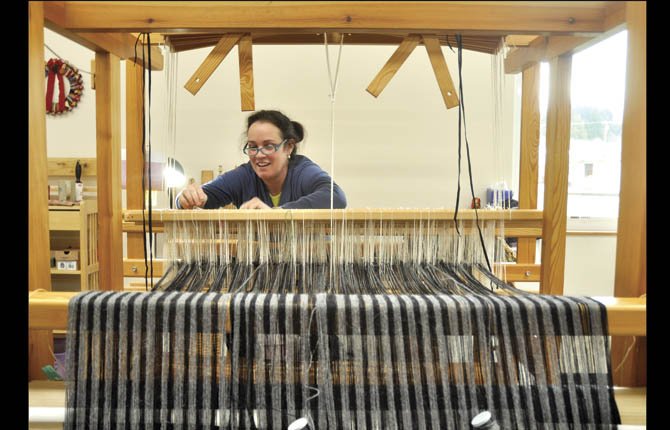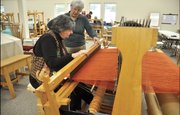 The Dalles — The Weavers
First of two parts.
Read about The Spinners
ODELL — The colors range from muted creams and beiges, blacks and grays, to brilliant reds, rusts and blues when the Grace Carter Weavers gather Fridays in Odell to work on their various projects.
They wandered over the central gorge landscape until they came to settle in Odell, in space behind Encore Video in Hood River, in the basement below what is now Everybody's Brewing. Then Kent and Judy Lambert built the building where they meet now.
"We call this Judy's place," said Mary Mark as she weaves fabric for towels. Lambert died before she could enjoy the weaving space named for her. Not all of the weavers are members of the Columbia Fibres Guild, but many are. This group named themselves after their matriarch, Grace Carter. "Grace started teaching people to weave," Marker said.
Though some of the members give lessons, most people interested in learning are simply told to "buy the book." The book is "Learning to Weave," by Debra Chander. "If people want help, somebody will always help them," Mark said.
That's pretty clear as Dottie Smith looks over Linda Frizzell's work on rust-colored wool upholstery that will eventually wear like iron on chairs at Timberline Lodge. The ski lodge, built under the Works Project Administration during the Great Depression, has employed artisans throughout its history to supply and decorate the historic Mt. Hood structure.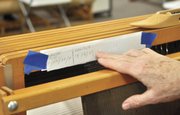 "It's supposed to complement, not match the other fabric," said Frizzell, who lives at the community of Mt. Hood and bid on the weaving project.
The project has been problematic. The rough wool is grabbing and stalling progress until Smith notices a problem in the loom's set-up. Once that is corrected, progress resumes.
Experience levels span from beginner to expert among the weavers here.
Libby Amato has been weaving only about six months. Her red and blue project is a sampler, showing different weaving patterns.
Nearby, Jo Anne Sala is winding a shed to measure the warp fibers that will serve as the basis of a narrow blanket binding. The blanket is made in a log cabin weave, using alpaca fibers in natural beige and cream colors.
Sala has been weaving with this group since she moved here about 11 years ago and considers herself a hobbyist.
"I love the camaraderie," Sala said, "and the input from other weavers. We have some women who have been weavers much, much longer than I have and are a constant source of help."
Across the room, Norma Redford is working on fabric for hand towels in a candy cane weave of her own design.
"I'm unweaving right now," Redford said, "which is what weavers do, too. There is a broken warp I need to fix."
The group always has time to admire the work of other weavers, so when Anne-Marie Slater of White Salmon rolls long, narrow, pale yellow fabric destined for placemats, the group gathers around.
Kathy Semmes watches from her large Scandinavian loom nearby.
"I used to have an outdoor clothing store," Semmes said. "I made lots of nylon sportswear and I hated it."
She's been weaving since around 1990. She enjoys the process of taking fibers from their source (she raises alpacas, sheep and bunnies) to finished project.
"I like to design fabric and clothes," she said. "This way I know the origin."
It takes patience and attention to detail," she said.
She lays out samples of the gray-and-black shadow weave she is working on now. One sample is unwashed, another is only washed and a third is washed and dried, so Semmes knows how the fabric will behave under daily use and care.
"Most of us design our own fabric," Semmes said.
Like the spinners in The Dalles, Semmes sees the weaving group as a family.
"It's kind of cool, because of the ages," she said. "We're all spread out."
The group has added a Monday evening session to the Friday morning gathering as a way to accommodate younger, working members.
"What way we can help the newbies," she said.
Group members come from all over the gorge, showing their work at four county fairs. Semmes said they are also willing to do demonstrations for schools and other groups with enough notice.