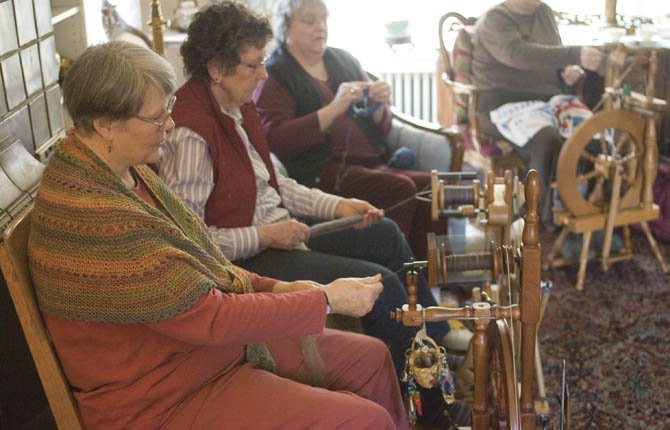 The Dalles — The Spinner
Second of two parts
Part one, The Weavers.
The hum of conversation goes hand in hand with the soft whir of spinning wheels as the Columbia Fibres Guild spinners meet at Fran Connolly's house on a Tuesday morning.
"We're the fun bunch," said Linda Bollmer with a chuckle. But that's not all.
"It is the most caring, nurturing group I've ever been in," said Elsa Weiss. "It's like a family."
They are nurturing not just of each other, but also of the world around them, as evidenced by their annual charitable projects.
"Every year we do a guild project," said Weiss, who is the guild president. "The purpose is to get us all to stretch our skills."
Since the annual project started last June, guild members have submitted more than 75 items for charitable purposes. Among those items are chemotherapy hats and shawls for Celilo Cancer Center and prayer shawls for local churches. Twin members Linda Horton and Judy Bayley made baby blankets for twins.
The idea for a charity project came from Connolly, who, at 94, is one of the guild's last original members. The guild started in 1973.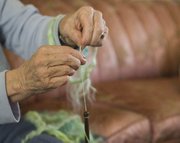 "We were just a small group of weavers and women who wanted to learn to spin," Connolly said.
She had started weaving with Grace Carter in Hood River in 1971, then the number of weavers at the east end of the gorge had begun to grow, so they formed the guild.
The members of this group use a variety of methods.
Bayley uses a simple drop spindle.
"You can just roll the fibers down your thing and make yarn," she said.
Wheels include castle and traveler varieties propelled by foot pedal, while Patty Spore operates a small, battery-powered variety.
"We weave for pleasure, then we have a nice stash going when we want to make something," said Marian Dyche.
"It's very therapeutic," Bayley added.
They also get the same companionship that women have experienced through time immemorial from gathering together to spin and weave as they provide for their households.
"It's camaraderie," Dyche said, "but you've also got to keep your mind going. It's something to do where you can be with people and learning."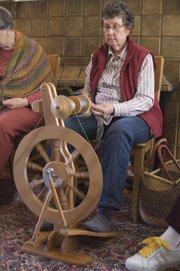 "The inspiration is amazing," Weiss added. "If you don't come for a few weeks, you run dry."
Conversation ranges far afield, with only one rule: no politics or religion.
Most wouldn't miss the weekly spinning meetings.
"Tuesday is holy," Weiss said. "Every Tuesday except Christmas is the guild meeting day.
In the summertime, the group may take their wheels on the road to Maryhill Museum, Eightmile Campground, Toll Bridge, Sorosis Park, Blue Hole on the Deschutes River or Dufur Park. They also gather from time to time for events at the Anderson House at Fort Dalles Museum.
"We're excited about the festival park," Weiss said. It's another local place where spinners can gather and demonstrate their craft.
They also attend events centering on fiber arts, like the Warm Springs Museum's joint exhibit of Native American and Maori weaving.
Like their travels, the fibers range far afield.
Linda Horton is using a blend of wool with fibers gathered brushings of her American Eskimo dog.
"After two or three years I'll collect enough to do what I want to do," she said. "I'll probably have enough to make a scarf."
Group members make scarves with a slit that allows one end to fit through the other. They're wide so they can either sit around the neck or be pulled up to serve as a hood.
Other fibers group members have spun with include buffalo, yak and quivet (Alaskan musk ox). Patty Spore raises Shetland sheep on her Spore Farm and also brings in wool from Shetland Island.
"The creativity never ends," said Earline Matson, explaining why she enjoys attending the meetings.
"But I think we always come back to wool," Dyche said. "It blends with anything."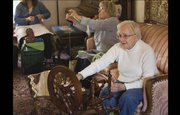 There's always a learning aspect to the group gatherings.
"I like the sharing of talents," Deb Hucke said.
"But it's not overwhelming," added Weiss. "There are so many ways of doing things."
Asked why they gravitated to fiber arts, Weiss joked, "We're all victims of addictive behavior."
She started spinning in response to her mother's dream.
Bayley saw the group at the Wasco County Fair and became intrigued.
It's easy to become interested, Dyche said.
"All you have to do is see a sheep and put your hand into its wool."