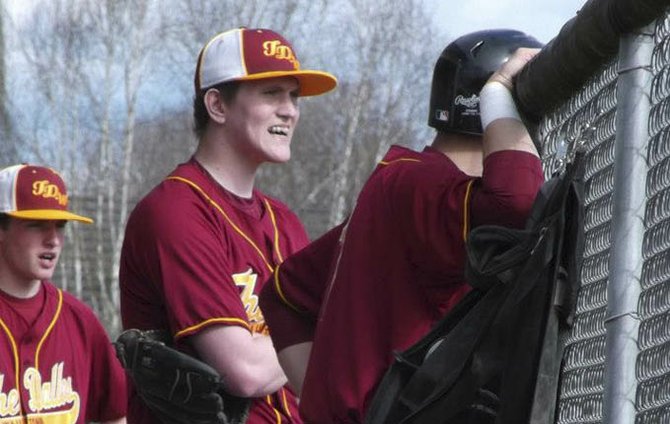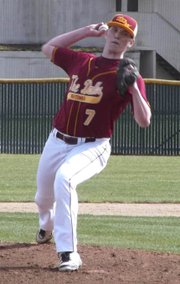 The Dalles — Nothing can take the place of a baseball diamond.
Players and fans describe the ambiance as breathtaking – there is the smell of the grass and hot dogs grilling, the chills of early March games that dissipate with the heat of June.
Champions are made there, dreams become reality and a special bond is created between players and coaches.
Dakota Walker's return to the diamond last night in a preseason baseball game in Eugene had a much deeper meaning, however.
More than 11 months to the day from a diagnosis of Burkitt's Leukemia, The Dalles Wahtonka High School senior got the starting call from manager J.R. Runyon to kick off the 2013 varsity season.
"It was a pretty emotional moment for me actually," Walker said. "As soon as I set foot on that field, it let me know that I was actually better and over this thing. It just felt so amazing. Just to get back on the field after everything I had gone through was just so amazing."
Against a Marist team that made an opening playoff round berth in 2012, the right-hander faced 10 batters in his two hitless, scoreless innings with four strikeouts and one walk in the Eagle Indian's 4-0 loss Monday night in a non-league baseball tussle in Eugene.
The first batter Walker faced reached base on an error, and the second hitter in the lineup was safe on a fielder's choice.
With runners on second and third base and no outs, Walker wiggled out of danger with a strikeout, a popout and an inning-ending groundout.
In his second frame of work, Walker struck out the side in impressive fashion.
Runyon exhibited pride in his ace's effort.
"The coaching staff and players were very excited for Walker to get the start on the bump today," he said. "He has been working extremely hard to be able to get to this point and he gave us a great effort out there today. We are so thrilled to have him back in action again."
It appears that Walker is hitting the ground in full speed from a successful 2012 campaign, his first in the varsity ranks.
In his brief stint, he posted a 2-0 record with a 0.88 earned run average. In seven games pitched, Walker allowed 10 hits, struck out 19 and walked six in 16 innings.
Entering last season, Walker hit as high as 87 miles per hour on the gun, and registered 90 at one point before being struck with leukemia.
"It felt like I was throwing just as hard as before I left. I was pretty dominant out there," Walker admitted. "I didn't have as much control as I should have had, but I was pretty controlled in my pitching. I did not know how well I would do to be honest. You never know. After today, I am pretty confident that I can come back just as strong."
Meaningful words from an athlete who lost more than 40 pounds in his eight months of chemotherapy starting in April 2012.
Burkitt's Leukemia is a fast growing cancer, but it is also very treatable.
It is a type of non-Hodgkin's lymphoma that causes cells in a child's lymphatic system to abnormally reproduce, eventually causing tumors to grow.
Leukemia and lymphoma are both classified as different forms of the same disease.
Because it is an aggressive form of leukemia, the treatment a patient receives is intense and can last up to nine months.
It has been a long road back for Walker – his final chemotherapy session came in the middle of November last year.
In a quick flash, he went from feelings of dehydration, breathing difficulties and flu-like symptoms to blood tests to diagnosis to recovering in the intensive care unit at OHSU Doernbecher Children's Hospital in Portland.
Two days after his initial diagnosis, Walker had a bone marrow drawing, three blood transfusions and a first stage of chemotherapy.
He had trouble coming out of the initial procedure, experienced accelerated breathing, and had to be put on a different breathing machine to help his body relax.
Walker's temperature spiked to 104 degrees and dropped to 99 degrees in that week.
During this eight-month journey, Walker went through chemotherapy, once every 21 days in a six-day, weeklong process.
Walker received more blood transfusions and platelets, two-to-five pints at a time, between visits.
"It drained me quite a bit," Walker said. "I lost 40 pounds and it almost killed me. It was really tough. As you go on, they taper off the dosage amount. I had an IV for the first month or so, and then I had a port put into my chest, which was like an IV pretty much. I had that in me 24 hours a day."
He finally received clearance from his doctors last month, and he has hit the gym for cardiovascular exercises, sprinkled along with a few bullpen routines.
It took awhile for his body to acclimate itself to such a heavy workload, with some soreness issues, but nothing overbearing.
He did not want any other obstacles to get in the way of his return.
Walker knew he could count on his friends for emotional support, but the biggest assist came from his mother Dana, Don Ringlbauer, younger brother and current teammate Colton and older sister Kealy.
His girlfriend Melanie Taphouse was a major source of inspiration as well.
She stayed at the hospital by Dakota's side.
"Every once in a while some doubt would set in, but not a whole lot. It wasn't too bad," Walker said. "Just being around my friends and family helped so much. They got me through this. They were so positive. It made me want to get out there and play a little more."
Last season, Dakota's teammates dedicated their season to him. Team mothers Angie Wilson and Jen Mathisen were instrumental in starting a bank fund and a yellow bracelet fundraiser to help offset medical costs.
In addition, every player and coach had the initials 'DW7' embroidered on their hats.
The one player who earned the distinction of being on the receiving end of Dakota's pitches Monday was his battery mate and friend, Clay Copper.
"It was an awesome feeling to have Dakota back on the mound," Copper said. "He is a huge inspiration to all of us on the club and the whole community. Of course, I have a sense of pride in Dakota. He has fought harder than I could have and he wants to win more than anyone I know. I'm so proud of Dakota. It's going to be a fun season working with him."
Dakota Walker was a kid again wearing the crimson and gold on the diamond.
It has been his home for many years, from Little League to Babe Ruth now to varsity ball.
It all came out for Dana Walker, as she watched her son play baseball once again.
She was yelling her lungs out.
"It was the best day I had in a long time," she said. "There is nowhere else that I would've been today. The emotions that I felt when he walked up on the mound for the first time brought tears to my eyes. I was so thankful for all the support that we got from our friends and the community and I'm looking forward to many more games to come and be able to watch both my boys play ball this year."
Walker knows that his case is a success story.
According to www.cancer.org, there are 1.63 million new cancer cases every year.
Nearly 12 million Americans with a history of cancer were alive in 2008.
Fighting through this, Walker is hopeful that his story serves as an inspiration to every person going through this adversity.
"The biggest learning lesson is staying positive and realizing that no matter what you are going through, if you have the support and the strength to fight, you can get over anything if you try," he said. "Nothing is impossible."