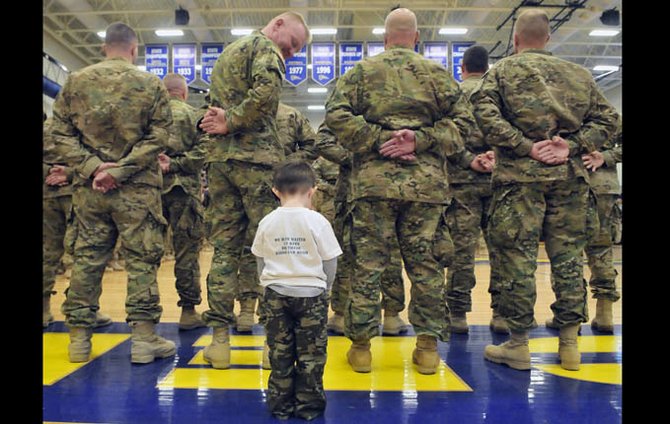 Ahmadinejad scolded for hug
TEHRAN, Iran (AP) — Senior Iranian clerics have scolded President Mahmoud Ahmadinejad for consoling Hugo Chavez's mother with a hug — a physical contact considered a sin under Iran's strict Islamic codes.
The rebuke follows a widely published photo showing Ahmadinejad embracing Chavez's mother at the funeral of the late Venezuelan president in what is seen as taboo-breaking behavior in Iran.
Iranian papers on Tuesday cited clerics from the religious center of Qom who described the hug as "forbidden," inappropriate behavior and "clowning around."
Iran's strict Islamic codes prohibit physical contact between unrelated members of the opposite sex.
Holmes pleads not guilty
CENTENNIAL, Colo. (AP) — The judge in the deadly Colorado shooting case has entered a not guilty on behalf of James Holmes after his lawyer said he's not ready to enter a plea.
The judge says Holmes can change his plea to not guilty by reason of insanity later, if he chooses.
If convicted, Holmes could be executed or spend the rest of his life in prison.
Holmes is charged with multiple counts of murder and attempted murder. Twelve people were killed and 70 wounded in the July 20 attack on moviegoers in Aurora.
Water beats out soda again
NEW YORK (AP) — As New York City grapples with the legality of a ban on the sale of large cups of soda and other sugary drinks at some businesses, one thing is clear: soda's run as the nation's beverage of choice has fizzled.
In its place? A favorite for much of history: Plain old H2O.
For more than two decades, soda was the No. 1 drink in the U.S. with per capita consumption peaking in 1998 at 54 gallons a year, according industry tracker Beverage Digest. Americans drank just 42 gallons a year of water at the time.
But over the years, as soda increasingly came under fire for fueling the nation's rising obesity rates, water quietly rose to knock it off the top spot.
Americans now drink an average of 44 gallons of soda a year, a 17 percent drop from the peak in 1998. Over the same time, the average amount of water people drink has increased 38 percent to about 58 gallons a year. Bottled water has led that growth, with consumption nearly doubling to 21 gallons a year.
Gun bill passed on to Senate
WASHINGTON (AP) — A divided Senate Judiciary Committee on Monday narrowly approved a Democratic bill expanding required federal background checks for nearly all gun purchases, but put off immediate consideration of an assault weapons ban.
The panel approved the measure by 10-8, supported by all Democrats and opposed by every Republican. Expanded background checks is at the heart of President Barack Obama's proposals to curb firearms. The sponsor is Sen. Charles Schumer, D-N.Y.
Drink ban struck down by judge
NEW YORK (AP) — A judge struck down New York City's pioneering ban on big, sugary drinks Monday just hours before it was supposed to take effect, handing a defeat to health-minded Mayor Michael Bloomberg and creating confusion for restaurants that had already ordered smaller cups and changed their menus.
State Supreme Court Justice Milton Tingling said the 16-ounce limit on sodas and other sweet drinks is too arbitrary because it applies to only some sugary beverages. and some places that sell them.
"The loopholes in this rule effectively defeat the stated purpose of this rule," Tingling wrote in a victory for the beverage industry, restaurants and other business groups that called the rule unfair and wrong-headed.