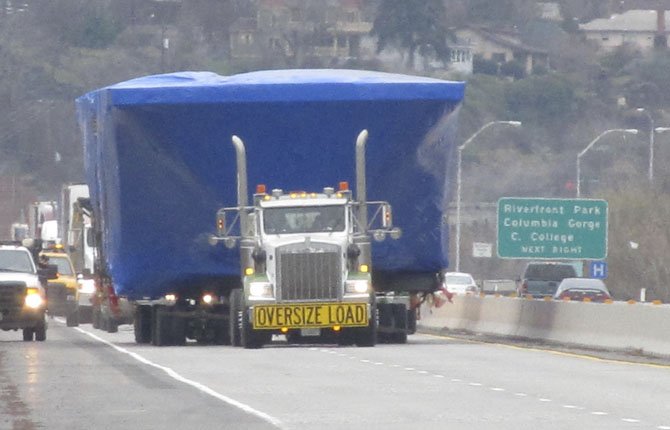 The Dalles — A WIDE, BLUE load delayed traffic on Interstate 84 through The Dalles Tuesday morning as a very slow delivery was under way to rural Roosevelt Lake. It was the main hull of the replacement Keller Ferry.
The ferry is the only non-mountain pass access connecting the Colville Indian Reservation and rural Ferry County to the rest of Washington, according to the Washington State Department of Transportation website. The 15 to 20-minute ride is part of State Route 21 and operates from 6 a.m. to midnight 365 days a year. It is used daily by the Wilbur School District buses to transport students. It also ships lumber, livestock and agricultural products to markets throughout Washington, averaging about 160 vehicles per day and reaching 350 or more during holiday and summer traffic. The hull left Foss Maritime March 8. The Washington State Department of transportation awarded the $9.6 million contract to Foss. The all-aluminum ferry was built in pieces at Foss' Rainier location and will be assembled near the ferry landing. The ferry will replace the 63-year-old "Martha S." The construction contract calls for Foss to deliver the new ferry in May 2013.
According to Haystack Broadcasting, the 30-mile-per-hour transport took 30 minutes to travel from the Chenoweth Interchange to the Highway 197 overpass.