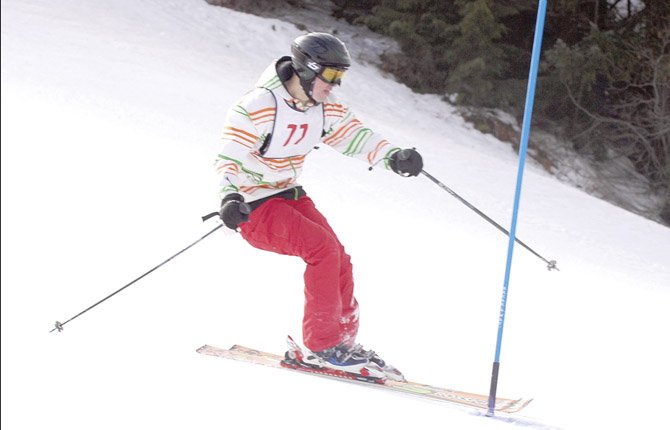 Mt. Hood — The Dalles Wahtonka seniors Travis Diede, Kale Underhill and Maya Barnard-Davidson put the finishing touches on their solid careers this past weekend at the OISRA state championships with good performances on the Mount Hood slopes.
Barnard-Davidson competed in giant slalom and slalom events as well as the freestyle formats, with her best marks coming in the three-event freestyle starting last Wednesday.
She finished sixth overall in the standings with 476 points, as she scored 166 in the halfpipe for third place, 164 in slopestyle, which chalked up fourth place and 146 in the rail jump.
"It was a very stormy day on the mountain with lots of new snow and a bit tough for doing freestyle due to the high winds," said head coach Jeff Cordell. "But, Maya did well."
Hood River Valley's Kayla Van Hoose claimed a freestyle girl's championship with 679 points.
Hood River's Tucker Fitzsimmons grabbed first on the boy's freestyle side with 733 points racked up.
In giant slalom and slalom events last Thursday and Friday, the Eagle Indian girls tallied 11th place out of 15 teams with a combined marker of 13 minutes and 16.91 seconds, a time 1:47.80 behind state champion, Ashland (11:29.11).
TDW grabbed 12th place in both events, with a time of 8:37.30 in GS and 4:39.61 in slalom. Jesuit ended up second (11:29.50) in the team standings and Hood River garnered third place overall at 11:43.69.
Barnard-Davidson added 19th in her GS flight with a 2:40.58 and she notched a 1:21.11 for 16th to combine her totals for 15th overall (4:01.69) and the Tribe's best outcome.
Bailey Cordell enjoyed a 2:57.07 for 52nd in the giant slalom and turned in a 1:33.43 for 46th for her time of 4:30.50.
Alyssa Carrico completed all of her tries this weekend and appears to be a skier that will rise up in the future with 64th place out of 110 participants.
She had a 3:19.03 in GS and crossed the line in slalom at 1:45.20 for 69th place and her 5:04.23.
Emma Ell-Smith tacked on a 5:34.45 for 67th, with top-85 rallies in GS of 3:33.59 and 2:00.86 in slalom.
Carsen Cordell could not complete both events, but she nailed 55th place in GS where she stopped the watch in 2:59.65.
With a tabulated mark of 3:37.84, Hood River Valley standout Korey Cimock throttled the field for a state championship. She cleared a 1:12.84 in slalom for second place.
Coach Cordell admired the effort by his girl's team, so with the exception of Barnard-Davidson, this crew will reload for the 2014 campaign.
"The girls had a pretty good day," the Tribe coach said of their slalom exploits on Skibowl. "Maya had two good runs and so did Bailey. Carsen fell on her second run, which is very unusual, but she was skiing hard and that's what we want. (In GS), the girls had a good day. Everyone skied well and the team did OK."
With the dominant shredding done by state champion Trevor Maxwell (3:21.77, 1:05.14 for first place in slalom), West Linn High School scored top honors with a 10:23.45.
Jesuit ended up in second place at 10:47.49 and South Eugene churned out a 10:57.61 for third place recognition.
The Eagle Indian boy's ski team had three athletes complete both events, and Underhill just had a time in GS, as they matched forces for 12th place out of 16 teams with a calculation of 11:43.76, 1:20.31 behind West Linn.
While on Skibowl, TDW picked a top-10 rally in GS with a reading of 7:29.51, and in slalom, they garnered 14th place at 4:14.25.
Coach Cordell categorized the weather last week as cold and sunny with new snow packed out well on the slalom hill, while the GS slopes were soft and deep.
"Dealing with the soft snow, overall our boys did pretty well in 10th place," the TDW head coach stated.

Five-time winner during the regular season, Eli Holeman, doled out 32nd place out of a field of 114 in 3:54.36, a mark that put him 32.59 seconds behind West Linn's Maxwell.
On the GS side, Holeman was awarded 25th place in 2:26.60, and he wound up 50th in slalom with a final tally of 1:27.76.
Mark Johnson had a marker of 2:35.04 in GS where he placed 51st in the standings. He followed that up with a 1:30.00 in slalom for 63rd.
Coming in at 55th was Diede, who doubled up for his 4:13.13. He nabbed 74th in GS with a 2:43.74 and he reeled off 60th in slalom with a standing of 1:29.39.
Underhill had TDW's second-best time in the giant slalom event in 37th place where he crossed the line in 2:29.65. For the senior, however, he could not get things moving in slalom without some missteps.
"Eli got late in the waterfall area of the course and that hurt his overall time (in GS), Coach Cordell said. "The rest of the boys had a good day and felt good about the results.
In slalom, Eli fell and had to hike his first run, but had a great second run for sixth place. Mark and Travis did well and Kale fell on his second run, but he had a great first run."
In looking back at the overall scope of accomplishments, the Eagle Indian coach had some highlight moments throughout.
Both teams ended up in state and the boys grabbed second in the Mount Hood league standings.
Holeman had his five wins, and there were personal bests set by all of the others.
Barnard-Davidson stepped up her game this season for top results, and the Cordell sisters set personal records and will be major contenders in the future.
In their final regular season race, the Tribe girls were without Carsen Cordell and Barnard-Davidson crashed, so they needed heroic efforts just to earn a state berth.
The stars aligned in time staked by the final times set by Bailey Cordell, Carrico and Ell-Smith, so it shows a capability of rising up when faced with adversity. It is a good base to build on.
This team can only improve from here.
"Overall, the team did pretty well," coach Cordell said. "We made some mistakes, but that happens when you go all out. We had a really good season and I am looking forward to next year. We will miss Maya, Travis and Kale and are looking for some new freshman skiers to fill out our roster."
For more information on joining the ski team next winter, call 541-993-1972 or e-mail the head coach at jcordell@gorge.net.