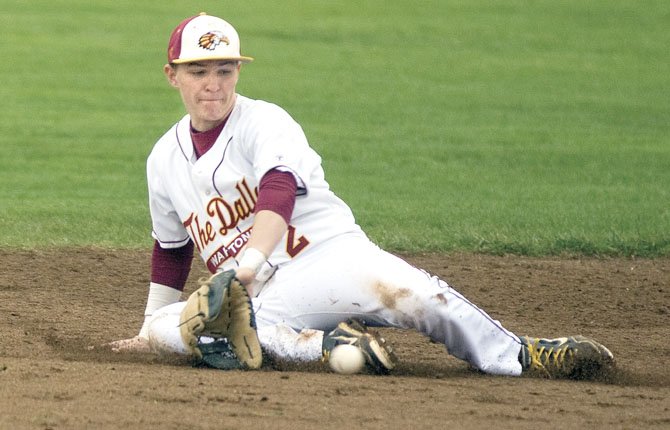 The Dalles — The Dalles Wahtonka baseball team oozes potential.
Austin Wilson and his teammates are feeling this season is the one where they reach that next level.
After going 13-12 in 2012 and boasting the state's 12th-ranked scoring offense, the Tribe can build on its No. 16 ranking and surpass the state play-in rounds.
"We just want to make a name for ourselves," Wilson said. "We want to be one of those upper level teams in the state. We can make some noise. I think with the guys we have here, we have one of the most athletic rosters. I think we can make a run at the state tournament and conference play."
If they are going to be competitive in the 5A classification, TDW will need to maintain its offensive edge by scoring more than the 169 runs put up in 2012.
As a team, the Tribe had a team average of .284 with a slugging percentage of .384.
Of their 187 hits, 53 were extra base hits, four home runs. The team drew 131 walks, struck out 113 times and swiped 26 of 29 bases.
All-state third baseman Nolan McCall spearheaded the offensive charge by leading the team in six categories.
McCall batted .349 with three home runs, 26 RBI and 21 runs scored.
Connor Mathisen, one of six all-league picks last season, added a .347 average with a home run, 18 RBIs and 22 runs.
At the top of the order, senior Justin Sugg hit .312 with 25 runs, 13 RBIs, 21 walks and an on-base percentage of .467.
Those three in the order are formidable, but opposing pitchers will still have to deal with Steven Bartells, Clay Copper, Austin Wilson, Hunter Malcolm, Kevin Henderson, Kaci Kiser and Austin Keller.
"I think our offense can be very good. Explosive if we wanted to be," McCall said. "It comes down to the fundamentals though. We can't rely on home runs or doubles and triples, sometimes we need to bunt and hit guys over. That is where our success will come from."
The Eagle Indians (1-1 overall) have some solid pitching numbers thus far with six earned runs in 14 innings to go with 11 strikeouts and four walks.
Dakota Walker, who is making his return from being diagnosed with Burkitt's Leukemia last April, comes back as the ace of the staff.
Along with the senior, who had two wins and a 0.88 earned run average in 16 innings in 2012, Clayton Ringer, Hunter Malcolm, Bartells and Mathisen will log heavy time.
This staff had a team earned run average of 4.90 last year.
Mathisen, Wilson and Walker combined for 10 of the 13 wins and two saves.
"We have consistent pitching. We are not deep from the mound, but we have a really great defense that will back up our pitchers," Mathisen said. "I think if we combine our pitching and defense, we can be in a lot of games. We have more talent than most teams are going to face this year. We have our best pitcher back from 11 months ago being diagnosed with cancer, so it is real exciting to have him back."
TDW kicked off the 2012 campaign with seven wins in its first 10 games. By the end of the season, the Tribe suffered losses in eight of their final 12 games, including a season-ending, state play-in 5-0 loss to Wilsonville on May 17.
McCall said it is imperative that his team builds some early momentum with solid play.
"It is really important for us to start the year out strong," McCall said. "We have the potential to go very far. I think good things will come out of it if we keep working like we do. Everybody is trying to do their best."
Eagle Indian manager J.R. Runyon is looking forward to the future progress this squad will make through the preseason.
He mentioned consistency, fine-tuning, team chemistry and other aspects that will move this team to a higher level.
"I think a lot of these guys are starting to relax and trust in their abilities," Runyon said. "That is what preseason is. It is a long haul to get to the regular season and these are the times to work out all of those kinks and knock off all that rust. We have a long way to go and a lot of things to work on."
When looking at the Columbia River Conference, Wilson feels Pendleton is the team to beat.
Hermiston and Hood River provide tough challenges as well, and TDW figures to be in the mix again.
The Tribe ended up 5-7 in league and secured second place behind the Buckaroos.
"Our goal every year is to try and win league," Runyon said. "All four of these teams flat-out compete. Time will tell. I just look forward to good competition, good games and if we put in the work and the time, good things are going to happen for us."
TDW (1-1 overall) hosts Bend at Noon Saturday for a doubleheader at Quinton Street Ballpark.
After that, they host David Douglas at 4:30 p.m. Wednesday night.