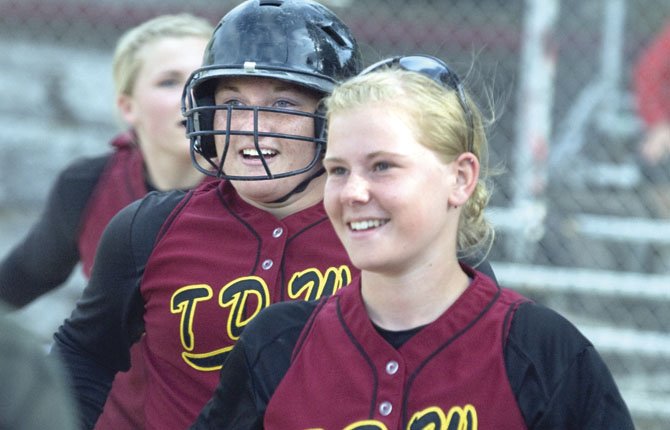 The Dalles — A softball team can only take so much — finishing short of a state championship with runs into the semifinals for the past five seasons is an impressive accomplishment, but it is not enough.
Senior pitcher and first baseman Melanie Taphouse represented that notion —the memory of last year's eight-inning, 1-0 loss to Silverton still hurts.
"Losing to Silverton, I didn't like it. That loss stuck with me every night for about a week," Taphouse said. "I was playing that game over in my head thinking, 'what could we have done better?' It is hard work and dedication and we have it. I have no doubt we are going to be good."
In the past four years, the Eagle Indians have amassed an overall record of 86-29 for a winning percentage of .747, scored 727 runs and allowed 324.
TDW went 48-18 in league play over that span, while capturing a league crown.
Many of the main players who helped the program put up those numbers are gone to graduation, however, but there is a reloaded squad in place for a continuation of such success.
TDW accomplished a tremendous amount last season, with a 10-game winning streak from March 22 to April 17.
That string vaulted them into the state's No. 1 ranking, as league play started.
Coming off a 24-1 win over Marist on March 11, the Tribe has started in the right direction.
Last season, T-Dub did not hit the 24-run level until game five.
"I am really excited. Right now, I feel like we are in mid-season form. As the season goes on, we will get better and better," said Katie Helyer, a senior.
Helping the cause against Marist was 22 hits.
Katie Helyer went 5 for 5 with three doubles, four RBIs and four runs scored.
Taphouse had three hits and four runs scored, Morgan Goslin notched three hits, a walk, four RBIs and five runs scored.
It was a promising way to start the year.
"Each player has their own way of contributing on offense," Kella DeHart said. "We have the ability to hit for power, bunt and steal bases. I think we are a well-rounded team."
There are returners back in the fold like first-team all-league and first-team all-state catcher and infielder Katherine Kramer, who finished the regular season with a team-high .446 batting average with four home runs and 24 RBIs.
In the playoffs, she added three more long balls, including the eventual game-winner in a 2-1 quarterfinal win over Putnam.
Helyer, Carley Gowdy, Goslin and Taphouse are going to be relied upon to provide leadership and other elements to a roster that has a mix of solid players, just not overly experienced in the varsity game.
DeHart will see extended time at second base, freshman Hannah Harris brings speed and versatility to the table and another freshman, Lori Cimmiyotti, is penciled in at right field.
Shaela Buchanan, Meghan Rowland and Morgan Triperinas are key contributors as well, with the senior duo of Buchanan and Rowland in the outfield and Triperinas adding frames from the circle and at shortstop.
"We are young at some positions, but that is why the seniors need to bring them along, make them feel comfortable," said Rowland, who had two doubles and two runs scored in TDW's last contest. "The seniors before us did that and now it is up to us to lead. We will need everyone on this team pulling in the same direction, being positive so we can win some games."
One of the major questions that needs to be answered is who will replace the 1.93 earned run average and 169 strikeouts of pitching provided by all-state hurler Ann Marie Guischer.
Although they do not have the velocity at their disposal, Taphouse, Triperinas and Gowdy have the necessary tools to give the Eagle Indians a chance to win every game.
Triperinas, who got the start in TDW's opener, tossed four innings of two-hit ball with two strikeouts and no walks.
"We still have to play more games, but I think we can compete with any team," the junior said. "I think our thing is pitching. If we can get that going good, we should be right up there. Preseason will tell us a lot about where we stand. I want us to come out strong and win games so we can be confident for our first league game and go from there."
TDW finished with 15 wins and went 11-4 at home last season, and then ended up ranked No. 7 in state.
Gowdy, who is one of six seniors, had a good perspective after the Silverton loss.
This is her final opportunity to help this group get over the proverbial hump.
"I am tired of coming so close," Gowdy said. "I just want to take everything and put it all out there so we can win that championship."
Taphouse admitted that she could visualize the scene.
She had an emotional perspective at the chance to earn a trip to Corvallis in June, collecting her diploma at home plate.
"We want state. We want out of semis and that curse," Taphouse said. "Just to get rid of that curse and get that state title would be great. I would probably start crying. That would be amazing. For us to do that, we will need to work hard and stay focused in practice and stay together."