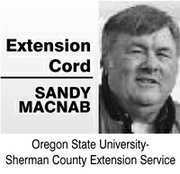 The last couple of weeks have brought to mind the old Wasco County Bull Tours. That does not include the annual email I get this time from an old "Bull Tourist" reminding me it's time to celebrate it again.
A recent article noted I was associated with the Bull Tour for over 20 years, prompting a note from a college friend inquiring, "Why does that not surprise me?"
Seriously, the Wasco County Bull Tour was a big event, one that made an impact for 55 years, outliving a series of agents, livestock judges and stockmen.
It started innocently. A Wamic rancher bought a prize bull from several states away and was pretty proud of him. One of his neighbors looked over the new sire and claimed he had a bull raised on his own ranch that was better than this high priced one. So they agreed to invite the County Agent. E.M. "Al" Nelson to determine which bull was best.
Nelson was an educated, wise man and knowledgeable. He was smart enough to bring in an outside expert to judge these animals, as he had heard that a couple of dollars may change hands based upon the final decision. Nelson did not want to be responsible for costing someone their lunch money.
When the day rolled around, word had spread and it made for quite the show. The beef expert from OSU came, examined both animals and pronounced his findings. I doubt anybody today recalls who won, but a couple ranchers claimed better bulls than either. They invited the beef specialist back the next year. So the bull tour became an annual event often lasting two or more days in those early years as they visited many ranches and evaluated the pros and cons of each animal.
The tour eventually became a one-day event to focus on one of three regions in Wasco County: North, Central and South. Each tour would stop at four to seven ranchers depending on travel, livestock available and issues of the day. Growers heard what to look for in breeding selection and what the new research of the day indicated. They were introduced to terms like "jump muscle" and "testicular circumference," "mothering and milking ability" (yes, that can be inherited from the bull's side), "body condition score" and "EPD's."
Suddenly herd improvement was more than just a gut feeling. It was scientific.
One unique promotion was EPD, the Expected Prodigy Difference. For example, if a bull sired calves that weighed 70 pounds at birth, that might be good for the females calving for the first time. But on older cows, if you wanted to increase calf size at birth (which could translate to heavier calves at market or fewer days on expensive feed later), you might shop for a second bull with a birth weight EPD that was, say, 4 pounds heavier than what was expected from other bulls in his breed. Of course with genetics and all thrown in, you wouldn't get the EPD increase in every calf every time, but birth weights on a herd average would likely increase.
On one tour, our Bull Tourists raised four calf "crops." Selection success was measured by increase in calf weaning weights. Teams received a starter herd of 50 cows and two bulls, but could select from up to five other bulls (a single bull was limited to breeding only 20 cows).
They selected which females to keep in their herd to replace the 20 cows eliminated each year. All the ranchers had to select from was a list of EPD's for each bull and cow. Selections were fed through a computer before the next stop, where another set of selections were made. Prizes were given to top teams.
Lots of prizes were given on the Bull Tour, the bull weight estimating contest being a favorite. Participants estimated the weight of one or more animals and the closest won a Stetson hat. One local banker, associated with the tour for more than 35 years admits that the closest he ever came was when they slipped in a pair of elephants from the Shriners Circus that was in town.
A lot of businessmen attended and it served merit. At a South County ranch, three businessmen from The Dalles were overheard to comment, "Wow! He comes this far to shop in my store?" They became more appreciative of their customers.
The Bull Tour died in 2005, not long after the Sherman County Commissioners asked why the Sherman County Agent was doing the Wasco County Bull Tour in Klickitat County? And without the big draw (150 to 350 annually), the Livestock Association aged quickly.
Now the expected lifespan of an organization is about 70 years. The hosting group in Wasco County slowly dissolved.
Enter the light of hope. Earlier this month, 70 producers gathered in Maupin, voting to revamp the organization merging the Sherman and Wasco County groups into one, the North Central Livestock Association, re-establishing a local industry voice. Big kudos to Keith Nantz, Rory Wilson, Bob Durham, Larry Ashley, Austin Justesen, Van Conklin and Lois Hamilton for stepping forward to serve their neighbors.
There are no plans to bring back the Bull Tour. Yet. We haven't told all the stories from the old one. Yet.