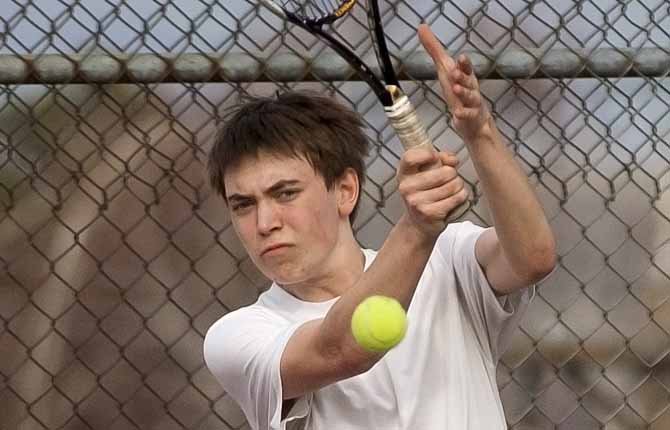 No. 1 singles standout Griffin Martin kept to his winning ways and The Dalles Wahtonka boy's tennis team claimed its second consecutive win with an 8-0 whitewash over Reynolds in varsity tennis play Thursday at The Dalles Wahtonka High School.
"I am very happy with the way we are playing so far this season," said TDW head coach Andrew Hughes. "We are playing dominant tennis and doing what we need to win our matches."
In two matches, against Ridgeview and Reynolds, TDW has secured 15 wins in its first 16 matches.
Martin motivated his mates in his opener against Bryan Houng, as he strung out to a 6-3, 6-1 win.
Carlos Barajas followed with the biggest margin of victory in his No. 2 match and with net play and stout serving, he blasted Jon Zo by scores of 6-4 and 6-0.
Cole McDowell motored past Allan Cho 6-3, 6-3 in No. 3 singles play, and Christian Munoz shot out of the gates with his second consecutive win, a 6-4, 6-3 win in his No. 4 tussle against Michael Nguyen.
Up 4-0 in this match with the help of the singles, TDW's No. 1 doubles duo of seniors Chava Vasquez and Jose Santillan put on a tennis clinic in their lopsided 6-2, 6-3 decision over Kevin Nai and John Dennison.
"Those two seniors are playing good tennis right now," Hughes said of Vasquez and Santillan. "I like the way they are using their experience to help them gain an advantage. It is a good start to the season for those two."
Ethan Semlor and Milo Romney had the closest match of the afternoon in the No. 2 doubles bracket going three sets across from Patrick Phan and Jose Olmos.
Phan and Olmos struck first blood in the opening frame with a 6-4 winner to go up 1-0.
Semlor and Romney re-shuffled the deck and cleared their heads in time to work out margins of 6-0 and 7-5 to close out the match.
William Coy and Fernando Lopez added a 6-4, 6-3 tally over Matt Enzor and Marcus Peart, and at No. 4 doubles, the new tandem of Daniel Spurr and Antonio Argueta capped this shutout performance in a 6-1, 6-3 decision.
"They were a new team-up for us and they did a good job," Hughes said. "We have some depth on this team. With the competition on this team, it will make everyone better."
It seems like the doubles and singles players are complementing each other well thus far – a good sign.
"Our doubles players played well. We competed throughout the game," said the Eagle Indian coach. "Our kids continue to improve. We are improving daily. I am hoping that we can use this confidence and continue to work on our game to get better. When our matches get tougher, I think this experience will help them this season."
TDW sends a partial crew to Moro for a non-league tilt at 4 p.m. Monday. After that duel, the Eagle Indian boys host St. Helens at 3:30 p.m. Wednesday.