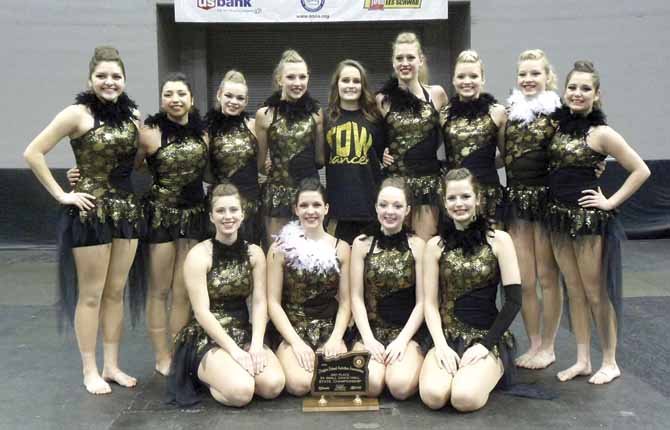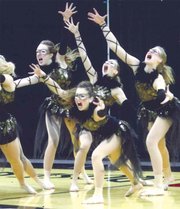 Whether it was senior Aubrey Hansen or the new kid on the block in freshman Taylor Sugg, members of The Dalles Wahtonka's dance and drill team expressed elation at taking third place honors at this past week's OSAA Dance/Drill State Tournament in Portland.
Since dominating the cheerleading platform for 12 state championships, including an impressive roll of a state-record 11 in a row, this marked the third season TDW had switched gears for dance and drill competition — winning some kind of hardware put a perfect bow on a top career for Hansen and fellow seniors Amanda Cimmiyotti, Drew Hamm and Emily Chance.
"I am so proud of my team. We worked so hard to be able to accomplish this," said Hansen, who added a berth on the all-state squad. "We all stuck together for a common goal and were able to do something special in our third year here. I could not have asked for a better way to end my senior year. I can't believe it."
When initially moving her program up to the tougher ranks, Coach and coordinator Kristi Maley felt as though it would take three years to set the framework for a successful dance team.
She is used to winning, so with her due diligence and some help from some talented dancers, TDW raised the bar for future members.
"Dance and Drill is so different than just dance, and the girls have to learn formations, alignment and spacing, and how to execute a drill routine properly," Maley said. "So although I have a lot of talented dancers on the team, which is why we outscored everyone on technique, it is so much more. So many things in the dance and drill world are new to us — it took a lot of learning and discipline."
The team has few resting moments. It hits the practice facility two hours a week in organized tutorials, but a majority of the participants jump and roll for studio dance classes to further heighten their skill sets.
During the sports season, the dance members also double dip in cheering at sporting events from football in the fall to hoops during the winter months.
"I think this shows us what we can accomplish if we put our minds to it," Sugg said. "We put in so much time and dedication into this. We sacrificed a lot and did it for each other. We won this in my first year and I think now the girls who are coming back want to finish with first place."
A panel of six judges observes the 5A small school routines.
This event is judged in execution (technique), content (formations, spacing) and overall effect (projection).
Once TDW completed its routine, a theme which was a rendition from the movie, 'The Hunger Games,' one of the judges gave the Tribe an 80 and the other a 66.
"I honestly feel that we had one of the best routines there," Sugg said. "We did an awesome job of making it all work for us. We finished in third place, but I think this is going to make some of the girls who are coming want to try harder to win."
On three out of the six scorecards, TDW notched higher marks than any other team — on four of the six, they scored in the top-2.
Once all the numbers were crunched, TDW wound up just two points from a state championship.
"That one execution judge really killed us, but it is the life of dance on judge's opinion," Maley added. Marshfield scored 78.53 points for the crown. Milwaukie had a tally of 77.94, TDW had 76.08, Silverton was good enough for fourth at 74.56 and Liberty placed fifth out of the eight-team field with 71.44 points.
With Sugg, Alyssa Valles, Sydney Shade, Riley Nelson, Carmen Hrigora, Hannah Hinshaw, Ashley Munsen, Sugg, Lilly Ley and a few others set to return for dance next season, Hansen feels championships are coming sooner rather than later.
"They are a talented group of girls," she said. "I am going to miss dancing with them, but I know they will try their hardest to win us a state championship. They truly deserve it."