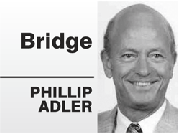 Jim Rohn, an entrepreneur and motivational speaker who died in 2009, said, "If you don't design your own life plan, chances are you'll fall into someone else's plan. And guess what they have planned for you? Not much."
If you don't design your own declarer-play plan, chances are you'll fall into the defenders' plan. And guess what they have in store for you? Down one.
In this deal, how should South play in four spades after West leads the diamond jack?
South was sorely tempted to rebid three no-trump, wondering if his side could take nine tricks in either no-trump or spades. But here that would not have worked well. East would have led the club queen, and the defenders would have taken four clubs and one heart for down one.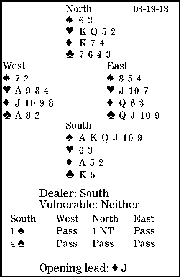 South starts with four potential losers: one heart, one diamond and two clubs. He has nine winners: six spades, one heart and two diamonds. Where might the 10th trick come from?
He can get an extra trick if West has the heart ace or East has the club ace.
Declarer must take the first trick in his hand with the ace, retaining dummy's king as a later entry. He draws one round of trumps, then plays a heart to dummy's queen. If East could take the trick with the ace, South would need East also to hold the club ace; otherwise, declarer would be condemned to down one.
Here, though, the queen holds. South then draws trumps and leads his second heart, establishing his 10th trick.
Plan the play at trick one.