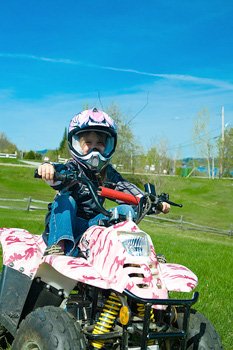 In two contrasting bills moving through the Oregon legislature this month, one creates a new layer of regulation designed to protect kids while the other one loosens up on a child-safety law. In both cases, they're probably the right call.
Senate Bill 238, allowing children younger than seven to ride on off-road vehicles like dirt bikes, passed the Senate in a 22-7 vote last week. Senate Bill 440, which fines people smoking in cars with minors, passed Wednesday with a 19-10 vote.
In the case of allowing young children on all-terrain vehicles, the bill doesn't remove all restrictions but rather changes the restrictions from age-based to ability-based. Children operating the vehicle must be able to reach all the needed mechanisms, be a certain height and be able to turn the handle bars while maintaining throttle and brake control.
The switch makes sense. Age restrictions for young children don't always work well because children come in such different shapes, sizes and ability levels. Some seven-year-olds are perfectly capable of driving an ATV; some nine-year-olds are not. Parents, who know their children better than anyone, should be able to gauge whether their child can take a turn on a dirt bike during a family recreational outing.
On the other hand, breathing in secondhand smoke isn't a question of skill or maturity. A six-year-old can drive an ATV around a field and have no adverse affects, but breathing in secondhand smoke is consistently bad for health — and parents should know that.
A 2006 report from the Surgeon General states that nonsmokers exposed to secondhand smoke at home or work have a 20-30 percent higher chance of getting lung cancer and a 25-30 percent higher chance of developing heart disease.
The study also showed that children of smokers are much more likely to contract illnesses like pneumonia and bronchitis, are more likely to die of Sudden Infant Death Syndrome and are more likely to end up in intensive care when they get the flu. Their lungs don't grow as big and they have more ear infections and asthma attacks.
A car is a small, closed-in space and if a parent is smoking in the front seat of a moving car, the smoke moves to the back seat. As a result the second-hand smoke is more concentrated on the children than it would be inside a building.
The bill banning smoking in cars with children has been blasted by critics calling it a "nanny state" law and comparing it to Mayor Michael Bloomberg's attempt to ban large sugary drinks in New York City.
There is a very big difference, though, between adults buying unhealthy food or drink for themselves and children being forced by their parents to breathe in toxic fumes. Drivers are responsible for the lives of their passengers and when they put them at risk through secondhand smoke, they need to be penalized just as they are for reckless driving.

As Sen. Elizabeth Steiner Hayward (D-Portland), said, "There is a safe level of fast food. There is no safe level of secondhand smoke."
The government should not attempt to protect everyone against all possible bad outcomes — just because people drown sometimes doesn't mean we should ban swimming. But if, as Abraham Lincoln once said, government is meant to do things for people that they cannot do for themselves, then we as a society have a special obligation to protect children, who often cannot protect themselves.
Now if only the legislature could take some time to protect children from losing the funding for a quality education.