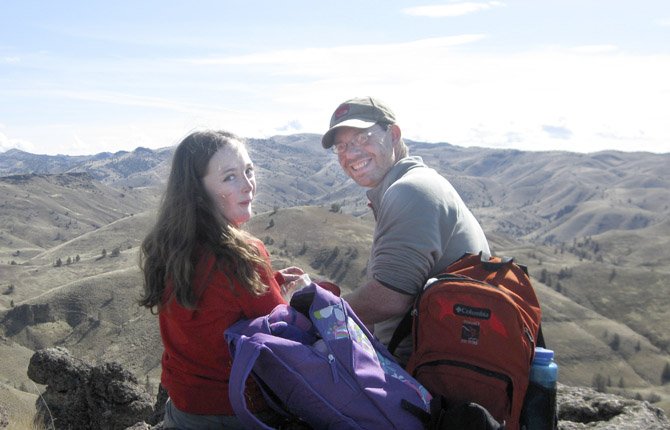 Students in the Talented and Gifted program at North Wasco County School District 21 had the opportunity for a little extra enrichment this month at outdoor school.
The trip on March 6-8 included camping, hiking, exploring fossils, using a telescope and learning about Native American culture at the Hancock Field Station in the vicinity of Fossil, Ore.
Third grader Zora Richardson said she couldn't decide what her favorite part of the trip was but she really loved the astronomy portion.
"It was a perfect night for astronomy," she said. "It looked like snow almost because there were so many stars in the sky."
With the help of staff from the Oregon Museum of Science and Industry (OMSI) she and the other students — in grade three through eight — were able to see various planets and their moons through a telescope and learn about the constellations.
Talented and Gifted coordinator Lance Masters said he was glad the students who went on the trip got to study astronomy because it is hard to teach during the school day when it is light outside.
Zora said she also enjoyed learning Native American skills like throwing a spear with a stick called an atlatl. One of her favorite moments was a stunning view of the valley while they stopped for lunch during their hike.
"It was really, really pretty," she said.
Lisa Schatz, a seventh grader, said her favorite part of the adventure was getting to learn about extinct animals and fossils, like the giant banana leaf fossil their OMSI guides showed them.
"They talked about how it used to look back when it was a rain forest, and the animals that were there," she said.
Liam Brewer, an eighth grader who was one of the oldest of the 49 students who took the trip, said his favorite part was the astronomy.
"I've done the Goldendale observatory but I thought this was cooler, especially because I was able to share that amazement with my friends," he said.
Some of his favorite memories from the trip were the games, skits and songs around the campfire at night. The students were entertained by teacher Steve Chance having student volunteers act out a melodrama as he told it.
He said he also liked the more educational aspects.
"We learned a lot about how different bones evolved in different animals, so they had the same purpose but they looked different,'" he said, using the example of how a deer's jawbone is "radically different" than a pelican's jawbone because of the different things the animals eat.
Masters said as with every Talented and Gifted enrichment activity they tried to align what the students learned with state educational standards, but he hoped that the experience achieved more than just helping students meet state standards.
"Through the campfire experiences doing skits and talking with each other, maybe we sparked an interest in a student who will now be in drama in high school," he said.
Sparking an excitement for learning in kids who are often bored with school is one of the goals of the Talented and Gifted program, Masters said.
"If they come back to school with a lot more enthusiasm for learning, that can be infectious."