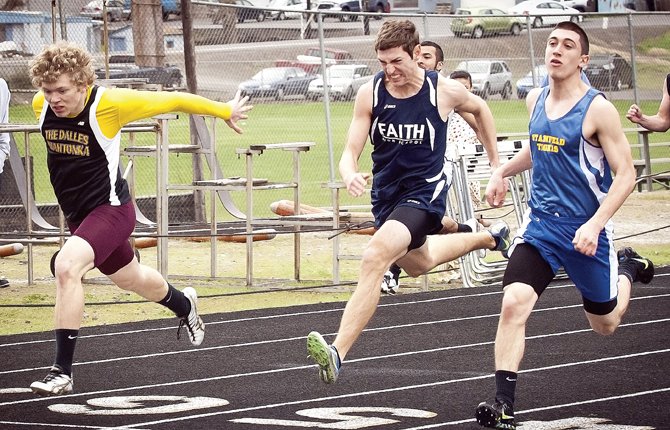 The Dalles — After enduring a sophomore season full of injuries, The Dalles Wahtonka track athlete Harris Farr entered this year with hopes to reach heightened potential when he is in full health.
Saturday proved to be a huge first step.
Farr set a combined school record by soaring 22-feet, three inches in the long jump during the Mullen-Leavitt Invitational track and field meet Saturday at Sid White Field in The Dalles.
"I put in a lot of work to get ready for this season," Farr said. "I knew I could do pretty well if I stayed healthy. Something always happened to me. I think now I can go longer now. This gives me confidence."
Several athletes have competed for TDW since the 2004-2005 season, but Farr had all the stars align for him this weekend, as his distance was nearly two inches further than teammate Sant Strassheim (20-06).
The Sherman duo of Brett Evans (19-04) and Nick Coleman (18-10.25) ended up in fourth and fifth place, respectively.
"This is exciting. I had no idea I would be that close," Farr said. "You just want to do the best you can, so for me todo this in my first meet is pretty unbelievable."
The Eagle Indians had five other top finishes with Elijah Kohltfarber and Lio Tunai scoring top honors in two events apiece.
Kohltfarber topped the 1,500-meter field with a marker of 4:54.64, as he defeated Evans (4:59.64) by more than five seconds.
When the distance increased to 3,000 meters, Kohltfarber did not let up and his time of 10:55.09 was better three seconds ahead of the next competitor.
Tunai, the defending state qualifier and top-ranked 5A field event maven set a new personal record in shotput with a distance of 54-06, a mark nearly two feet better than his 2012 mark.
Austin Olson ended up third with a toss of 42-03, and teammate Brandon Thenell had a mark of 39-07.
"You always want to start well," Olson said. "Track is something you can improve on through the season. I want to be throwing my best by the end of the season."
The Tribe junior completed the exacta in his discus attempt at 142-02 for first place. TDW's Josiah Duong (128-03) ended up in second place and South Wasco County's Colby Crowell garnered third place at 122-07.
Eagle Indian junior Zach Nerdin claimed first place in his try at 110-meter hurdles, where he crossed the tape in 17.08 seconds.
In the 4x400-meter relay, South Wasco County group of Clyde Sinclair, Colton Nannini, Crowell and Travis Hayes secured first place with a final time of 3:59.63
Goldendale placed second (4:03.32), and the Tribe quartet of Nerdin, Michael MacDonald, Grant Pearson and Mark Johnson nailed third at 4:05.93.
TDW's David Esquivias finished second in javelin with a distance of 147-09, Nerdin tied for second in high jump with his 6-00, and he added a third in triple jump with a leap of 38-08.
On the girl's side, the Eagle Indians had 17 top-3 outcomes to set their season on a high note.
Dylan Schechtel claimed gold in the 200 with a 28.84,
Katie Burns dominated the 300-meter hurdles where she stopped the watch in 52.59 seconds and Tribe senior added top billing in pole vault with a height of 9-feet.
Katie Conklin had her flying shoes on Saturday in the triple jump where the distance of 33-02 toppled the competition.
TDW's 4x100 relay team of Brittany Babb, Schechtel, Annessa Clear and Yasmin Hill joined forces for a 55.02 and first place.
On the 4x400 front, Marta Gamez, Maddie Wood, Emily Morin and Burns hit the tape in 4:53.15 for gold.
There was a three-way tie in the high jump with TDW's Conklin and Wood along with Ione's Jessie Flynn topping out at 4-10.
Sophomore Olivia Starks showed she could be competitive this season, as she hit second place in discus (89-04) and javelin (100-09).
Although just in her first year as a track participant, Schechtel is excited for what the girls can bring.
"I think we have a talented girl's team," Schechtel said. "We have so many here that can win a lot of events. I hope we can get better and better. Maybe we can have a lot of us go to state."
Sherman's Meagan McKinney had a fourth in the 100 meters at 14.42 and she scored third in the 200 with her reading of 29.48.
McKinney added a second in long jump, where she hit the dirt at 15-10.50, and teammate Samantha Coons, a 2012 state qualifier, tallied fifth in the triple jump at 30-02.
Andie Harrison notched third in the 3,000 meters with her mark of 13:32.86.
The Lady Husky 4x100 group of Brooklyn Sandquist, Harrison, McKinney and Coons churned out a third place outcome at 56.34, a good starting mark for this team.
Zoe Morelli, a state qualifier from South Wasco County, ended up second in the 400 meters, with her time of 1:09.34.
In the triple, SWC's Katherine Popchock claimed fourth with a distance of 30-03.
Morelli, in her first try ever on the hurdles, ended up third place, checking in at 57.48.
"We have a smaller team, but I think we have girls who can compete well with the rest of the state," Popchock said of the Redsides.
For the Dufur Rangers, sophomore state placer, Taylor Darden could not be denied in the shotput event where her top toss of 36-04 was good enough to dominate the field.
Also for the Lady Rangers, senior Bethany Stelzer entered in a handful of events Saturday and her best marks came in the 300-meter hurdles, where she crossed the line at 1:05.10 for fourth place.
TDW heads to Sherwood for a meet at 3:30 p.m. on Wednesday.
SWC and Sherman are in Moro for the Sherman invitational at 11 a.m. this Saturday. Dufur hit the road to Riverside on April 6 for the Columbia River Invitational at 1 p.m.