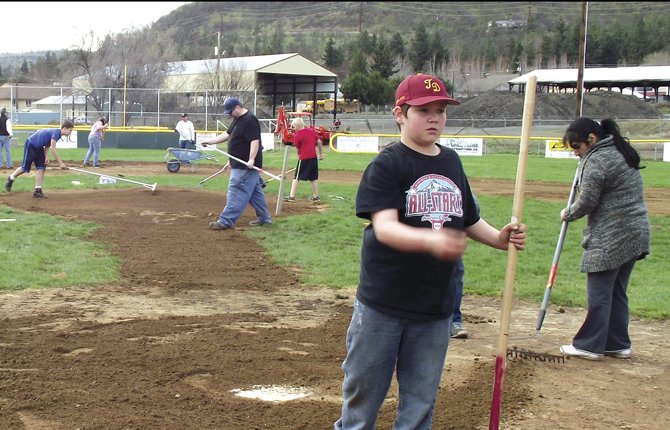 The Dalles — Getting a Little League season up and running takes a lot of time and a lot of hands.
Many of those hands — more than 100 — were in action for the annual field maintenance day Saturday, March 16, at Kramer Fields. They pulled weeds, raked base paths, manicured grass lines, cleaned up dugouts and did other general maintenance as needed.
"We're conducting practices already," said Alan Anderson, Little League president. "The Rookies start playing next week and the Majors and Minors also start playing before opening day."
The Dalles area Little League has 31 teams this year, and roughly 330 players, about the same as last year.
"A lot of good folks volunteer," Anderson said, whether for coaching, concessions, field work, or something else. "This place doesn't work without volunteers."
After quick-stepping from one end of the field complex to the other to help where he can, Anderson takes a few moments on the bleachers to talk as workers begin to filter in for a pizza lunch.
"On Field 3 they play both JBO [Junior Baseball Organization] and Little League so they're adding extended bases and improved mounds for the older kids," Anderson noted. Workers are also enclosing the dugouts. "Our number one priority is that everyone is safe and we get the fields in order."
Kramer is a multi-use facility maintained year-around by Northern Wasco County Parks and Recreation. Not only does Little League share with JBO, they also share with soccer teams, so some other improvements So rather than fencing in some fields as Little League organizers might be inclined to do, they are left open to make room for the soccer pitches.
Little Leaguers pay a fee to participate.
"But we don't turn anyone away," Anderson said. "If someone is financially challenged, they can still all play."
Local business sponsors make that and the rest of the Little League season possible. A variety of sponsorship options are available including scholarship sponsorships, billboards, and team sponsorships.
"Some do dual billboards and teams, some do all three," Anderson said.
Players, parents, grandparents and other Little League supporters all give their part, including working on field maintenance day.
"The highlight is getting the kids out to participate," Anderson said. "They gain the sense that not only do they get to play, they actually have to work on it to make it better for themselves. It's a big part of the education process."