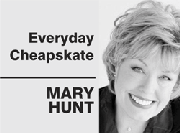 Is coming up with a consistent monthly food budget making you crazy? Or guilty? Or hungry?
Jane DeLaney, the founder of eMeals.com and a friend of this column, puts things in perspective by sharing her experience with food budgets:
"People often ask how much I spend on groceries each month. As you can imagine, my food budget has changed over the years. But one thing that hasn't is the fact that if I don't stick to a fixed amount for groceries, my good intentions will quickly fade away.
"It is suggested that families with an annual income of $50,000 to $90,000 should budget 11 to 14 percent of their after-tax income for groceries.
"For example, a family of four to six with an annual income of $75,000 would budget $500 per month on groceries. In today's economy, that can be challenging — but with eMeals it can be done.
"Consistently saving money at the grocery store isn't about the coupons, freebies or special gimmicks. Before I started menu planning, I'd find myself at five o'clock staring into my cupboard, which then led to a last-minute grocery run or the fast-food money pit. And we all know that a single fast-food bombshell can cancel out all the savings from couponing that week.
"So, what's the answer? Menu planning.
"As my family grew and I went back to work, time became critical. This forced me to think realistically instead of idealistically. Dinner had to show up every night. I finally accepted that the best tool I had in my grocery saving arsenal wasn't coupons. It was consistent, realistic, practical dinner planning.
"Meal planning allowed me to stay within my fixed grocery budget. Building a menu based on the week's grocery sales consistently translated into a working, frugal menu from week to week.
"At eMeals, we believe that a doable, projected amount that can feed a family of four to six is approximately $11 to $12 per dinner. That's $360 for an entire month of dinner groceries, and is based on current prices and weekly sales.
"If you have never created and followed a dinner plan from week to week, I encourage you to take on the challenge. You'll gain family time, sanity and control of your food dollars. With this realistic and predictable approach, your very own dinner table becomes a money saving tool waiting to happen!"
Subscribers to eMeals pay about $5 to $7 a month to access their family-friendly, organized, seven-day dinner meal plans online, including easy-to-follow recipes and a grocery list that incorporates items that are on sale that week.
There are 35 menu options, including low fat, low carb, gluten-free, clean living and vegetarian. EMeals estimates dinners will cost $75 to $85 per week for families, and $60 per week for two-person plans.
For Everyday Cheapskate readers, eMeals is offering a 15 percent discount. Go to www.EverydayCheapskate.com/emeals15 and enter DEBTPROOFLIVING when checking out.
Mary Hunt is founder of www.DebtProofLiving.com, a personal finance member website.
You can email her at mary@everydaycheapskate.com, or write to Everyday Cheapskate, P.O. Box 2099, Cypress, CA 90630.
To find out more about Mary Hunt and read her past columns, please visit the Creators Syndicate Web page at www.creators.com.