Eighteen holes were not enough to settle The Dalles Boy's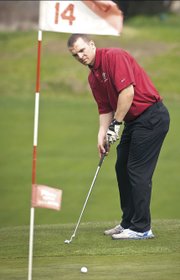 Golf Invitational.
After three playoff holes, Clackamas' Sean McDonald tallied first place over Hermiston's Keegan Crafton to win the TD Invite Friday at The Dalles Country Club.
Both McDonald and Crafton ended up with 80s on their scorecards for the top-two, and Clackamas' Andrew Newhouse (83) secured third place.
In a tie for fourth place were Clackamas' Travis Seals and Wilson's Michael Reid with their highs of 84.
In having three participants end up in the top-4, Clackamas throttled the field with a 332.
Hermiston was 19 strokes behind in second place at 351, Wilson (370) was third, St. Helens (387) finished fourth and Seaside (391) garnered fifth place.
La Grande (396), Reynolds (400), The Dalles Wahtonka (410) and Goldendale, Wash. (428) capped the complete standings.
Dakota Green had his scorecard mark of 95 for TDW's best effort.
Junior Nick Glesener had a 99, freshman Bailey Ortega hit his first tournament with a 107 and Coby Conlee added a tally of 109.
Eagle Indian senior Bobby MacLeod clinched fifth in his group at 116.
TDW are in Hermiston at 10 a.m. Thursday.
T-Dub girls end up in fifth place
The girl's golf field was packed for The Dalles Invitational Tournament Tuesday with several good scores put up by a group of more than 50 players.
Taking medalist recognition was Goldendale, Wash.'s Bree Wanderscheid, whose 80 was seven strokes better than Pendleton's Whitney Barnes (87).
St. Helens' McKenzie Schull notched an 88 for third, La Grande's Carrie Wallace (98) rallied for fourth place, and Pendleton's Shelby Greb (101) rounded out the standings in fifth place.
The Bucks demolished the field by 72 strokes overall for top placing at 410.
La Grande (482), Hermiston (486), St. Helens (494), The Dalles Wahtonka (512), Scappoose (521) and Reynolds (576) completed the order of finish.
For the Eagle Indians, 2012 state qualifier, Elizabeth Peters, had the best score amongst her mates with a 114.
Senior Jessica Riggs tacked on a score of 126, the duo of Hannah Utley and Jennifer Bonham carded 136 to their scores, and Ally Macnab turned in a 173.
TDW next heads out to Hermiston for another event at 10 a.m. Thursday.