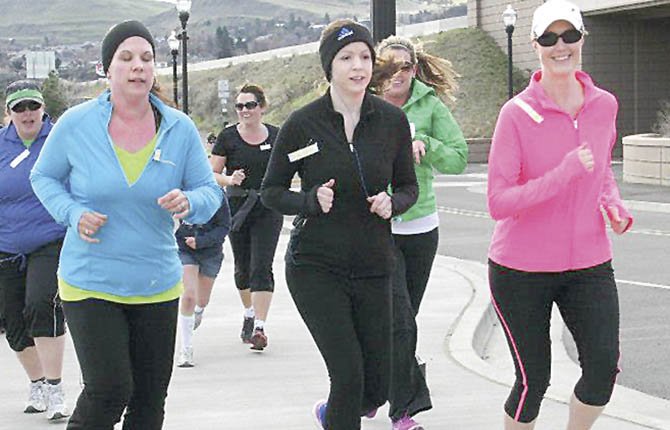 Full results
Fifth annual Jumpstart St. Patrick's Day Trail Run/Walk at The Dalles Marina
March 16, 2013
3k Finishers
Sylvan Sandvold 13:09
Larry Dunn 13:36
Justin Conklin 14.34
Omar Quintana 15.02
Dayveon Hammitt 15:16
Dylan Trainer 15:22
William Booth 15:23
Dwight Trainer 15:26
Molly Taylor 16:03
Luis Quintana 16:22
Savannah Strassheim 16:59
Brian Strassheim 17:00
Spencer Taylor 17:04
Ashlie Dunn 17:17
Luke Sperry 17:24
Mary Snodgrass 18.11
Varina Schechter 18.41
Colin Schechter 18:55
Belah Sandvold 18:56
Finely Corbin 19:58
Scott Booth 20.00
Alyssa Springer 20.01
Steve K. 20.03
Ashley Scott 20.41
Riley Parker 20.55
Eric Parker 20.56
Alaina Casady 22.03
Peggi Casady 22.04
Jonathan Snodgrass 22.23
Stacey Kaseberg 22.24
Dawn Justesen 22.24
Madison Heilman 22.30
Sydney Parker 22.31
Maggie Justesen 23.42
Chelsea Powell 23.51
Bridget Bailey 23.52
Lindy Taylor 23.56
Heather Taylor 23.56
Linda Gladden 24.15
Madison Pincock 25.06
Emily Pincock 25.07
Josue Quintin 26.15
Christina Fauth 26.16
Olivia Fauth 26.16
Natalie Titus 26.47
Mary Jo Titus 26.48
Zoe Dunn 26.50
Maisie Bandel 26:51
Donovan Hampton 27.38
Tanna Marigold 27:49
Anothay Iven 28.35
Makiah Iven 28.38
Victoria Males 28.59
Linda Compton 29.00
Valada Iven 29.18
Bryan Dean 30.28
Elizabeth Hammack 31.10
Karis Hammack 31.10
Paige Compton 31.29
Grace Stoddard 31.33
Donna Bailey 32.10
April Parker 32.10
Larkin Hampton 32.59
Sandy Brownstein 34.31
Ruth Swanson 34.52
Autumn Kramer 34.57
Myra Hampton 37.06
Andrew Hampton 37:06
Billie Linder 37:08
Michelle Dean 38.24
Erin Vance 38:29
5k Order of finish
Ben Iremonger 19.00
Tony Dean 20.42
William McBride 21:16
Bill Dressel 22:49
David Bandel 24:15
Anthony Rosso 24.37
Eric Nisley 24:56
Susie Griffin 26.42
Sheila Burchell 26.59
Owen Lamp 27.05
Michele Gunderson 27.14
Allison Gilliam 27.49
Steve Whitesides 28.01
Hannah Knott 28.11
Samantha 28.28
Todd Andrews 28.43
Debbie Sharp 29.42
McKenzie Shaw 29.45
Jeff Shaw 29.47
Kathy Willis 30.57
Easton Atchley 31.04
Sharon Doty 32.10
Lucy Booth 32.33
Francine Wilhelm 32.37
Amy Hampton 33.05
Katy Gilliam 33.12
Minnie Smith 33.24
Marcia Morrison 33.25
Elizabeth Bailey 33.41
Susan Billette 34.12
Alicia Andrews 34.43
Caroline Wamsley 36.41
Amy Cox 36.42
Bryan Dawson 36.45
Amy Wenz 36.46
Jeanette Atchley 39.08
Emma Atchley 39.08
Brook Remington 39.95
Rebecca Dison 40.03
Quincy Atchely 40.33
Rick Doty 41.24
Pam Hawkins 42.03
David Ford 42.07
Flora Crouch 42.30
Evena Bandel 42.34
Sally Anderson 42.53
Celilo Carrillo 46.08
Carolyn McClure 46.12
Bruce Meredith 46.14
Dylan Molesworth 46.15
Jennifer Rubira 46.16
Sophia Pullen 46.34
Kaitlyn Springer 47.51
Ms. (cindy) Johnson 48.07
Steve Johnson 48.08
Jan Holt 48.28
Marcia Warner 48.53
Carter Crouch 52.02
Nadya Crouch 52.03
Sissy Turner 52.57
Steve Turner 52.58
Cindy Drake 53.36
Julie Stephens 53.37
Kayley Linebarger 53.38
Breanna Peterson 53.58
Justin Mohr 53.59
Klea Espy 54.04
Katie Adkison 57.34
Bethany Ellingsworth 57.36
Caydance O'Dell 59.25
Patricia Eichner 59.58
Guendolyn Gilliam 59.59
Dayvon O'Dell 1.00:37
Vicki Peterson 1.01:52
Nicole Peterson 1.01:53
Toni Gardner 1.02:03
Mary O'Dell 1.02:04
Sharon Paz 1.02:46
10K In order of finish
Alex Dillard 31:37
Jim Fish 39.39
Lucas King 40.42
Jason Whitley 41.54
Brad Anderson 48.16
Joe Maravilla 48.43
Ben Ehmer 49.52
Stephanie Irving 50.55
Betsy Scott 51.00
Fletcher Andrews 53.16
Erin Ford 53.27
Ben Hoey 54.12
Caitlin Lynch 54.55
Amanda Hoey 54.57
Lynn Rasmussen 55.54
Michelle Montecalvo 58.10
Kerry Hallyburton 59.43
Sarah Ziegler 59.44
Kristi Springer 59.55
Unidentified Runner 1.02.15
Kristen Booth 1.02.15
Cindy Berkshire 1.15.76
Hope Johnson 1.24.26
Some names may be misspelled
The Dalles — A record was shattered and, as a group with impressive overall numbers in the fifth annual Jumpstart St. Patrick's Day run/walk Saturday, March 16.
On a cool, crisp spring morning, more than 170 local harriers went to work in the 3k, 5k and 10k run/walk at The Dalles Marina.
Many of the same names that competed in the Freeze Your Gizzard Blizzard race and the Valentine's Day run capped their three-race stretch in the St. Patrick's Day journey to cap a fundraising feat for administrator Tom Conklin's Jumpstart Hoops Camp fundraiser.
In the three distance races, there were a few close finishes and former state champion, Dufur High School graduate Alex Dillard, scored top honors in the men's 10k race with a record-setting romp over Jim Fish (39.39) of more than eight minutes.
Dillard's score shattered Portland native Joe Dudman's 2008 record of 34:12 in a time of 31:37.

Coming off a recent indoor 5k meet, where Dillard set a new personal record of 14:43 while running for the University of Portland, he took his running to the trail in a longer event.

"The breeze was working against me on the way out and my splits were generally faster on the way back," Dillard said to Conklin. "It was nice to open up on a longer race today."
After Dillard and Fish, Lucas King crossed the tape in third place at 40.42, Jason Whitley tacked on fourth with his 41.54 and Brad Anderson turned in a 48.16 top complete the top-5.
Stephanie Irving and Betsy Scott slugged it out in a stride-for-stride rally in the women's 10k run, where five seconds was the biggest difference in the overall running numbers.
Irving stopped the watch in 50.55, and Scott motored right behind in 51.00.
Erin Ford had a solid performance at 53.27 for third place, Caitlin Lynch worked a 54.55 split for fourth and Amanda Hoey ran for 54.57 to slam out fifth place.
Sylvan Sandvold staked claim to the men's 3k crown with a marker of 13:09, as he bested Larry Dunn (13:36) by 27 seconds.
Justin Conklin captured third place in the standings with a final tally of 14:34.
Omar Quintana (15.02), Dayveon Hammitt (15.16), Dylan Trainer (15.22), William Booth (15.23), Dwight Trainer (15.26), Luis Quintana (16.22) and Brian Strassheim (16.59) rounded out the men's standings.
Molly Taylor had a close showdown against Savannah Strassheim in the women's 3k event with 56 seconds separating the duo.
Taylor secured bragging rights on this day, however, with a final tally of 16.03, while Strassheim crossed the wire in 16.59.
Ashlie Dunn added a 17.17 for third place, Mary Snodgrass (18.11) ended up fourth and Varina Schechter topped out in fifth place with her reading of 18.41.
While the adults received all of the headlines, Conklin pointed out the exploits of the 17 District 21 students who attended the spring race.
With the ability to run in these events free of charge, Conklin said this offer gives children an added incentive to approach a more active and healthy lifestyle.
"We are trying to get the younger age kids in our classrooms, from our district, to take their physical fitness beyond the gym to community events like these, so that they can see the fun and joy of older adults partaking in a fun event such as these three races," Conklin concluded.

Former The Dalles Wahtonka standout runner Ben Iremonger made things look easy in his 5k distance where his time read 19.00 for top honors.
Tony Dean wound up in second at 20.42 and William McBride notched third in 21.16.
Bill Dressel (22.49), David Bandel (24.15), Anthony Rosso (24.37), Eric Nisley (24.56), Owen Lamp (27.05), Steve Whitesides (28.01) and Todd Andrews (28.43) completed the top-10 5k runners overall.
On the women's 3k front, Susie Griffin eased past Sheila Burchell in a meeting at the wire.
Griffin stopped the watch in 26.42, while Burchell finished a few strides behind in a marker of 26.59.
Michele Gunderson (27.14), Allison Gilliam (27.49), Hannah Knott (28.11), Debbie Sharp (29.42), McKenzie Shaw (29.45) and Kathy Willis (30.57) added their names to the women's standings.
In the spring, the three elementary schools host their annual Jumpstart Elementary Track meet to add to their times.

Conklin said these events are all extensions of the D21 elementary physical education programs, and open to all elementary students even beyond our three elementary schools.

"These events are supported by Dry Hollow PTA, Colonel Wright PTO and Jumpstart fund raising events like these trail runs," Conklin added. "Community sponsors like Devco Mechanical and Casa El Mirador have been solid supporters to these community events and that makes affordability possible for many folks."
For more information, contact Coach Conklin at 541- 340-0926 or e-mail tdconklin @qnect.net.