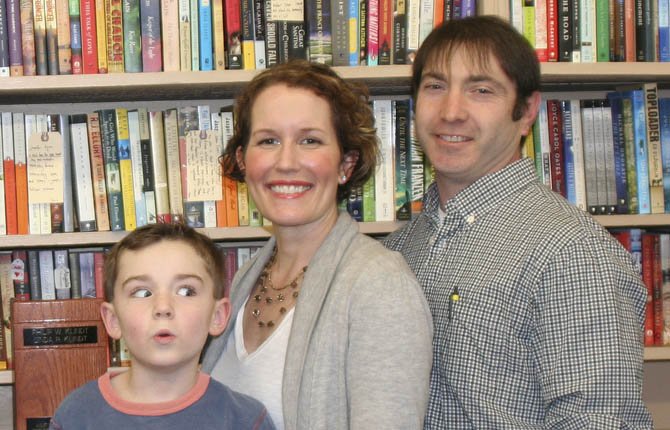 Events at Klindt's
Vince Welch, April 13, 4-6 p.m. Welch brings a historical story about local river man and adventurer, in "The Last Voyageur: Amos Burg and the Rivers of the West"
Literary discussion with author Kim Stafford, Thursday, May 16, 5:30 p.m. Stafford be reading and signing his new memoir, "100 Tricks Every Boy Can Do: How My Brother Disappeared."
Kim Stafford: 100 Tricks for Writers Workshop, Friday, May 17, 9 a.m.-12:30 p.m.
Third annual Young Adult (YA) Author Event, Saturday, June 1, 11 a.m.-3 p.m.
The Dalles — Kristin Klindt and Joaquin Perez are the newest husband-wife team to take ownership of Klindt's Booksellers and Stationers in The Dalles.
Klindt is the niece of the late Phillip and Linda Klindt, who owned the more than 140-year-old store through most of the past three decades.
"After Phillip passed, we moved up here," Perez said, "and had been running everything with the rest of the family. It worked fine, but at some point we decided one family should take over completely."
Perez began working at Klindt's in November and he and his wife bought out the rest of the family in December.
The core business — books — hasn't changed much since the couple took over.
"The one big thing we're trying to do right now is writing workshops," Perez said. The next writer's workshop is set for May 17 (see schedule) and features Oregon poet and essayist Kim Stafford.
The back room of Klindt's, which had included a toy section from G. Willikers, has been cleared out a bit to make room for gatherings that might include a projector presentation. The room is still home to some of the children's merchandise, but some of that has also been integrated into the front room of the shop, as visitors will see. Games and hobbies, for example, now have their own corner in the main room.
"Eventually, we want to sponsor book clubs," Perez said. "A couple of employees have expressed an interest in themed book clubs. We plan to get some comfortable furniture in so we can host those kinds of things."
With the change, they also hope to make Klindt's a daily gathering place.
"My aunt and uncle had the Annex," Klindt noted. It was a place where people could sit down, have a cup of coffee, read a book and have a conversation. While the Annex had to close, Klindt sees a comfortable seating area in the back as a chance to revive that tradition.
Klindt and Perez have also added e-book options to their repertoire, offering Kobo readers for sale and the ability to purchase e-books at competitive prices through the Klindt's website for use on any reader except Kindle. A wide range of free books are also available through the service.
Klindt likens the option to the way the music industry changed in response to the way consumers access music.
"We have to adapt and access the different types of resources available to us," she said.
And while books are the mainstay of the operation, Klindt made special note that the name still includes "and Stationers."
"It's kind of coming aback," she said. "People are a bit more interested in having stationery and we want to have a bit more represented." They've also added a new line of cards that Klindt laughingly describes as "saying everything, so you don't have to say anything."
Overall, Klindt and Perez say they are excited to be back in the Columbia Gorge, raising their son Henry, 7, close to family.
"And we're really thankful to be part of such a supportive family and have such a supportive staff," Klindt said.
Though Klindt and Perez have yet to spot any of the ghosts the shop is reputed to harbor, they are aware of the stories.
"People do feel Edna's ghost to be very present," Klindt said. While in high school and college, she worked with Sherry Johnson who sold books at Klindt's for some time. "She would see Edna's footsteps on the toilet."
Edna Weigelt, whose name the store once carried, was extremely short and would lower the toilet lid and use it as a stepping stool to reach the chain light pull in the bathroom.
Klindt is hoping Weigelt isn't the only presence.
"Phillip and Linda – I hope their ghosts are here sometimes."
Klindt's is open seven days a week, Monday through Saturday from 8 a.m. to 6 p.m. and Sunday from 11 a.m. to 4 p.m. Reach them by phone at 541-296-3355 or online at www.klindtsbooks.com.