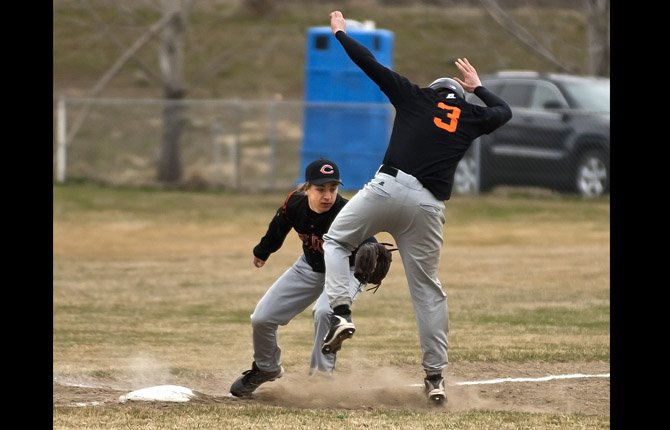 In four games so far this season, the Dufur Rangers have racked up 32 runs scored, including 23 in their last two wins.
Tuesday in Umatilla, Josh Keyser went 4 for 4 and Cole Parke pounded a home run and four RBIs to spearhead Dufur's 18-hit attack in a 10-2 victory over the 3A Vikings in varsity baseball play.
Keyser had a triple, two doubles and a single, and scored three runs for the Ranger offense.
Trever Tibbets added three hits and four RBIs, and Brent Sumner crossed home twice.
Dufur scored in every game, but the third and fourth inning, but this explosion, which included four runs in the first two frames, opened the door for a solid pitching performance from Jake Kortge and Bryson Caldwell.
This hard-throwing tandem tossed seven innings of one-hit ball with eight strikeouts and a walk.
Out of the 21 Umatilla batters faced, Kortge and Caldwell finished a walk and a hit from a perfecto.
"We had our bats going, good defense and good pitching from our team today," coach C.S. Little said.
After losing 6-0 to Portland Christian earlier Saturday, the Rangers rattled off 10 hits and Parke finished six inches from a home run and the cycle in a 13-3 mercy-ruled win over St. Paul.
Down 1-0 in the bottom of the third inning, Dufur sent 14 batters to the plate and racked up five hits, two walks, a hit batter and three errors for 10 runs to break this contest open.
Tibbets drove in two runs with a single, Kortge chipped in a two-run double and Bradley Newman chased home Nathan Duling and Kortge with a double to make the score 6-1.
Parke made it 8-1 with a two-run single, Caldwell drove in Sumner with a groundout and Parke capped the frame by scoring on an error to increase the Ranger lead to 10-1.
Parke tallied a two-run double to right, a shot that ended up just short of going over the hedges, to bring in Kortge and Newman to run the edge up to 12-1.
With the score 12-3 in the bottom of the fifth, Keyser reached safely on an error and then Tibbets rifled a walk-off RBI single to left to notch the win.
Tibbets got the win with three innings of two-hit ball. He struck out three and walked one.
Dufur (2-2 overall) next hosts Lyle at 2 p.m. Friday.
Tribe boys split at home vs. Bend
The Dalles Wahtonka came within three outs from completing a rare sweep of Bend in a Saturday baseball doubleheader at Quinton Street Ballpark.
TDW won the opener 6-3 and led 10-9 in the seventh inning, but the Lava Bears scored five runs, one earned, to salvage a 14-10 win and the split.
In the opener, the Eagle Indians scored six runs in the second frame for all of their offense.
Connor Mathisen went 2 for 3 with an RBI, Kaci Kiser added a hit, a run and an RBI and senior second baseman Justin Sugg went 1 for 4 with a run and three RBIs to charge the eight-hit attack.
Mathisen got the start and lasted five innings. The southpaw allowed three hits, struck out four, did not walk a batter and held Bend scoreless.
Steven Bartells finished the seventh inning to pick up the save.
TDW led 2-0 early in the nightcap, but Bend rallied for eight runs in the second to regain control at 8-2.
The Tribe then rebounded with seven runs in the fourth to take a 9-8 lead.
TDW's lead remained intact until the fateful seventh inning.
Austin Wilson went 4 for 5 with two runs scored and two RBIs, and Mathisen checked in with three more hits and two runs.
Clay Copper added a 2 for 4 split with a run and an RBI, and the duo of Bartells and Kiser notched a hit, a run and a combined five RBIs.
TDW (2-2 overall) hosted David Douglas at 4:30 p.m. today.
Huskies score 3-2 win over Culver
Nick Coleman scored the eventual game-winning run in the bottom of the sixth inning and ace reliever Austin Kaseberg posted two strikeouts and picked off the tying run at second base in the bottom of the seventh to preserve a 3-2 win over Culver Tuesday in non-league play in Moro.
In the sixth, Coleman led off with a walk and then advanced two bases on groundouts.
With two outs, Coleman scampered home on a wild pitch to move the Huskies out in front, 3-2.
Jake Davis started for Sherman and lasted four innings. He allowed two hits, walked one and struck out four in his no-decision.
Kaseberg pitched the final two frames and allowed one hit to win it.
Offensively, Jonah Davis had two hits and two RBIs, and Jared Davis added a double and a run scored.
Riley Brown also added a double.
"We made plays when they had runners in scoring position," said Sherman coach Joe Justesen. "We made the plays we were supposed to make. It was a pretty gritty win. When our backs were against the wall, we held strong and did not let them score."
Sherman (1-1 overall) hosts 3A Riverside at 4:30 p.m. Thursday.