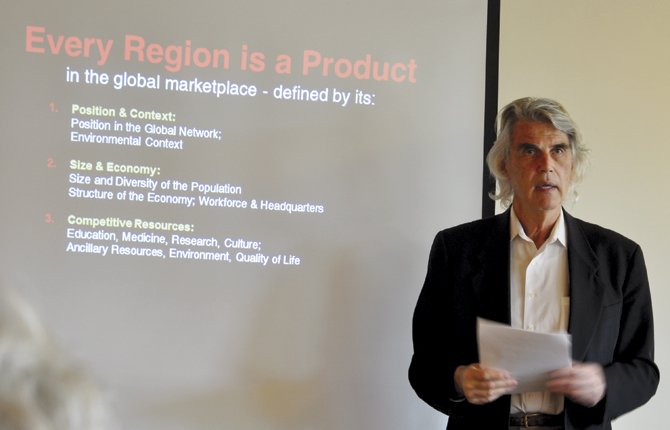 What's the next big trend that The Dalles needs to pick up on to boost its economy? That was the question posed to Michael Gallis, a strategist from North Carolina, during a strategic planning presentation March 14 put on by the Port of The Dalles.
The port is engaged in the process of updating its strategic plan, a requirement to qualify for certain state funding that could aid in further development at the port industrial park.
The Dalles faces particular challenges in light of the Columbia Gorge National Scenic Area and exclusive farm use zone that surround the city and limit the amount of land available for economic development.
Gallis' key messages: Think long-term. Value your scarce resources highly. Think globally.
"The question for each community is how do we fit into the world?" he said. "Are we strengthening our position or are we losing our position?"
He used Rome, Italy, as an example of a city that, despite economic and political ebbs and flows, has remained viable for centuries. He used Dayton, Ohio, as an example of a city that had a thriving heyday and is now on the decline.
"As the world changes, are we becoming a more important place, or is the world just moving on?" he asked.
Gallis looked at The Dalles in relation to emerging and ongoing trends in trade and transportation.
"The West was always a resource economy, timber, mining, agriculture," he said. "For some time, the West Coast has also been known for its high-tech economy. There are three times as many start-ups in San Francisco as Boston."
Gallis noted how the Columbia Gorge reputation for world-class windsurfing helped bring people and industry to the gorge, such as the successful drone designer Insitu. He noted the importance of analyzing an economy for attributes that play a role in attracting business: position and context, size of economy, and competitive resources.
Specifically, some of those issues include:
position within the global network,
environmental context,
size and diversity of the population,
structure of the workforce,
education,
medicine,
culture,
ancillary services,
amenities (recreational, scenic, etc.)
quality of life.
Gallis also talked about West Coast international trade relationships, which are 98 percent tied with Asia.
"Japan is a bigger focus for Portland and for us," he said.
He suggested considering building from an already booming agricultural market with value-added products. For example, rather than just shipping grain to Japan, actually producing the noodles they need here for shipment overseas.
Gallis cautioned against valuing the community's scarce resources too lightly and thinking in too short of terms. He used China during the recession as an example.
"China was out buying resources all over the world because everything was cheap," he said. "They wanted to secure resources that are needed for the long-term while everybody else was concerned with the short-term. When the other guys are thinking long-term, you're going to be in a jam.
Gallis said long-term prospects look "very good," noting that population is expected to double between 2000 and 2050 and the economy is expected to grow by 95 percent. He brought up a map noting that the growth will manifest in increasing congestion along the Interstate 5 corridor .
"In The Dalles that means we're in a location that's less congested," he said. "It's small, but close to Portland. It's not congested and you can get around here."
Some firms, he suggested, may locate here as a result of these advantages.
As I-5 becomes more congested, plans are being considered to develop a new Interstate spanning Canada and America east of The Dalles, putting the city in between two major transportation corridors.
"We're really going to play off the big centers," he said. The Dalles also has other transportation advantages, including river navigation, rail and air as the Columbia Gorge Regional Airport undergoes upgrades that will allow it to accommodate larger air traffic.
Gallis also pointed to the city's educational advantages in terms of innovation and research through Columbia Gorge Community College.
"It is an important educational anchor for the community," he said.
He cited other competitive resources, including low-cost electrical power, the environment, good access to health care, community history and quality of life. He suggested The Dalles consider itself a "specialty center."
"You're unique and you need to play on that in terms of how you compete," Gallis said.
Disadvantages include an in-between location, small population and labor force and limited land.
Gallis stressed the need to get the best utility possible from the available land. Inefficient use of the land can result in fewer jobs for local residents. He pointed to the 50 acres planned for development in the North Chenoweth Subdivision.
"Fifty acres can support, at maximum utilization, 1,400 jobs," he said. "The same piece of land, at low utilization can support maybe 100 jobs."
Because the land is limited, it should be treated as precious, Gallis said.
"One of the biggest problems we have is that we need to get the world to believe in us," he said.
"But can we actually believe in ourselves? We can't make the world believe in us if we don't believe."
Gallis closed his talk with a suggestion that The Dalles have a world-class vision and not welcome just any business that comes along. He summed up some of The Dalles' advantages with the phrase "Less is More, Small is Good," suggesting the city capitalize on the fact that it's not big.