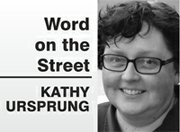 God gives every bird his worm but He does not throw it into the nest." — Liam Carey
Spirit month: March is Employee Spirit Month. Consultant Steve McClatchy says businesses can energize their employees by supporting or helping them set, pursue and accomplish their own personal and professional goals. "Movement toward goals and improvement in our lives is what alleviates stress, creates a feeling of balance, and keeps your workforce feeling refreshed and energized," McClatchy said.
Honoring Dr. Peruzzo: The Oregon Veterans' Home will honor Dr. Peter Peruzzo as he retires and resigns his position as medical director for the home. The home will also welcome Dr. Paul Armerding as the new medical director.
A celebration will take place Monday, April 1, at 2 p.m. at the Veterans' Community Center, 700 Veterans Drive. The public is welcome.
Businesses on show: A group of special entrepreneurs will open their doors to the public next month in the seventh annual Gorge Artists Open Studios Tour, April 12-14. Maps are free for the first time this year and available in the gorge at Klindt's Booksellers in The Dalles and Waucoma Books in Hood River.
Meet the artists, see where they create and get insight into their process.
Online: www.facebook.com/gaos.tour
As seen on film: Representatives of La Clinica del Cariño and White Salmon health care workers are featured in a new documentary about the state of health care in America.
"Escape Fire: The Fight to rescue American Healthcare" tackles the question of saving the broken health care system. While America spends more on health care than other nations, its heath outcomes fall below those of many other nations.
"The current battle over cost and access does not ultimately address the root of the problem: we have a disease-care system, not a healthcare system," information about the film explains. The film examines the forces maintaining the status quo and presents attainable what its producers say are attainable solutions. Online: http://escapefiremovie.com
Business and grub: Columbia River Properties hosts The Dalles Area Chamber of Commerce Business After Hours Thursday, from 5 to 7 p.m., at 1400 US Highway 197 in The Dalles.
Paradise Rose Chuck Wago will provide the "fixin's and refreshment" for the event.
Online: www.ColumbiaRiverProperties.com
Entrepreneur Awards: The Oregon Entrepreneurs Network is taking nominations for the 2013 OEN Tom Holce Entrepreneurship Awards. The awards recognize the best and brightest entrepreneurs in three company categories: Development STate, Workign Capital Stage and Growth Stage, as well as individual achievement.
Nominations are due Wednesday, May 22, online.