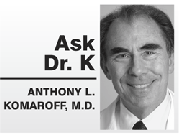 DEAR DOCTOR K: I was diagnosed with ER-positive breast cancer a few years ago. My doctor told me to take tamoxifen for five years to prevent my cancer from coming back. I recently read that taking tamoxifen longer further decreases the risk of a cancer recurrence. What should I do?
DEAR READER: The simple answer is: Ask your primary care doctor if you should talk to a breast cancer specialist, because it may well be a good idea to continue on the tamoxifen. But I know you won't be satisfied with a simple answer, so here's a more elaborate one.
The cells in our bodies are constantly receiving chemical signals that tell them what to do. The way many signals work is that they attach to something on or in the cell called a receptor. Think of the chemical signal as a key and the receptor as the lock the key opens.
Breast cancer is divided into types based on whether the cancer cells have receptors for the female hormone estrogen. If they do, they're called ER-positive breast cancers. Estrogen can stimulate the cells to grow and divide, which probably encourages the cancer to grow larger and to spread.
Tamoxifen blocks the estrogen receptor. Because of that, it greatly improves the outlook for women with ER-positive breast cancer.
Women who are past menopause are generally advised to take tamoxifen for two to three years, and then switch to a different type of drug called an aromatase inhibitor. This switch reduces the chance that the cancer will recur.
Women who have not reached menopause (and whose ovaries are still producing estrogen) have been advised to take tamoxifen for a full five years.
A new study (probably the one you read about) has found that taking tamoxifen longer than five years can further reduce deaths from the disease. The researchers studied a group of nearly 7,000 women with ER-positive breast cancer. The women were randomly assigned to stick to just five years of tamoxifen or to take it for an additional five years.
The study found a significant benefit from remaining on tamoxifen for 10 years: Women were less likely to have a recurrence of breast cancer, and they were less likely to die of breast cancer than women who took the drug for only five years.
Be aware, however, that after menopause, tamoxifen increases the risk of uterine cancer. It also increases the risk of blood clots in the legs and lungs in all women. So it's like most treatments: There are both benefits and risks, and you have to work with your doctor to balance them.
Without knowing more about you, I can't say for sure whether taking tamoxifen longer than five years is the right decision for you. But based on this study, I'd say it is definitely worth a conversation with your doctor.
Dr. Komaroff is a physician and professor at Harvard Medical School. To send questions, go to AskDoctorK.com, or write: Ask Doctor K, 10 Shattuck St., Second Floor, Boston, MA 02115.