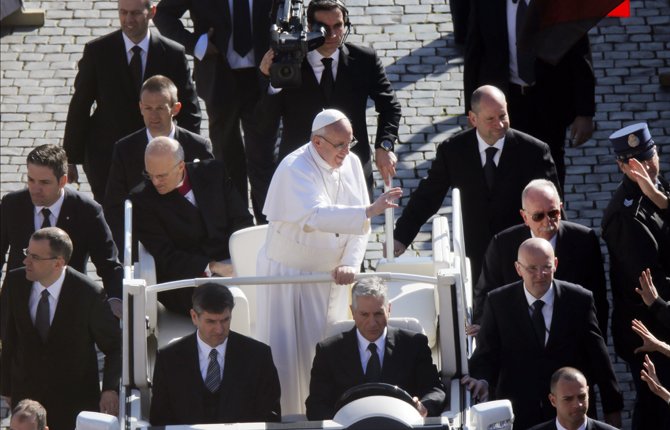 VATICAN CITY (AP) — Forgive Pope Francis' security team for looking a bit nervous.
One pope was shot in St. Peter's Square while riding in an open vehicle. Another was tackled by a woman with mental problems. So in the early days of Francis' pontificate, as the pope delights the flock by wading into crowds, it's only natural that chief Vatican cop Domenico Giani seems on edge.
Consider some of Francis' acts of papal outreach, which have all made for a refreshing change from the reserved style of Benedict XVI, but present a huge headache for a security detail attached to one of the planet's most high-profile people.
The day after his election, Francis eschewed the Vatican's armored limousine and traveled through the chaotic streets of Rome in an ordinary car.
At his first Sunday Mass as pontiff, Francis caused a stir by mingling with bystanders at a Vatican gate, shaking hands and even allowing himself to be grabbed by the shoulder.
Then on inauguration day, Francis stood for nearly 30 minutes Tuesday in an open vehicle that circled the vast square.
It's not for nothing that Francis has quickly been dubbed the "unpredictable" pope. And for a bodyguard, unpredictable means trouble.
Giani looked particularly worried by the crowd that gathered after the Sunday Mass. La Stampa newspaper quoted an aide at the scene as saying that things "better get back to normal or we're in trouble."
A Vatican spokesman said that the Vatican was well aware of Francis' informal and open style and that "proper security measures" would be taken."