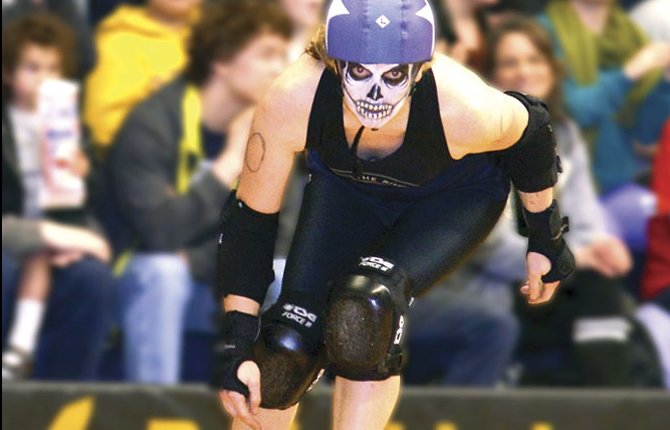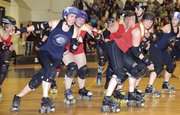 Hood River — The Gorge Roller Girls debuted their two home teams Saturday night, March 16, to a sold-out crowd of 900 people in the Hood River Valley High School gym.
The high-flying Cherry Bombers took on the dark and mysterious River Reapers in an intense game that had fans screaming for more.
It was a hard-fought game, but the River Reapers squeaked out a few more points in the end to win, 139-100.
The Gorge Roller Girls have been skating together for one year.
In that year span, there are now 40 dues-paying members in this volunteer-run league, in what is categorized as the largest growing women's sport in the world.
Skaters practice four times a week and they are required to attend a minimum of two.
Those sessions consist of off-skate workouts, endurance skating, strategy and hitting and blocking techniques.

While their travel team has competed in various bouts around the region, many women made their debuts Saturday.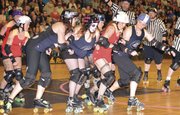 "Cinda Rolla" of the River Reapers made her debut that night, and drew admiration for blocking steadily as well as serving some good hits to the Cherry Bomber's jammers, sending them flying out of bounds.
"Scoldie Knox" was also a first-timer on the track and her nerves in the first half had her racking up penalties.
Finally, she was able to focus, and as she explains, "I decided I'd rather be skating than sitting in the box every jam. The second half I didn't go back to the box once. It was awesome."
Knox has been skating with the league since its inception in March 2012.
"I pushed myself as hard as I could to be able to skate in this bout. Coach "Yo-Duh" helped push me to work harder and after almost a year I'm proud to say I'm a River Reaper!"
"Wreck-Less" wowed the crowd with her flawless skating as she brought in 77 points and earned MVP for the River Reapers.
Top scorer for the Cherry Bombers was "Ginger Binger Danger Hips" with 68 points.
"Helda Contempt" was voted MVP for the Cherry Bombers because of her indomitable blocking abilities.
She made the jammers' lives miserable as they tried to fight through the pack of skaters.
At its essence, roller derby is a race around the track.
Each team tries not to let the other team's jammer pass them.
The jammers score points by passing the opposing team's skaters.
Those other skaters are called blockers, four from each team, and they skate in what is called "The Pack," and try to prevent the opposing jammer from passing them.
They do this by hitting her out of bounds.
And, at the same time, they have to keep an eye on their own jammer, and help her get through the pack and score.
"It's an intense sport, because it requires you to play offense and defense simultaneously," said Agony Anya Heels. "So it's very intellectual as well as physical. I've heard it described as playing speed chess while having bricks thrown at you."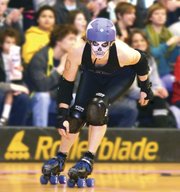 For a first time out for the roller derby debut, River Reaper member, "Bad Abbott," feels as though this event was a resounding success.
The gymnasium was packed with fans, young and old, cheering for their favorite team and skaters.
"I'm proud to see the community come out and support us," said Abbott. "The fans made this the event to be at."

The Gorge Roller Girls all-star team will take on Medford's Southern Oregon Rollergirls for an intense competition at 6 p.m. on Saturday, April 13 at Hood River Valley High School.
Tickets are on sale now through the website at www.gorgerollergirls.com and costs are $10 for general admission and children 6-years old and under are admitted free of charge.
As a completely skater-run league, the GRG organization is dependent on volunteers.
There are several opportunities for non-skaters to get involved.
Interested women who are 18 years old or older with various skill levels are invited to join the team.
There is an intake event at 2 p.m. on Sunday, March.
RSVP required is required, so email join@gorgerollergirls.com.