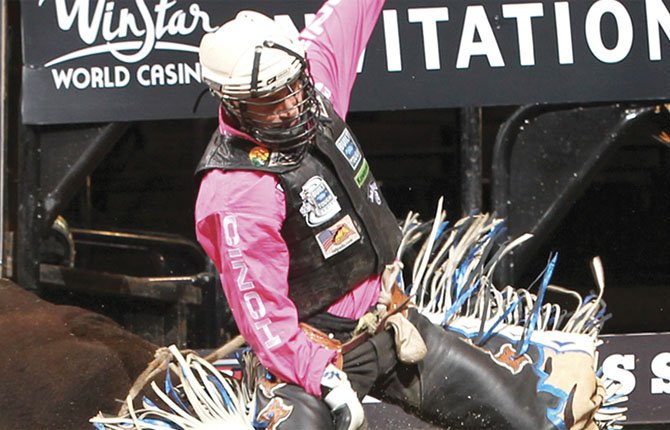 Although slight of build at 5-feet-8 inches tall and tipping the scales at 165 pounds, Shane Proctor has proven that he is as tough as they come in the Professional Bullriders circuit.
Since overcoming an arm injury at the end of his 2011 season in his final PRCA championship event in Las Vegas, Nev., an event he won, Proctor went to work for a vast majority of 2012 for hours and days of rehabilitation.
So far, Proctor has won two events and is currently the No. 1-ranked bull rider in the world with a 16 for 31 ride rate and 4,423.37 points, more than 21 points ahead of second-place Marco Eguchi (4,402.00).
"I attribute my success this season to just not putting pressure on myself like I did last year," Proctor said in his PBR.com blog earlier this month. "Last year was a really tough year. I wasn't able to start the season on time because I had a broken arm from competing at the NFR and I just put too much pressure on myself being the PRCA World Champion. I expected myself to ride well every ride where I didn't need to do that. So this year, I am just taking it ride by ride and if it happens, it happens and if it doesn't, it doesn't."
Throughout the gorge, Proctor has his fans, as he has relatives spanning eastern Washington and eastern Oregon.
He is currently married to barrel racing athlete Jessi and they reside in Mooresville, N.C.
His parents, Gordon and Kathy, are both teachers who currently live in Grand Coulee, Wash. Gordon, a graduate of Wahtonka High School, grew up in Mosier and his parents were Gordon Sr. and May.
Shane has always been around rodeo. His dad was a calf roper and his mother and sisters competed as well, so the sport was in his bloodlines.
There was never a second thought to Shane riding rough stock; it was assumed he was making his way toward calf roping.
Shane initially started with sheep, calves and steers, but when he was 15 years old, he got his first taste on junior bulls.
When the younger Proctor was 16 years old, he won his first event on the big bulls.
He remembered a time when he first sat atop one of his big bulls – it was at that time where a decision was made whether to be a cowboy and do it again or stop right there.
"In the end, I continued getting on bulls because I liked it and it was fun," Proctor added in another blog input on seattletimes.com. "I was always a big fan of watching bull riding so I knew it was what I wanted to do. Sometimes, you've just got to take the pain."
It takes a special breed of cowboy to endure the nicks, bruises and physical punishment on a nightly basis.
When sitting on the back of his bull, Shane can feel the muscles clenching.
There is no other activity or sport that compares, except maybe sky diving.
"You have to be a little bit scared," Shane said. "If you aren't a little bit scared, then you aren't human. You learn to control it. You can either use it, or let it use you. That's the thing about bull riders; we have already accepted the fear and that's why we like to do it. We like that feeling."
Shane won his first Built Ford Tough Series event in Portland in 2009 and in every rodeo, the competition stiffens for Proctor and his PBR brethren of 35.
To be blessed enough to recover from his injuries and win two events this season – one in Winston-Salem, N.C. and another in Anaheim, Calif. – competing at a high level is not lost on the mind of Shane and his quest to win more championships.
With his 28th birthday coming up this Sunday, Shane thought long and hard about his career.
This is his eighth year in the professional ranks, so he is not sure how much tread remains on his tires.
"It's hard to say when I'll stop. When it's not fun anymore," Shane said. "It also depends a lot on how my body holds up. This is something I would like to continue doing, but I know I am getting up there in age. I am definitely not a young man anymore. I've been around this for a long time, but I don't want to quit yet."
Just 16 events remain until the start of the World Finals from Oct. 23-27 in Las Vegas, Nev.
Shane is hoping to keep his solid comeback season going.
"I am looking forward to the entire season. I am really excited about what the future holds. I am not going to worry about what is going to happen in October, because we are a long way from October.
The PBR next heads to Albuquerque, N.M. this weekend starting Friday at 10 a.m. for the two-day Ty Murray Invitational.
To follow Shane proctor's progress, go to www.pbr.com/en/news/blogs/shane-proctor.