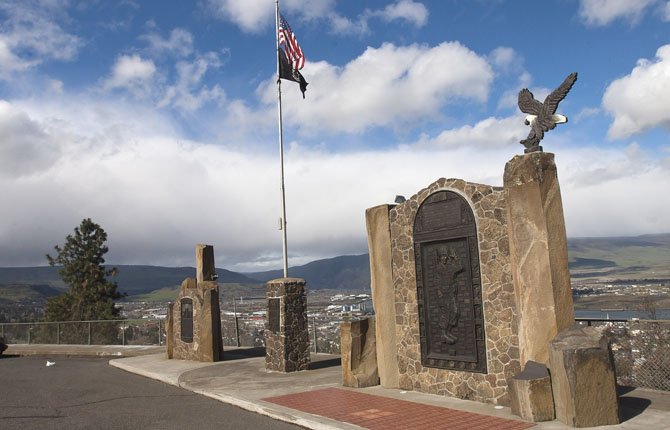 Medal of Honor awards planned for new memorial
Army Sgt. Marcus Robertson was an infantryman who was presented with America's highest military decoration on April 28, 1906, for his actions in the Philippine-American War. As a private, he helped rout out a large enemy force near San Isidro despite his unit being greatly outnumbered by enemy fighters. He died at age 78 and was buried in Pine Grove Cemetery, several miles south of Hood River.
Harry Fadden was a Navy Peacetime Congressional Medal of Honor recipient who served as a coxswain onboard the U.S.S. Adams. He was recognized for risking his life on June 30, 1903, to save a fellow sailor who had hit his head on a rail and fallen overboard in shark-infested waters off the coast of California. His medal was awarded about one month later and Fadden died Feb. 2, 1955 at the age of 73 in King County, Wash.
The Mid-Columbia Veterans Memorial Committee is gearing up to add a granite wall to the existing monument at Kelly Viewpoint.
Gary Pratt, president of the nonprofit organization, and Les Cochenour, vice-president, briefed The Dalles City Council last week about plans for the addition.
Cochenour said the committee wanted to use $8,000 of funding that had been contributed by the city over the past several years to cover some of the $28,000 costs to have the design created, purchase the rock and have it engraved by Pioneer Rock and Monument in Goldendale. The granite will be quarried, cut to size and polished by the Dakota Granite Company of South Dakota.
The city retains $5,000 in the memorial account to pay for repairs for any damage that occurs at the memorial due to vandalism or other work needed.

Cochenour said at the March 11 meeting that the wall would be 20 feet long and 4 feet high. Grooves will be cut into the 30 tiles, each 12 inches by 24 inches, to divide them into 4-inch by 8-inch bricks.
Members of the community will then be able to pay to have the name of a veteran they wish to honor inscribed on one of the 270 available bricks. Cochenour said the cost to the public for a remembrance will be set after the final costs for construction are known.
A granite column measuring 36 inches wide by 72 inches tall will be erected at each end of the wall in tribute to Marcus Robertson of Hood River and Harry Fadden of The Dalles, two Congressional Medal of Honor recipients (see related sidebar).
Cochenour's description of the wall and columns brought comment from Councilor Carolyn Wood, who questioned why the original memorial was raised in a location to impede the view from Scenic Drive and Sorosis Park.
"I don't have an objection to a memorial, or for this, but I really don't want to see the view blocked," she said. "I think for the long haul we need to take that into consideration."
Cochenour said the new columns would be raised behind the existing structure and a solid wall replacing the existing chain link fence behind the structure would not be higher.
"This is nothing that would be intrusive or anything like that," he said.
Pratt said the committee was also collecting bids to have security cameras installed, a cost that could be as low as $2,000 or more than $20,000, dependent upon the sophistication of the system.
Footage from a wide-angle camera, he said, could be viewed on a continuous feed from a website the committee plans to unveil in the near future. Another could stay focused on the memorial, said Pratt, to discourage acts of vandalism, such as the egging of the monument for Loren Kaufman the night before the Memorial Day observance of 2011.
"Who would monitor that (footage)?" asked Mayor Steve Lawrence.
"Anyone who wanted to," said Pratt. "It could be something that is good for tourism."
Robb Van Cleave, former mayor of The Dalles, attended the March 11 meeting to put his support behind the new addition to the memorial.
In a follow-up interview, he said the committee was formed after he received a letter from a Korean War veteran inquiring if The Dalles had any type of a monument to honor Army Sgt. First Class Loren Kaufman, a local veteran who died in that war and was posthumously awarded the Medal of Honor for "acts of valor above and beyond the call of duty."
Kaufman was 27 when he gave his life in service to his country. A native of The Dalles, he was killed in action Feb. 10, 1951, after distinguishing himself in combat Sept. 4 and 5, 1950, near Yongsan, Korea, where his company was attacked by an enemy battalion.
"We realized there was no mention in the community at all about our Medal of Honor recipient," said VanCleave
He said the logical place to site a statute that recognized Kaufman's heroism was next to a Vietnam Veterans had already been erected in the 1990s. A group of citizens and veterans had raised money to place that monument on property that was once owned by the city but has since been turned over to Northern Wasco County Parks and Recreation District.
Van Cleave and other members of the committee, including Cochenour, also a former mayor, raised almost $300,000 to expand upon the memorial so that it also honored veterans of Desert Storm — replacing a plaque on a boulder — and other American war veterans. During the final planning stages, the Sept. 11, 2001, terrorist attacks on the East Coast occurred and an eagle was added to the memorial to pay respects to warriors that would serve, be injured and fall in Operation Iraqi Freedom and Operation Enduring Freedom.
The memorial as it stands today was dedicated in 2002 and Van Cleave, who is now seated as a national board of director for the Wounded Warrior Project, said it is a star achievement of his public service.
"It's one of the things I am most proud about being a part of," he said.