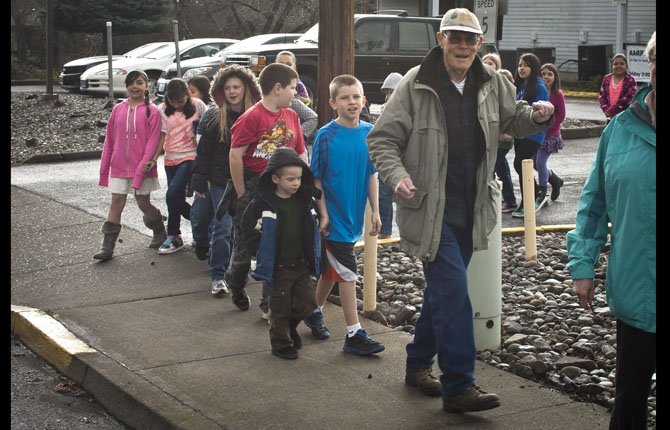 The Dalles — Generations young and old came together Thursday for a common cause as seniors and children from Colonel Wright Elementary marched against senior hunger. A brief downpour of hail didn't stop the group as they marched around the Mid-Columbia Senior Center.
"Meals on Wheels is very important to me," said marcher Jann Dalton, who delivered meals for 10 years. "It's such a worthwhile program you have to do something."
She said Meals on Wheels is so much more than a meal to those it serves — and the people who provide the service. During her time delivering meals Dalton got close to the people on her route, and participating in the march was a way for her to honor them.
"I'm close to 80 now," she said. "I've got to stay active, and doing it for other people feels good."

The "March for Meals" was part of a national movement to draw attention to senior hunger as well as the funding difficulties senior nutrition sites like Meals on Wheels in The Dalles face as government funds dwindle.
"If you watched the news last night you know that the sequester is going to affect our program," Meals on Wheels director Denise Patton told seniors as they ate a post-march lunch, joined by county commissioners and city officials who helped volunteers deliver meals to the homebound seniors on their routes as part of the awareness-raising event.
Third graders from Colonel Wright Elementary participated in the march, chanting "Stop senior hunger!"
"They're such balls of energy," commented Ashley Tappendorf, assistant director of Meals on Wheels. She said she was glad the kids came out to support the seniors in their march.
"The next generation is helping prepare for their future and their children's future," she said. "It's good to start now."
Student Toby Russell said he was marching to help out seniors because "if they don't really get the food they need, they're pretty much going to die."
Kayley Greer agreed.
"We're trying to help the seniors because if they don't get the food they need it's going to be sad," she said, adding that it made her think of her grandmother.
Elizabeth Olivar said she was glad she did the march even though the weather was bad. "It was really fun and I think that if we do it then it could stop senior hunger," she said. "If we keep telling people about it they'll raise money for food."