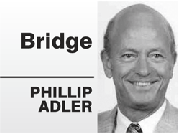 Groucho Marx said, "A child of 5 would understand this. Send someone to fetch a child of 5."
In bridge, it is a "rule" that if you bid a suit on the first round of the auction and partner does not raise your suit, then, if you rebid it in on the second round, you are indicating at least a six-card suit. You do your utmost not to rebid in a five-card suit.
However, these days experts permit a rebid in a five-card suit by responder if opener reverses on round two.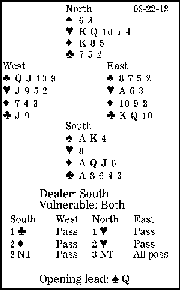 What is a reverse? Assuming the auction is uncontested, opener bids first one suit, then a second suit, and if responder wishes to give preference to opener's first-bid suit, he must go to the three-level — three clubs in the given sequence. After a one-over-one response, a reverse shows a very strong hand; usually 18 to 20 high-card points (but perhaps a good 17).
Here, when North rebid two hearts (with six good hearts, he would have jumped to three hearts); South continued with two no-trump to show his spade stoppers; and North raised to game.
West led the spade queen. What did South do?
Declarer had seven top tricks: two spades, four diamonds and one club. Realizing that he did not have time to play on clubs (the defenders would have taken at least two spades, one heart and two clubs), South went after two heart tricks. So, he played a heart to dummy's 10. When West proved to have the jack, declarer took nine tricks.